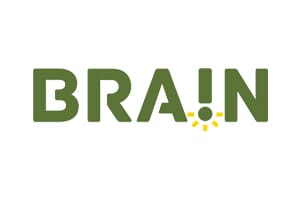 Curitiba | PR | Brazil
BRAIN is an outstanding market research company operating in Brazil with main focus in Real Estate. Over 16 years Brain has developed more than 4 thousand quantitative and qualitative researches, product tests, market studies and competitive analysis, with its own methodology. It operates especially in the residential and urbanization markets, with developers and national and international investors. The studies that Brain has developed have generated more than R$ 40 billion in new listings units in more than 500 Brazilian cities.

São Paulo | SP | Brazil
Global leader in flexible solutions of workspaces, with more than 3.000 business centers in 120 countries, provides convenient and high-quality spaces for people work, for minutes or for years. Companies such as Google, Toshiba and GlaxoSmithKline have chosen Regus as their workspace. The key to the flexible working is the convenience and, therefore, Regus is wherever its 2,1 millions members need. Founded in Brussels, in Belgium, in 1989, Regus is headquartered in Luxembourg and is listed on the London Stock Exchange.
Club meetings offer a unique platform for members
An exclusive and selected club
Build meaningful relationships
Build and maintain connections that make the difference for your business

Develop business partnerships
Develop and strengthen both local and global networks

Engage in high-level discussions
Engage in strategic conversations that support your decision-making process

The most powerful way to maintain valuable relationships,
find new business partners, and strengthen global networks

Brian
Chief Investment OfficerEquity International
USA
As Chief Investment Officer, Brian Finerty leads Equity International's Investments group, overseeing all investment activity and portfolio company management. Drawing from a deep network of relationships and experience in global markets, Brian is responsible for setting investment strategy and guiding the team in originating and executing deals. Brian is also a member of EI's Management Committee and Investment Committee. Brian is a director of five EI portfolio companies: GuardeAqui, SAMHI, Decameron Hotel & Resorts, Estapar Estacionamentos, and ARG Realty. Brian earned an MBA in analytic finance from the University of Chicago Booth School of Business and a BBA from the University of Michigan.

Carlos
PresidentIguatemi Empresa de Shopping Centers
Brazil
Carlos Jereissati Filho grew up in the universe of shopping centers and was always encouraged by his father to be interested in the family business. In 1997, he officially joined Iguatemi Empresa de Shopping Centers and, since then, has held several positions in the group. Since 2005, when he assumed the presidency, he has had the mission of making the company grow, preserving its culture and its DNA. Over the past decade, he led the IPO process and opened several projects.

Daniel
Senior Managing DirectorTishman Speyer
Brazil
Mr. Cherman joined Tishman Speyer in 2001 and is responsible for the firm's activities in Brazil. He is also a member of the Investment Committee. Prior to his current role, Mr. Cherman held a number of positions on the firm's Brazil team, including managing the region's acquisitions and leasing efforts, heading both the residential development and commercial development groups, and serving as Chief Operating Officer. Previously, Mr. Cherman spent 12 years working in the development business, where he managed large-scale commercial and residential projects in Latin America. Mr. Cherman holds a degree in civil engineering from Pontifícia Universidade Católica in Rio de Janeiro and an MBA from the University of São Paulo.

Fabio
Managing PartnerBRAIN Inteligência Estratégica
Brazil
Fábio Tadeu Araújo has Master's degrees in Urban Management at PUC-PR and in Organization and Development at FAE Business School, MBA in Project Management at IBMEC-RJ, with a postgraduate in Business Economics and International Business. Fábio won the Paraná Award of Economy in 2002, by CORECON-PR. He is a consultant for the IDB - Inter-American Development Bank - for housing issues in Latin America; Director of Market Research at ADEMI-PR; a post-graduate professor in Economics and Market Research; and a senior partner at BRAIN, where he has coordinated Market studies in over 600 brazilian cities.

Fauze
Partner - Real EstatePátria Investimentos
Brazil
Fauze Barreto Antun is a Partner in the Real Estate Division working on the origination, structuring and execution processes of our real estate transactions. Before joining Pátria, Mr. Antun was responsible for mergers and acquisitions and turnaround processes for Íntegra Associados. Between 1995 and 2001, he was a Senior Associate at the equity and debt capital markets area of JPMorgan, Chase Manhattan and Banco Patrimônio. He also worked on several fixed income transactions, IPOs and block trades. Mr. Antun holds a Bachelor's Degree in Business Administration from Fundação Getulio Vargas (FGV) and an MBA from Columbia Business School.

Gastão
Senior Vice PresidentGIC
Brazil
El fondo soberano del Gobierno de Singapur gestiona más de $ 100 mil millones en reservas del país y concentra sus inversiones en renta variable internacional, renta fija, instrumentos del mercado monetario, RE y también en las inversiones especiales.

Joshua
Senior Managing DirectorGTIS Partners
USA
Josh Pristaw is a co-founder and Senior Managing Director of GTIS, and a member of the General Partner's Investment Committee. Mr. Pristaw's primary responsibilities include overseeing the global capital markets group and running the firm's Brazil business including acquisitions, asset management and portfolio management. Mr. Pristaw's experience in the real estate industry began in 1997. Prior to joining GTIS, Mr. Pristaw was a Principal and Co-Head of Acquisitions for Coventry Real Estate Advisors, a real estate private equity firm focused on US retail real estate including ground up development of shopping centers, mall redevelopment and the repositioning of surplus real estate from failed retailers.

Karl
Senior Vice President - InvestmentsCadillac Fairview
Canada
Karl Kreppner is responsible for the execution of strategic acquisitions, dispositions and management of investments across the emerging markets. Prior to re-joining Cadillac Fairview in 2013, Karl worked three years for Morgan Stanley Real Estate Investing (MSREI) in their Mexico City office. Karl is a Chartered Financial Analyst and holds a Master of Business Administration from McMaster University.

Leandro
Partner & Head of Real EstateVinci Partners
Brazil
Partner, Head of Real Estate and Member of the Straegic Comitee of Vinci Partners. Previously, he was the CFO and IRO of BRMalls where he was responsible for investors relations, funding strategy, acquisitions and monitoring financial operations performance of greenfield and brownfield developments. Before, worked for Banco Pactual from 2004 to 2006 in its Investment Banking Division covering the Real Estate sector. From 1999 to 2004, he was Partner and the head of the Real Estate Group at Banco CR2. From 1994 to 1999, he was co-head of the Real Estate Group of Banco BBM. He holds a bachelor's degree in Economics from PUC-Rio and an EP Degree from Stanford University.

Marcela
Diretora de Real EstateCPPIB
Brazil
Marcela Drigo is a Senior Vice President at Clarion Partners, a leading real estate investment manager with more than $25 billion in assets under management, offering a broad range of real estate strategies across the risk/return spectrum to its more than 200 domestic and international institutional investors. Marcela has responsibility for direct over-sight of the firm's acquisition and asset management activities in Brazil. She joined Clarion Partners in 2008 and has more than 15 years experience investing in emerging markets. Marcela established JVs with local and international operating partners and headed all the investments in the logistic sector for a large separate account. She holds a MBA from Columbia Business School.

Marcelo
Managing PartnerBlueMacaw
Brazil
Marcelo Fedak is the Managing Partner at Bluemacaw and is responsible for the overall strategy of the firm. Mr. Fedak founded the company after opening the office and running Blackstone's Real Estate activities in Latin America for 4 years. Before that, until 2014, Mr. Fedak was at BTG Pactual where he was a Partner and Head of Real Estate, overseeing over $3 billion of assets under management across Latin America. Prior to that, from 2005 to 2009, Mr. Fedak worked at Goldman Sachs, Credit Suisse and Bain and was involved in over $30bn of various M&A and capital market transactions across multiple industries. Mr. Fedak received a BA in business from FGV - Escola de Administracao de Empresas de Sao Paulo.

Martin
CEOBR Properties
Brazil
Martin Jaco started his career at Andrade Gutierrez and Método Engenharia. Then he went to CBRE, where he led the Investment department for 11 years. In 2007, he joined the startup BR Properties as CIO, with the objective of structuring the company's Investment department, responsible for acquisitions, market, development and leasing. In 2010, BR Properties made its IPO and today it is one of the most important commercial real estate companies in Brazil. Currently, Martin answers as CEO of the company.

Mauro
PresidenteGLP Brasil
Brazil
GLP is a fund manager, developer and owner-operator of modern logistics facilities and solutions. Own and operate a US$38 billion global portfolio of 53 million sqm in China, Japan, USA and Brazil

Max
CEOHSI - Hemisfério Sul Investimentos
Brazil
Mr. Lima is CEO/CIO and a Board Member at Hemisfério Sul Investimentos. In 2003, Mr. Lima cofounded the real estate division at GP Investimentos, where he served as head of acquisitions. Prior to this, Mr. Lima had joined Rio Bravo's real estate finance group in 2000, where he was responsible for structuring securities, including some of the first in the then-incipient Brazilian market. Over his career, Mr. Lima has invested over USD 2.0 billion of equity in 44 real estate transactions. Mr. Lima graduated from the University of Chicago in 1996 with a B.A. in Economics.

Paulo
Senior Portfolio ManagerADIA
UAE

Rafael
PresidentBirmann S/A
Brazil
Rafael Birmann has been a real estate developer since 1978, when he founded Birmann. His office-building projects have had significant impact on the real estate market in São Paulo due to their quality and innovation. Currently, Birmann is coordinating the incorporation of a 50,000 m2 high-end office building in Av. Faria Lima, Sao Paulo, as well as an urbanization project of 16 million m² in Brasilia.

Roberto
CEOBrookfield Property Group Brazil
Brazil

Tiago
CEO BrasilRegus
Brazil
Tiago Angelo Alves, current role as Regus Brasil CEO. Former LatAm Managing Director of Johnson Controls & ISS, both multinational service companies, having worked also in Large corporations like Cushman & Wakefield and Grupo Semco S/A.. Graduated with MBA degree by University of California - Irvine, Fundação Getulio Vargas FGV in Sao Paulo and Degree on Mechanical engineer by Universidade do Estado de Sao Paulo – UNESP.

Walter
PresidenteCBRE
Brazil
Walter Cardoso é formado em Engenharia Civil pela UNESP e tem especialização em Matemática Financeira na FGV. Começou na CBRE em 1985 e passou por diversos setores antes de chegar à presidência da companhia. Foi responsável pelo departamento de desenvolvimento de novos projetos (1985-1989) e diretor de investimentos entre 1989 e 1994. Como Managing Director (1994-1998), Cardoso consolidou todas as linhas comerciais de negócios no Brasil. Assumiu o papel de presidente em 1998, após a fusão de Richard Ellis e a CB Commercial. Hoje ele é responsável pelas orientações estratégicas e desempenho dos escritórios da empresa em todo o país e supervisiona uma equipe de mais de 1.000 profissionais, fornecendo soluções para o mercado imobiliário.
The one and only club for Real Estate decision-makers
If you are a senior decision maker and believe in the importance of building special relationships for your business growth, you're really welcome to GRI Club's community

Need help?
WhatsApp Assistance
Monday to Friday - 8:30 a.m. to 6:00 p.m.