Paul
President & COORound Hill Capital
Paul has over 20 years of experience in Real Estate Investment management in a wide range of operationally intensive real estate sectors including Residential , Commercial , Student housing and Hospitality. His career includes 8 years at KPMG working on global M&A, Restructuring and Transaction Service engagements worldwide. Paul later moved into an operational career, becoming COO at North Bridge Capital Partners. As President & COO - Paul has operational oversight of the entire Round Hill Capital Group and also heads up the Round Hill Group Executive Committee.
Gerhard
MD, Head of Real Estate Finance Germanypbb Deutsche Pfandbriefbank
Gerhard Meitinger is Managing Director at pbb Deutsche Pfandbriefbank and is responsible for the Real Estate Finance Business Germany. He has many years of experience in the German Real Estate and Lending business both with real estate professionals as well as international and institutional clients. The focus of his activities is the financing of real estate investments with single properties and portfolios. He also focuses on the financing of development projects in appropriate locations and adequate financing models.
Michael
PartnerTPG
Michael is a Partner and a member of TPG Real Estate's Investment Committee and TPG Europe's Executive Committee. Before joining TPG, he worked for Europa Capital and in the Private Equity Real Estate divisions of J.P.Morgan and Lehman Brothers. He holds a Diplome de Grande Ecole and MSc in Management from ESCP Europe, and speaks German, Spanish, English, Portuguese and French. He currently serves on the Board of Directors of A&O Hotels and Hostels and Campo Properties, and is also a member of the board at Great Ormond Street Hospital Charity, a non-profit organization that supports seriously ill children.
Bernd
Co FounderSAX Holding GmbH
Karl-Josef
MD, Head AM Germany & Global RECredit Suisse Asset Management
Karl-Josef Schneiders, Ambassador Global Real Estate, is based in Frankfurt with more than 25 years of experience in the banking, asset management and real estate sector. Before joining Credit Suisse, he was a co-founder of Verianos AG, he held management positions at Corpus Sireo, Morgan Stanley, the retail group Metro and at Citibank. Mr. Schneiders is business graduate of the University of Applied Sciences in Trier, he holds an MBA from the University of Wales and an Executive MBA from the Zurich Institute of Business Education (CEIBS).
Ben
Managing DirectorRound Hill Capital and RESIDEA Immobilien Mngt
Ben Lehrecke is Managing Director at Round Hill Capital, responsible for European core residential and all asset classes German investments. Throughout his career of over twenty years in real estate, Ben Lehrecke has held numerous senior positions in acquisition, business development and management for the Pears Family Trust, KanAm Group, Tishman Speyer with a transaction track record of over €5bn. Ben holds a joined master in business management and engineering from Technical University Berlin and a master of real estate development from University of Southern California, Los Angeles.
Stuart
Managing Director, TransactionsPatrizia
Stuart has been working in real estate for over 33 years. He joined Rockspring Berlin in June 2001 and is responsible for all transactions and asset management throughout Germany, Austria and Switzerland. Stuart was instrumental in setting up the Rockspring German Retail Box and the Spitfire Funds, leading investors in retail warehousing in Germany. In total, he oversees over €2.25 billion AUM for Rockspring focused mainly on retail assets and more recently with a focus on logistics development and value-add office investment opportunities in Berlin where Rockspring has bought 7 office properties since 2016.
Gustav
Head of Real Estate FinanceBayernLB
Gustav Kirschner, Head of Real Estate Finance, is responsible for German Real Estate Customers. In his more than 20 years of business experience Gustav has held various specialist and management positions within real estate. He studied business administration at University of Passau and is lecturing part time at Technische Universität München (TUM).
Gunther
Founder & CEOMedici Living Group
Gunther Schmidt is Founder and CEO of the Medici Living Group, the biggest Co-Living provider worldwide with over 1.800 active units. He started the company in 2012. As an innovative serial entrepreneur and startup executive, he has launched and invested in several successful start-up companies himself over the past 15 years. Before starting the Medici Living Group, he co-founded eKomi in 2008. Nowadays eKomi is Europe's largest independent provider of transaction-based reviews & ratings with over 14.000 customers, backed by Goldman Sachs & Tengelmann Group. Schmidt still serves at eKomi as a Board Member today.
Anna
Head of Loan Markets & SyndicationAareal Bank AG
Anna Ginkel has 20 years of experience in Real Estate Finance ; thereof focusing on syndication since 2002. In October 2013 Anna became head of the Syndication Department at Aareal Bank. Before joining Aareal Bank and after working in various positions at Frankfurter Hypothekenbank (former Eurohypo), lastly being in charge of Syndication Execution & Agency, Anna was responsible for the set-up of the European Syndication desk at Westdeutsche ImmobilienBank. She has been directly involved in large-volume club-arrangements and syndication of a wide variety of real estate loans nationally and internationally.
Sascha
CEOx+bricks AG
Sascha Wilhelm launched the real estate company x+bricks AG in August 2018. The company is initially focusing on the German market and investing in food-oriented properties such as supermarkets, discount stores, and retail parks. Sascha Wilhelm studied law at Ludwig Maximilian University in Munich and obtained an MBA in International Real Estate Management in Germany, London and Zurich. Wilhelm was CEO of Corestate Capital Group until April 2018. Under his leadership, Corestate's assets under management increased from less than EUR 5 billion to over EUR 20 billion. In 2016, he successfully took the investment management company public on the Frankfurt Stock Exchange, where it is now listed in the S-SDAX.
Are Niche Players Ahead in a New Office Game?
---
Stephanie Brisson , Managing Director, Techspace
Retail and Logistics
Fates forever intertwined or better off apart?
---
Raimund Pätzmann, VP Corporate Real Estate, Zalando SE
Online vs Offline
Where do you draw the line?
---
Katarzyna Dorsey ,Founder & CEO, Yosh.AI
Robots & Big Data
Or are we still stuck in Industry 2.0?
---
Prof. Dr. Julia Bendu Chair of Management for Industry 4.0 , RWTH Aachen University
How are the latest trends, innovations and industry disruptors influencing real estate? Kick-starting a selection of this year's discussions,
our industry provocateurs give a short industry teaser on their personal views.
Proptech 'Die Höhle der Löwen'
Claudia

Nagel
CEO
Highrise Ventures - PropTech
Julia

Gebert
Geschäftsführerin
RYSTA GMBH
Florian

Mann
Gründer und Geschäftsführer
Intertempi
Celine

Danton
CEO
Asset Profiler GmbH
David

Austing
Founder
Heavn One
Claudia
CEOHighrise Ventures - PropTech
In 2012 Claudia co-founded KIWI, the secure solution for keyless access, a B2B PropTech business in the real estate industry. At KIWI she leads the finance, operations and technology teams. Since 2012 she is very active in the Berlin Start-up scene and beyond. In February 2018, she founded the PropTech Company Builder High Rise Ventures, which aims to advance the adoption of new technologies in existing buildings. Beyond her knowledge focus on high tech and smart buildings Claudia is actively contributing to the digital inclusion of women in tech and advancing new leadership styles.
Julia
GeschäftsführerinRYSTA GMBH
RYSTA is a Berlin-based IoT startup offering a smart data monitoring solution-as-a-service. Data transparency serves 1) for mold prevention in newly build or energetically renovated residential buildings and 2) for optimizing processes on construction sites.
Florian
Gründer und GeschäftsführerIntertempi
We transform temporarily unused commercial space into flexible workspace for start-ups and coworking, thereby solving a pain point of real estate players. Through our tech platform we integrate smart building applications and manage spaces to optimize for flexibility.
Celine
CEOAsset Profiler GmbH
Asset Profiler bietet Immobilien-Profis einen geschlossenen Marktplatz exklusiv für zertifizierte Teilnehmer. Anbieter und Investoren bahnen in geschützter Umgebung vertraulich und strukturiert Transaktionen von Investment-Immobilien an. Asset Profiler wird von Investoren und Anbietern zum Direkt-Kontakt oder zum Kontakt über Vermittler genutzt.
David
FounderHeavn One
Natural light to improve productivity and well being; Heavn one is the world's first product combining light for visual tasks and the biological effect of 10,000 Lux in one minimalist design. As a smart device, it can dynamically recreate the natural spectrum of the sun - changing color, intensity, and direction of light automatically over the course of the day.
Real Estate & The Blockchain - Where will tokenisation take us?
Brigitte

Luginbuehl
CEO, Head Real Estate
Swiss Real Coin
Roland

Farhat
Head of Audit Real Estate
DekaBank
Hans

Hammer
Chairman & CEO
Hammer AG, Germany
Dominik

Schiener
Co-Founder
IOTA Foundation
Brigitte
CEO, Head Real EstateSwiss Real Coin
Brigitte Luginbühl is a real estate expert with more than 10 years of a strong track record in Real Estate Corporate Finance and real estate M&A. She has been with the global market leader Jones Lang LaSalle in Switzerland and London. She managed numerous large-scale and complex real estate transactions with a volume of >CHF 1bn in total and was project leader of many valuation projects including recurring large portfolio valuations with a volume of >CHF 9bn annually. She is the youngest female member of Efficiency Club. She holds BA and MA in Economics Business Administration from University of Zurich, Switzerland.
Roland
Head of Audit Real EstateDekaBank
Roland Farhat is head of Audit Real Estate at DekaBank, a Top-10 European asset manager, and has 20 years of real estate investment and development management experience. At Deka, Roland is responsible for the audit business of the real estate organization with a € 35bn international real estate portfolio. Prior to Deka, Roland was in charge of the real estate management advisory business at PwC in Frankfurt. Over 20 years Roland has built up a € 250 million residential and commercial real estate projects portfolio. Roland holds an MBA and studied at Harvard BS, Saïd BS, IESE BS and University of Augsburg. Roland has successfully completed the Oxford Blockchain Strategy Programme. He is founder member of Oxford Blockchain Foundation.
Hans
Chairman & CEOHammer AG, Germany
Hans Hammer studied civil engineering at Munich's Technical University and gained his MBA at INSEAD. In 1998 he took over the management of the Hammer Group and has been CEO of Hammer AG since 2002.
Dominik
Co-FounderIOTA Foundation
Dominik is a young entrepreneur from Italy focused on realizing the Machine Economy. Already since an early age he was involved heavily in the Blockchain ecosystem. He is the Co-Founder of IOTA, a disruptive new technology that enables machines to store and send money frictionlessly between one another. In 2017 he co-founded the IOTA Foundation and established Germany's first non-profit foundation which enables and fosters permissionless ecosystems powered by distributed ledgers. Currently he co-leads the IOTA Foundation and oversees the overall realization of the vision and the partnerships with multinational companies, NGO's and governments.
Light Industrial - Techno rule or space shuffle?
David

Gingell
Principal, Europe Debt Originations
PGIM Real Estate Finance
Jeff

Pym
CFO/Director
Delin Capital Asset Management
Hendrik

Staiger
Board Member
BEOS AG
Julia

Bendul
Chair of Management of Industry 4.0
RWTH Aachen University
David
Principal, Europe Debt OriginationsPGIM Real Estate Finance
David is a Director responsible for commercial mortgage originations in continental Europe. He joined the company in 2012 to help advise on the European mortgage lending initiative. Prior to his arrival, David worked with Deutsche Pfandbriefbank AG in London where he was part of their Global Real Estate Workout Group. Prior to that David held a restructuring role within the UK NAMA Unit - Anglo Irish Bank, also in London. David started his career in audit with KPMG based in Frankfurt, Germany. David received a BA (Hons) in Economics with German from The University of Nottingham and is a Chartered Financial Analyst charterholder.
Jeff
CFO/DirectorDelin Capital Asset Management
Jeff is responsible for looking after our finances and banking relationships, and, also, is directly involved with raising capital with the team to grow the business. Jeff was previously consultant CFO for Tritax Big Box REIT, being part of the management team that launched the REIT in 2013, before becoming Chief Financial Officer for Tritax Management LLP in 2015. He has a wealth of experience having spent the last 24 years working across a range of real estate sub-sectors. He qualified as a Chartered Accountant with Moore Stephens in 1989 and holds a degree in Management Science and Physics from Keele University.
Hendrik
Board MemberBEOS AG
Born in 1964. Degree in physics from the Technical University of Berlin. Until 1997 Research. 1997-1999 Redevelopments in Berlin. 1999-2005 Managing partner of the Linie Projektmanagement GmbH & Co. KG. Since 2005 BEOS AG as head of acquisitions - since 2016 board member. Since 2009 Lectures at IREBS, DVFA, University of Wuppertal, TU Berlin, etc. Since 2017 head of crenet Deutschland e.V.
Julia
Chair of Management of Industry 4.0RWTH Aachen University
Will the rise of robots, drones and big data create a new era of warehouses? Whilst some see tangible business value in the digitisation and automation through the supply chain, most developers and investors struggle to move beyond the hype. What then for the future? Dr. Julia Bendul from RWTH Aachen University will answer some of these questions concerning Industry 4.0 in the discussion "Light Industrial - Techno rule or space shuffle?".
Be part of the most complete agenda of discussions
in the world Real Estate market!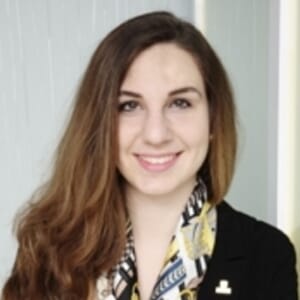 Daniela
Club Manager - DACHGRI Club
Melanie-Nadine
Director - DACHGRI Club