Bruno
Vice President, Industrial InvestmentsBrookfield Property Group Brazil
Brazil

Martin
CEOBR Properties
Brazil
Martin Jaco started his career at Andrade Gutierrez and Método Engenharia. Then he went to CBRE, where he led the Investment department for 11 years. In 2007, he joined the startup BR Properties as CIO, with the objective of structuring the company's Investment department, responsible for acquisitions, market, development and leasing. In 2010, BR Properties made its IPO and today it is one of the most important commercial real estate companies in Brazil. Currently, Martin answers as CEO of the company.

Mauro
PresidenteGLP Brasil
Brazil

Max
CEOHSI - Hemisfério Sul Investimentos
Brazil
Mr. Lima is CEO/CIO and a Board Member at Hemisfério Sul Investimentos. In 2003, Mr. Lima cofounded the real estate division at GP Investimentos, where he served as head of acquisitions. Prior to this, Mr. Lima had joined Rio Bravo's real estate finance group in 2000, where he was responsible for structuring securities, including some of the first in the then-incipient Brazilian market. Over his career, Mr. Lima has invested over USD 2.0 billion of equity in 44 real estate transactions. Mr. Lima graduated from the University of Chicago in 1996 with a B.A. in Economics.

Renato
Sócio DiretorSanca Incorporações
Brazil

Rodrigo
Founding PartnerVBI Real Estate
Brazil

Stephen
Managing DirectorGTIS Partners
Brazil
Eleven years of Real Estate investment and development experience in the United States and Brazil with a primary focus on the industrial and logistics sector. Extensive portfolio of completed transactions including build to suit and speculative warehouse developments for end users and third party logistics providers (3PLs), acquisitions of sale-leaseback, greenfield and brownfield properties as well as asset management (leasing & property management). Participation in capital markets fundraising activity with institutional investors. Currently oversee industrial platform activities for a diversified private equity real estate fund focused on real estate investment in Brazil.
Alguns participantes da edição 2019

Adriano
Managing Director - Head of LatAmIvanhoé Cambridge
Brazil
As the leader of the Latin America team, Adriano Mantesso is responsible for making RE investments locally, developing asset-management strategies and overseeing strategic partnerships for the region. Mr. Mantesso has extensive experience in the industry. Before joining Ivanhoé Cambridge in 2017, he worked for five years at the investment bank BTG Pactual, where he became Partner and Head of Income Producing Properties (RE), managing what was then the largest local REIT. From 2005 to 2012, he worked for Brazilian Capital, managing private and public RE investment funds.

André
Director, Investment BankingBradesco BBI
Brazil
Director at Bradesco BBI, being currently one of the responsible for the coverage of the Real estate, Infrastructure & transportation and Agribusiness sectors. Mr. Assumpção has more than 8 years of experience in Investment Banking. Prior to Bradesco BBI, Mr. Assumpção has worked as M&A associate at Brasilpar and as Investment Banking analyst at Banco Itaú BBA. André has a BS in Management from Fundação Getulio Vargas.

Bruno
Vice President, Industrial InvestmentsBrookfield Property Group Brazil
Brazil

Carlos
Diretor PresidenteAbol
Brazil

Carlos
Executive PartnerKinea Investimentos
Brazil

Claudio
PartnerRED - Real Estate Development
Brazil
He has been a partner of RED since 2014. He is responsible for the area of ​​advice and structured products. Previously he was director of real estate products at Claritas Investimentos. He was general manager of M & A and new business at Cyrela. He was a partner at Rosenberg Partners, working in the area of ​​M & A advisory. He was a partner at Cloc Embalagens, responsible for the finance and commercial areas. He also worked at Citibank and Trevisan Auditores. He holds a degree in Economics from PUC / SP and an MBA in Finance from FGV / SP.

Douglas
Diretor de Desenvolvimento de NegóciosCEVA Logistics
Brazil

Fábio
Fábio
Augusto Moraes Martins
Property Management DirectorJLL
Brazil

Felipe
Diretor E-CommerceLivraria Saraiva
Brazil

Fernando
Country ManagerPrivalia
Brazil

Fernando
Head de IntermodalHamburg Süd / Aliança
Brazil

Fernando
Director Latam, Industrial & LogisticsCBRE
Brazil
Fernando Terra has been with CBRE since May 2000, having initially focused in Tenant Representation services throughout Brazil, Fernando lead the Occupier Services division in Brazil until the end of 2012. Since January 2013, Fernando assumed the responsibly of overseeing CBRE's Brazilian Industrial & Logistics Services platform, providing services to Landlords, Investors and End Users, managing a national team of more than 30 professionals. More recently Fernando assumed the responsibly of leading CBRE's Industrial & Logistics Services platform in Latin America.

Gastão
Senior Vice PresidentGIC
Brazil

Giancarlo
CEOSiiLA Brasil
Brazil
Civil Engineer with over 10 years of experience working in Brazil's commercial real estate industry. Mr. Nicastro has managed the acquisition of various types of commercial properties assets, effectively generating over $500M in revenue to date. His qualifications include acquisitions, drafting and negotiating partnership agreements, construction, development, planning, and real estate development contracts
Galeria de Imagens

Plinio Pereira (DHL) e Paulo Sil...

Luis Davantel (WTorre) e Renato ...

Eduardo Corbett (DHL) e Rogério...

Paulo Silva (Walmart.com)


Stelleo Tolda (Mercado Livre)

GRI Industrial & Logística 2018

GRI Industrial & Logística 2018

Rufino Pizarro Neto (Sendas) e R...

GRI Industrial & Logística 2018

André Freitas (Hedge Investment...

Roberto Perroni (Brookfield Prop...

Marcelo Fedak (Blue Macaw)



Conheça nosso exclusivo formato
Os encontros do GRI Club não têm palestrantes nem apresentações. Em vez disso, há uma série de discussões a portas fechadas, das quais todos podem participar livremente.
É como se você estivesse em sua própria sala de estar, conversando informalmente com colegas, num ambiente dinâmico.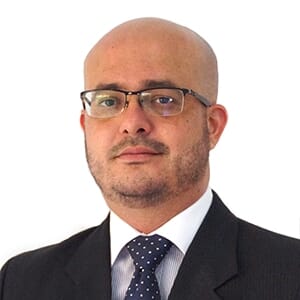 Marcelo
Club DirectorGRI Club

Need help?
WhatsApp Assistance
Monday to Friday - 8:30 a.m. to 6:00 p.m.