Les Club meetings du GRI Club
Le panel donne le coup d'envoi à la discussion et par la suite, les participants peuvent choisir leur approche pour s'y joindre.
L'incomparable style du GRI Club : informel, direct et très privé !

Qu'est-ce que c'est qu'un Club Meeting?
Une réunion en personne pour des petits groupes, exclusive pour les membres du Club. Passez du temps et participez à des discussions interactives pour parler de capital et des transactions en cours avec les hauts dirigeants les plus expérimentés du marché immobilier.
Qui peut s'inscrire
Investisseurs seniors, prêteurs, propriétaires d'actifs et promoteurs, actifs dans le marché immobilier. Il s'agit d'événements exclusifs pour les membres ayant un abonnement de niveau Bronze, Silver, Platinum et Diamond.

Comment s'inscrire
Cliquez sur « Join the event ». Si vous n'êtes pas encore membre, remplissez le formulaire pour postuler ou mettre à niveau votre adhésion.
Découvrez notre format exclusif
Une réunion GRI n'a pas d'intervenants, pas de présentations. Au lieu de cela, choisissez parmi une sélection de discussions à huis clos au cours desquelles tout le monde participe.
Tout comme une conversation dans votre propre salon, l'environnement dynamique vous permet de dialoguer avec vos pairs dans un cadre informel et collégial

Directrice Investisseurs Immobiliers RésidentielVinci Immobilier
France

Senior OriginatorAareal Bank
France
Alexis Trancart is Senior Originator at Aareal Bank based in Paris, responsible for the origination and structuring of senior and junior loans secured against French real estate assets. He started his career at Pfandbriefbank in London where he held origination and underwriting positions with a pan-European focus before specialising in the French market when he moved to Paris in 2010. Alexis holds an MSc in Real Estate Investment from Cass Business School.

Co-head Core Fund Management StrategiesAXA IM - Real Assets
France
Since 2019 Antoine is co-heading the Core Fund Management team on behalf of regulated funds and separate accounts which represents circa 18bn€ of AUM Antoine joined AXA IM – Real Assets in 2006 as a Transactions Manager, before becoming the Head of Acquisitions for the French market until 2012 and then Senior Fund Manager until 2018 with the responsibility of 2 regulated funds for a total AUM of 4.5bn€. Prior to joining AXA IM – Real Assets, Antoine held several finance (M&A, ECM) and real estate positions at Société Générale Corporate and Investment Banking. Antoine holds a Master's degree in Real Estate from ESSEC.

ChairmanColliers Global Investors
France

Investment DirectorAegide-Domitys
France
Entrepreneur and Senior executive with strong business development capacities Strong experience in team Management, in Investment process and solid track record of Real Estate Transactional experience across both France and Continental Europe. Very strong personal and professional ethics (RICS) Experience in working in Anglo Saxon environment, Reporting to German Board (IVG Asset Management Immobilien AG). Experience of Rising, Investing and Managing Prime portfolio 2.3 billion € Offices and Retails. More than 20 years' experience in alternative Asset Classes as Executive Manager and Investor working cross-border with international clients and Funds Manager. Block sales with Institutional investors.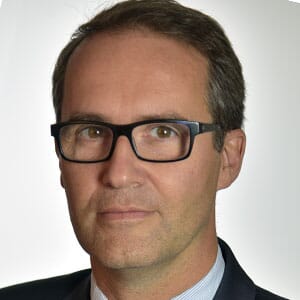 Directeur Général / Chief Executive OfficerCDC Investissement Immobilier
France
Arnaud Taverne est diplômé de l'Université Paris IX Dauphine d'un Magistère Banque Finance Assurance (License, Master 1 et Master 2) et d'un Master 2 (DEA) en Economie et Finance internationale. Il a débuté sa carrière chez PWC en 1997 (Auditeur Senior Banques et Assurance) avant de rejoindre Arthur Andersen en 2000 (Restructuring Transaction Advisory Services Paris, Senior Manager).En 2006, il a intégré la Direction Financière de Veolia Transport en tant que Responsable acquisitions. Il a rejoint la Direction Financière du Groupe Caisse des Dépôts fin 2007 au sein du département immobilier compte propre et a pris la direction générale deCDC Investissement Immobilier (anciennement CDC GPI) en juillet 2014.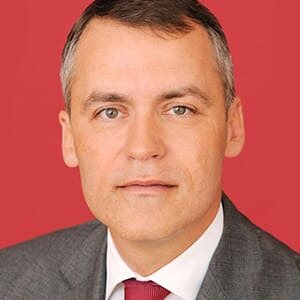 Head of French BranchBerlin HYP
France
Benjamin Cartier-Bresson, 46, is head of Berlin Hyp representative office in Paris. Cartier-Bresson has extensive knowledge of the French commercial property market. He has specialised in property debt structuring since 2002. He is a former officer of the Royal Bank of Scotland and of Credit Suisse, where he was in charge of debt origination until 2008. More recently he held a senior position at DekaBank.

General Manager - France & BeLuxAareal Bank
France
Benjamin Richard is the General Manager of Aareal Paris Branch. Since joining Aareal in 2006, Benjamin has held various positions within the bank and has worked on a wide range of financings secured against all class of assets: office, logistics, retail, residential and hotel.

Managing DirectorMeanings Capital Partners
France
Charles de Guerry is Managing Director at Meeschaert Capital Partners, leading the French platform of Real Estate investments. He has over 14 years of experience in real estate, with a primary expertise in value-add deals. Prior to joining Meeschaert Capital Partners, Charles worked for 12 years at BlackRock Real Estate in London and Paris, successively in acquisitions and in asset management, before taking charge of the French platform for real estate investments. Charles started his career in 2006 at Nomura in London, working on the financing of value-add transactions.

Head of Transactions France and BelgiumDWS
France

Président-Directeur GénéralPerial
France
Diplômé de l'ISG en 1987, Eric Cosserat débute sa carrière dans une banque française à New York, après quoi il revient en France pour travailler dans l'entreprise familiale, PERIAL. Ses premières fonctions reposent sur la diversification des produits financiers tels que les assurances vie et comptes immobiliers, puis la charge des fonds économiques et la responsabilité du service clients. Sept ans après, il devient Directeur Général puis, en 1999, il est nommé Président du Directoire du groupe. Eric Cosserat est également Vice-Président et membre du bureau de l'ASPIM (Association Française des Sociétés de Placement Immobilier) et Administrateur de l'IEIF (Institut de l'Epargne Immobilière et Foncière).

Managing DirectorIkory Asset Management
France

Executive AdvisorStaycity Aparthotels
France
Eric started his career with management experiences in the trading division at Total in Singapore, in the European parliament at the European Union in Brussels, in the international private equity division at ABN AMRO bank in Amsterdam. He continued on as Director of development at REGUS Europe, before setting up GUILLON&CO, and being appointed as an Executive Advisor to the Staycity Aparthotels Group in 2010 He possesses over 20 years of experiences in the arranging and management of international investment and development most notably of innovative growth businesses, real estate, serviced offices, serviced residences, hospitality, or other related services. Eric has lived extensively on 4 continents

PartnerBauMont Real Estate Capital
France
Eric Salmon is a Partner and member of BauMont's Investment Committee. Based in Paris, he is responsible Fund investments in France. Prior to co-founding BauMont, Mr. Salmon was a director with CarVal Investors. Previously Mr. Salmon was based in London where he worked at LaSalle Investment Management in the special situations group. Mr. Salmon started his career with Lehman Brothers in the real estate investment banking group.
This eMeeting is exclusive
for Premium members
This event is exclusive for GRI members.