Moisés
Institutional Affairs Director, InfrastructureGRI Club
Book your room at JW Marriott Hotel Bogota to the
Infra Colombia GRI 2020
Participants of the first edition of the Infra Andean GRI

François
Project DirectorGroupe ADP
France
Born in 1983, François Deveza has a Master of Engineering from Ecole des Mines de Nancy (France). He started his career in 2008 as a strategy consultant in Paris for Mars & Co. In 2012 he joined SNCF (French railway operator) as a Senior Consultant and appointed on the Project of Railway Reform. Since 2015, he has held the position of Project Manager at ADP International, in the Bid and Development Direction. François Deveza is currently in charge of airport privatization projects in Brazil on behalf of ADP International.

Alfredo
General Manager, ChileAtlas Renewable Energy
Chile
Before joining Atlas Renewable Energy, Alfredo worked at SunEdison for three years as GM for Chile. Prior to that time, Alfredo accumulated more than 20 years of experience, including a long-tenor role as Head of Acciona Energy Chile. Alfredo was president of Chile's high-profile Renewable Energy Association, ACERA, for 7 years. Alfredo holds an Engineering degree from Universidad de Chile.

Fernando
Vice PresidentBarclays Investment Bank
USA

Germán
VicepresidenteBlackRock Real Assets
Colombia

Eduardo
Vice President - Latin AmericaCDPQ
Brazil
Eduardo Farhat is responsible for developing and implementing CDPQ's infrastructure investment strategy in Latin America. His mandate focuses primarily on creating partnerships in the region and strengthening those that CDPQ already possesses, including in Brazil, Mexico and Colombia. Eduardo has 25 years of experience in infrastructure investment in Latin America. He joins CDPQ from InfraVestor Capital, an investment firm focused on renewable energy, where he was a founding partner. Prior to that, he spent ten years as Managing Director at Darby, in Brazil, where he made several investments in the energy and transportation sectors. He also worked in Southern Cross and AG Angra, two prominent private equity managers in Latin America.

Agathe
Business Development LATAMEgis
Mexico
Agathe Vigne is in charge of Business Development for Egis Projects in Latin America. She has a Master's degree from Lyon's Institute of Political studies and the Faculty of Economics of Lyon II, with a specialization in Latin American Energy Policy. After various research projects on Mexico's national oil company Pemex, she occupied several positions in the French Embassy's trade and investment office, in Madrid and Mexico. Her current activities aim at developing partnerships with both public and private actors in Mexico in the infrastructure sector, more specifically to implement new technologies and know-how in road operation and maintenance.

Paola
Director of Infrastructure PracticeGómez-Pinzón Abogados
Colombia
Lawyer of Los Andes University admitted to practice in 2007, Specialist in Public Management and Administrative Institutions, and Master in Law and Economics (Universita di Bologna/Aix-Marseille Université -EMLE European Master in Law & Economics). Recipient of the Colfuturo scholarship (2014). Paola is a member of the Administrative, Constitutional and Infrastructure Team. Prior to joining our law firm, she was working as a legal advisor of the Minister of Commerce, Industry and Tourism and has experience as public server in national and local institutions as a Legal Chief or Legal advisor. Her practice focuses on administrative procedures, in constitutional and contentious administrative lawsuits, public policy design, public affairs.

Antonio
CEOGM Infraestructura
Peru

Pablo
Director InfraestructuraGrupo Bancolombia
Colombia

Javier
Director, Regional CoverageING Bank
Colombia

José
CEO BrazilROADIS
Brazil
Jose Bartolomeu is the CEO and IRO of Viabahia SA, a Roadis Company. Viabahia is a 680km road Concession in Bahia State. Roadis is a subsidiary of the Public Sector Pension Investment Board (PSP). José has a degree in Management and MBA in Finance and has more than 19+ years' in Corporate Finance/Financial Leadership with unique experience in corporate development as well as project finance, concessions and 3P projects, within rapidly changing international markets.

Jorge
Principal, Head of Advisory ServicesArup
USA
Jorge Valenzuela has 20 years of experience in investments, asset management, and project management of real assets in the US and Latin America. Jorge's areas of expertise include financial and technical advisory for the development, investment and financing of public infrastructure and real estate projects. At Arup, Jorge leads the Advisory Services team for San Francisco and Latin America and has directed engagements in Argentina, Brazil, Chile, Colombia, Ecuador, Honduras, Mexico, Peru and the US. Civil Engineer from the Pontificia Universidad Catolica del Peru, has a Master degree in construction management and real estate from the Universidad Politecnica de Madrid, and an MBA degree from University of California at Berkeley.
Look at the core agenda of Infra Colombia GRI 2020
5G Infrastructure projects
The future of renewables and network Connectivity
Social infrastructure: health and water
Environmental, social and property issues
Colombia's Master Plan for Intermodal Transportation
Increasing airport capacity
Improving tender and contract transparency
Sources of funding and payments
Mobility and public transportation
GRI Infra members
(investors, holding companies and contractos) active in Colombia
A few snapshots of GRI in action

Discussion room during the Infra...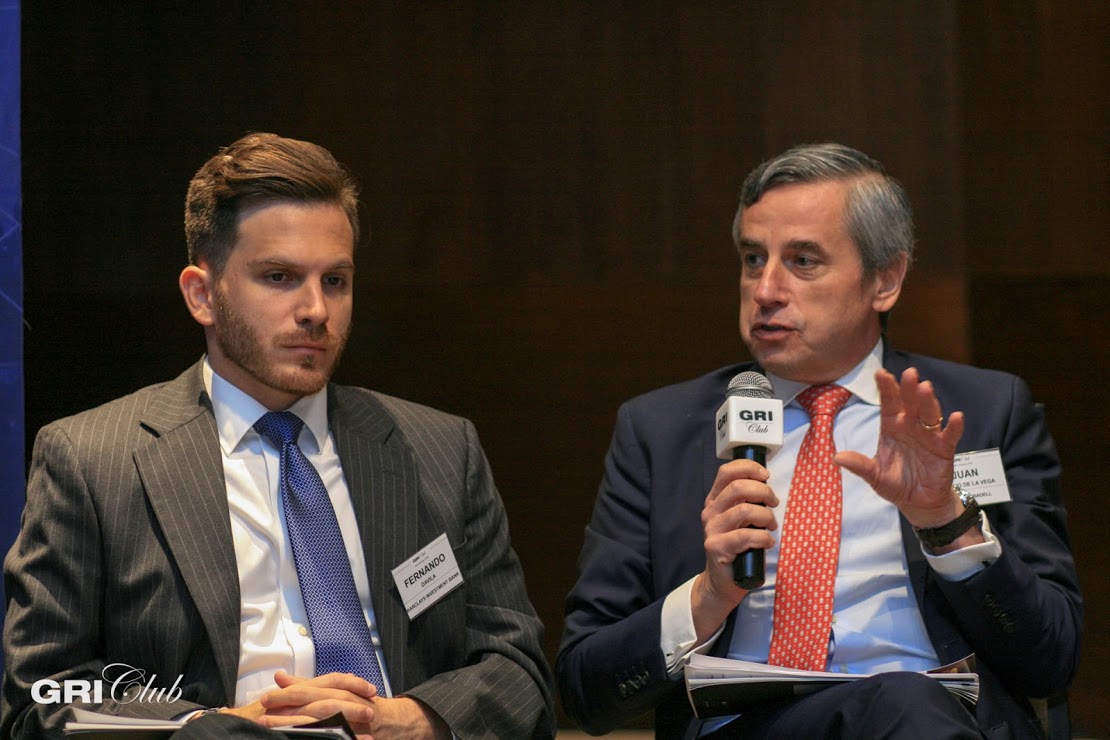 Fernando Davila (Barclays Invest...

Pedro Ravelo (CAF - Peru), Migue...

François Deveza (ADP Internati...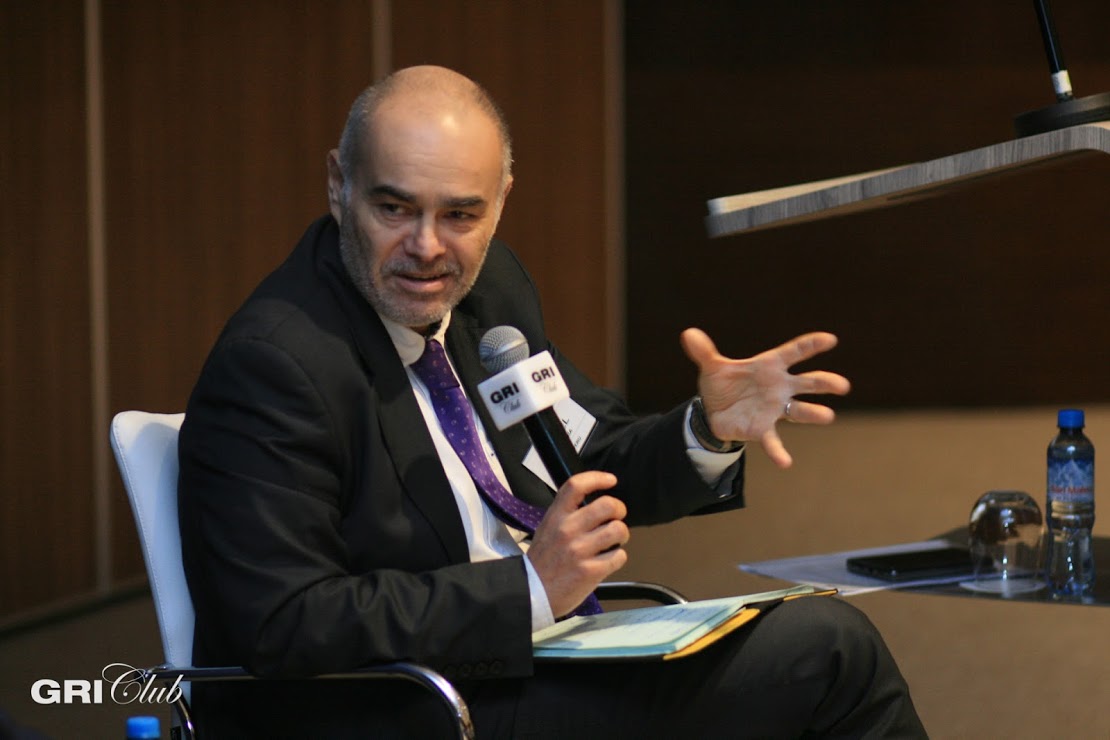 Gabriel Quijandría (Ministerio...


Discussion room at Infra Andean ...


Networing Moment during the Infr...


Discussion room during CM in Col...


Networking moment during Club Me...

Renato Valdivia (Atlas Renewable...

Ricardo Sampaio (Ministerio de T...

Need help?
WhatsApp Assistance
Monday to Friday - 8:30 a.m. to 6:00 p.m.