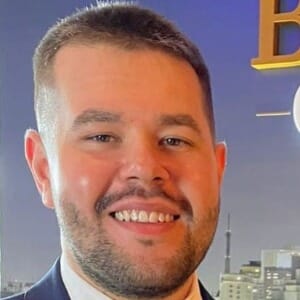 Ludwig
Production Manager, Real Estate Southern EuropeGRI Club
International Relations and Affairs Analyst and Economist at Faculdades de Campinas (FACAMP). Study abroad in France and Bachelor of Business Administration (BBA Program) at ICN Business School. Currently, Production Manager, Real Estate Southern Europe, Global Tech & Innovation at GRI Club. I'm an experienced conference/event producer with +4 years of experience in the real estate industry, producing local and global private gatherings for leading real estate players and companies. Responsible for the whole cycle of production activities, including project management, market research, program and business development, for online and face-to-face meetings. Brief work with commercial team and customer relationship.
+55 19 99281-2795
+55 19 3203-0645
What is an Online Meeting? How can I participate?
Our discussion co-chairs kick off the knowledge exchange. After that, you can join it as much as you like:
peer-to-peer, capital to product, and behind closed doors.

What is an Online Meeting
An exclusive, private and regular online gathering of the Club Members. Is the seniority of the boardroom from the convenience of your desktop.
Who can join
Senior investors, lenders and developers active in the infrastructure and real estate market.

How to join
Click on "Join the Event". After that, our team will check your eligibility. If you qualify, you will get your GRI Online Membership (no cost, contract or expiration date).
Confirmed Participants

Technical Buildings ManagerScience Based Targets (SBTi)
Finland

Founder & CEOGreenview
Singapore


Co-Founder and Lead EYCarbonEY
United Kingdom

London | United Kingdom
Ernst &Young's Real Estate Group employs 3,500 real estate professionals around the world providing financial advisory, corporate finance, valuation, audit, and tax services to corporate occupiers, investors, developers and indeed anyone with an interest in real estate. We provide a full service delivery capability through our multi-disciplined team which combines the skills of financiers, direct & indirect tax specialists, real estate specialists, surveyors, accountants and lawyers. We use our combined skills to develop and implement innovative, fully considered solutions that address the business needs of our clients. Ernst & Young has built a powerful global network of businesses and organisations – from established market leaders to innovative start up companies to provide relevant knowledge, leading technologies, products and services that compliment the firm's core competencies in corporate finance, audit and tax.
This eMeeting is exclusive
for Premium members
This event is exclusive for GRI members.