Will flexible offices survive the next downturn?
GRI Club members gathered in London on the 14th of June to discuss both the advantages and potential disadvantages of buying into flexible and serviced office spaces against the traditional office market. It began with a presentation from Green Street Advisors, which first noted that while there was a strong take up in cities like London and Manhattan it still only currently represented a small amount of the overall office market and therefore has plenty of room to grow. It was also mentioned that bigger growth is expected in cities like Berlin and Paris, where the supply is limited.
One report predicts that at this rate, large flexible offices will be 30% of total central London office stock by 2030, however the members talked about how this may not consider an impending downturn and will more than likely be lower.
Flexible office vs coworking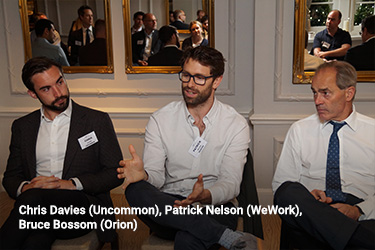 GRI Members debated the definitions of flexible office and coworking as these terms are often used interchangeably. It was generally accepted however that coworking usually refers to individual entrepreneurs, start-ups and hot desking, whereas flexible office caters more towards SME's and large enterprises.
WeWork started almost entirely working with individuals and start-ups, but have since branched out into working primarily with big companies like Facebook and Amazon, perhaps due to the better reliability of their leases.
While shared working spaces appears to be more like hospitality on the surface (commodities such as free coffee and beer provided), moving away from coworking is considered to be the more real estate-minded play as building a huge portfolio of long-term tenants allows you to maintain long-term fixed income leases by adding supplemental flexibility.
The only thing these large companies have to be wary of according to the leaders is that flexibility is going to become a huge premium as we approach the downturn, because the first subsector to drop in price is going to be the flexible space.
Flexible office operators have been disrupting the traditional office market. Take up has been strong in recent years, but how much future growth can we expect?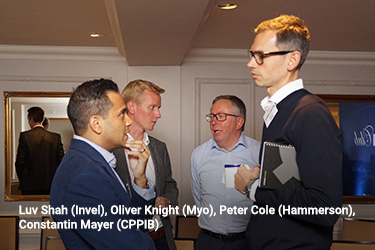 The senior real estate investors and landlords present at the club meeting generally agreed that considerable further growth is expected, possibly even through any imminent cyclical downturn. Indications of the long term sustainability for flexible space investment can be found in the average lease in the UK, dropping to 8 years from 15 in the last 2 decades showing that more flexible contracts are becoming the norm.
It was suggested that the reason why there's so much success in this sub-sector is the operator franchise model, allowing for landlords to become closer to their customers and more receptive to their needs without the headache of operating.
A leading landlord gave the example of global businesses. They have a lot of real estate requirements and more often than not they'll be in places unfamiliar to them. They don't want to have to deal, as he put it, with 100 different landlords in 100 different cities with 100 different lawyers and 100 different brokers. Not when you can outsource this to large scale flexible office space providers.
On top of this, these Fortune 500 tenants - especially the most successful ones - are extremely mobile and need a multitude of bases to work from. This is where having a brand that's known for its ubiquity and high quality service is key.
In WeWork's case, global enterprises have risen from 30% of their clientele to ~40% in the last year. These enterprises will continue to seek out flexibility in the run up to the downturn; and flexible offices will know this and command more of a premium.
Rents are cheaper by the desk, but expensive by the foot vs. traditional leases. Is it sustainable?
From a user perspective, according to some members, if the future is uncertain and they have no visibility in regards to the next two or three years then they're likely to opt for where they know they can get more efficient desk space and flexibility on a license lend. Of course however, the flexibility will have more of a premium. If lease flexibility is the product, as one hypothesised, then space efficiency is the margin.
But is the rental premium high enough to offset the risks associated with shorter leases and higher capex? The room of real estate players were completely split on this.
On one hand, the promise of new tenants and lower downtime does lend a lot to keeping the lease sustainable. However, the higher capex and shorter leases as a result of this could cripple an office provider beyond what the higher rental premium offers.
There are different business models to consider however. A more traditional lease, as in a fixed lease with a flex operator would yield reliable and consistent income but would have a loss of upside against a participating lease, where a larger upside is available but much less consistent. A third model would be for the landlord to completely create the coworking brand from scratch; but while there'd be full control of the project and full command of the upside there would also be full responsibility of the downside.
The room seemed to agree that while the next few years are uncertain, flexible office will continue to grow in the near future. In addition, "Flexible office" was suggested to become the new "office" in 10 years time, where the majority of the attendees in the room felt change is required to the new model to avoid becoming branded as a dinosaur.
Flexible offices and commercial real estate will be discussed further at Europe GRI 2019 on 11-12 September in Paris and at GRI Offices 2019 taking place in London on the 19-20 November.

Need help?
WhatsApp Assistance
Monday to Friday - 8:30 a.m. to 6:00 p.m.