Credit: twenty20Photos / Envato Elements
Gati Shakti: New horizons for infrastructure projects?
8 MIN READ
•
April 05, 2022
Introduction
Budget 2022 has emphasised infrastructure development as one of the key focus areas for economic development. The Government has made a capital allocation of INR 7.5 trillion for the infrastructure sector for 2022-23 as compared to INR 5.5 trillion in the previous year. The National Infrastructure Plan and the Gati Shakti master plan have been proposed to be the two critical pillars in achieving these development goals which will help in providing improved project planning, inter-ministerial coordination, clear policy guidance, and implementation oversight.
"Gati Shakti" - a promising initiative to enable inter-ministerial coordination for connectivity projects
The Honourable Prime Minister of India launched the Gati Shakti Master Plan in October 2021, which is a national master plan for multi-modal connectivity and is a digital platform to bring roadways, railways, and other infrastructure sector ministries together for integrated planning and implementation of infrastructure connectivity projects. PM Gati Shakti incorporates the infrastructure schemes and development areas of various Ministries and State Governments like Bharatmala, Sagarmala, Inland Waterways, MMLPs, UDAN etc. Traditionally, infrastructure like highways, railways, ports, etc. were developed in silos, preventing optimum benefit to the industry that could be achieved through seamless integration. The Gati Shakti program aims to address this challenge by bringing together 16 ministries across infrastructure sectors to ensure coordinated implementation of infrastructure connectivity projects.
Projects under the Gati Shakti Master Plan are intended to provide integrated and seamless multi-modal connectivity for movement of people, goods, and services. These projects will also facilitate last mile connectivity of infrastructure and reduce travel time for people. Each of the ministries would present their projects on the platform. The nodal officer from each ministry would then coordinate on behalf of that ministry with the various ministries - to provide feedback to the concerned ministry. The platform would enable different departments to highlight and sort out potential challenges - such as clearances for shifting of high-tension wires, development on forest land, diversion of water streams, etc.
National Highway Logistics Management Ltd (NHLML) a key force behind MMLP network development over the next decade
Under the Bharatmala Pariyojana, the Ministry of Road Transport & Highways (MoRTH) apart from highway projects have also planned Multi Modal Logistics Parks (MMLPs) across the country. The MoRTH has directed the formation of an SPV for implementation of MMLPs and connectivity thereof, highways connectivity to the ports and other associated miscellaneous works through NHLML. NHLML is 100% owned by NHAI and set up to develop logistics infrastructure across goods and passenger segments. Under the passenger segment, NHLML would be developing Inter-Modal Stations for passenger traffic, improving connectivity in hilly areas, rope ways and developing alternate mobility solutions technology under the Parvatmala project. Under freight logistics, the company would be developing and bringing inter-departmental coordination w.r.t MMLPs, first/ last mile port connectivity road projects and allied highway infrastructure.
The company will make critical contributions in logistics sector development as it seeks to develop 35 out of the proposed 100 MMLPs to be developed under the Gati Shakti program. These parks will enable intermodal transport, warehousing, cargo processing, etc. to improve service quality and reduced logistics cost. The proposed MMLPs would have a minimum land area of 100 acres each and an estimated cargo throughput of 8-10 million tonnes each, with the larger facilities being up to 5 times larger. The overall aim is to increase the overall scale of operations to the levels observed in other leading manufacturing hubs of the world.
Logistics cost comprises four key components - Transportation, Warehousing, Inventory, and Admin & others. Transportation cost in India is very high in comparison to developed economies, with a contribution of up to 50-60% of the total logistics costs. Development of MMLPs is expected to help address these high costs by enabling use of multi-modal transport for long-lead transport and improving rail-based freight movement. Warehousing has been developed by both public and private sectors usually in isolation, but true benefits are expected to come only once this infrastructure is integrated with the transportation and inventory management abilities. Also, if the quality of warehousing is developed to enable value added services, then the costs could be reduced significantly. Both improvement in transportation and warehousing service levels are expected to reduce inventory requirements and thus reduce its cost.
The LEEP study estimated that India's logistics cost is 13-14% of GDP as against 8-10% of GDP globally, reflecting the opportunity for halving these costs from the current level. One of the factors that can help achieve this is the proposed large-scale development of MMLPs and the integration of infrastructure with private sector capabilities - as envisioned by NHLML.
NHLML is looking at a hub and spoke model by providing large logistics facilities in the outskirts of the urban conglomerates and smaller facilities in the city for final distribution. This will improve efficiency on the long-lead transport and ease congestion in the cities. Such smaller facility projects within the city areas may be brought to market at a later stage.
Development of such facilities has been taken up on priority basis under the Gati Shakti program to improve the competitive position of India as a manufacturing hub in the global market. Gati Shakti has enabled integration of various government stakeholders across the project lifecycle (from planning to implementation) enabling faster go-to market and maximising economic yields from investment. The State departments and ministries are also coming onboard that will enable national level integrated planning across responsible departments through a single window.
Significant pace of MMLP planning and development work by NHLML
Currently, of the 35 proposed MMLPs that are being developed by NHLML, 10 are at the DPR stage while the remaining proposed 25 facilities are at the pre-feasibility stage. Tenders for selection of private sector developers for three out of the 10 facilities - Chennai, Nagpur and Bangalore have already been released including tenders for highway connectivity, railway alignment, etc. Tender for the fourth such MMLP in Indore is expected to be released by September 2022. For the remaining six MMLPs which are at DPR stage, land is being identified and tenders are likely to be awarded over the next year or two. The 25 facilities at the pre-feasibility stage will also be brought to market once detailed studies are completed.
Under the current model, the government through NHLML would be taking the responsibility for providing trunk infrastructures such as highways, railways, etc. for the development of the MMLP while the private developer would develop the remaining infrastructure and subsequently operate and maintain the facility.
Boost to investor confidence from pan-India planned projects plan, better inter-departmental coordination, and having required approvals before bidding stage
The proposed MMLPs are planned to be developed over the next decade giving the private sector a long-term visibility to evaluate the potential business opportunities. In addition, the Gati Shakti program is expected to lead to improvement in approval processes and inter-ministerial coordination, thereby reducing the need for private players to seek approvals from various stakeholders.
NHLML has been created for development of MMLPs with representation from all associated ministries such as railways, state governments, local bodies, etc. This SPV would provide concession to the private parties and ensure that all required approvals and comments from various stakeholders are addressed seamlessly. Also, the framework allows private developers to take a phased approach to development with the only condition being that the first phase accounting for 30% of the estimated total investment should be executed within the first 2 years of the award of contract. Overall, these measures are expected to increase the overall attractiveness of proposed MMLPs for the private sector.
In a nutshell, unlike the older times where various public projects were planned and designed in silos, now with the Gati Shakti program - different ministries would come together, sort out the issues before the project is rolled out for bidding and additionally projects would now be designed and executed with a common vision. Also, with the establishment of MMLPs across the country, it is expected that there will be a significant reduction in the logistics cost through improvement in the infrastructure and service efficiency. It is very clear that the platform is leveraged to accelerate the pipeline of projects and it would be key to the transformation of the country's infrastructure and its connectivity.
Key takeaways
1. Different ministries have come together, and all the fringe issues are expected to be sorted out even before the documents come to the bid stage
2. There is a pipeline of projects that we can look forward to, for which the Gati Shakti program can be leveraged to accelerate this pipeline
3. Intermodal shift while transporting goods based on lead and load can play a vital role in cost & network optimization
4. Minimum development commitment for MMLPs is not something that would make a large facility unattractive or unpalatable at a particular location, the master plan would ensure that there is enough room for growth
______________________________________________________________________________________________________
PwC
At PwC, our purpose is to build trust in society and solve important problems. We're a network of firms in 158 countries with more than 2,36,000 people who are committed to delivering quality in assurance, advisory and tax services. Find out more and tell us what matters to you by visiting us at
www.pwc.com
.
In India, PwC has offices in Ahmedabad, Bengaluru, Chennai, Delhi NCR, Hyderabad, Kolkata, Mumbai and Pune. For more information about PwC India's service offerings, visit
www.pwc.com/in
.
PwC refers to the PwC International network and/or one or more of its member firms, each of which is a separate, independent and distinct legal entity. Please see
www.pwc.com/structure
for further details.
______________________________________________________________________________________________________
Contacts
Jaffrey

Thomas
Executive Director
PwC

Executive DirectorPwC
India
Jaffrey is an Executive Director at PwC and specialises in the Railway and Logistics sectors. He leads a team of professionals who focus on Strategy, Due Diligence and Operations Transformation solutions in these sectors. Over the years he has led several marquee and complex engagements driven by private sector entry in these sectors in India. These include supporting clients in their India / Bangladesh market entry strategy and in developing growth strategies across 3PL, Container Logistics, Oil & Gas Logistics and Freight Terminal businesses, assessing investment opportunities in the areas of temperature controlled logistics, private railway operations (freight and passenger) and multimodal terminals.
Manish

Sharma
Partner & Leader-Capital Projects & Infrastructure
PwC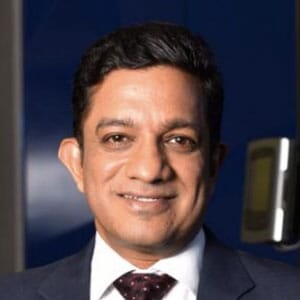 Partner & Leader-Capital Projects & InfrastructurePwC
India
Manish is Partner and Leader for Transport and Logistics Sector in PwC's Advisory services vertical. He has over 23 years of experience across the various segments of transport and logistic with both services providers and infrastructure developers.