Credit: Mint_Images | Envato
Offices Outlook for European Real Estate
Discover the latest insights on the European real estate market and the future of office spaces
9 MIN READ
•
April 26, 2023
Written by Sarah Garnett

The European real estate market has been experiencing significant changes over the past few years, particularly in the Office sector. In the USA, the Office sector has famously been dramatically affected by the pandemic as well as the recent banking crisis, with some investors saying that the market will be 'destroyed'. The European market, however, has been noted by GRI members to be in a different position, although the emergence of remote work has still had an effect.

Companies began to reevaluate their office space needs in the wake of the COVID pandemic, and are reconsidering the size and location of these spaces. This has led to a trend of downsizing and decentralisation, with companies opting for smaller satellite offices in suburban areas, rather than large centralised offices in the heart of cities. In February, Bloomberg reported that a quarter of London companies are downsizing their offices, while another 18% are moving towards flex office spaces.

This trend has been particularly evident in the technology and creative industries, where the need for collaboration and innovation has led to the creation of coworking spaces and innovation hubs.

In addition, sustainability has become a critical factor in the European office real estate market. With the increasing focus on environmental responsibility, developers are incorporating sustainable features such as green roofs, solar panels, and energy-efficient lighting into their projects. This not only benefits the environment but also provides cost savings for tenants and investors.




Finally, the European office real estate market is also witnessing a trend towards mixed-use developments. Developers are increasingly incorporating residential, retail, and leisure components into their office projects, creating vibrant and dynamic environments that cater to the needs of modern occupiers. This trend is particularly evident in urban areas, where mixed-use developments are becoming a key driver of regeneration and economic growth.
Challenges to Overcome
The European office market may face some challenges in 2023. Potential uncertainties, mounting geopolitical tensions, and the repercussions of global macroeconomic imbalances are posing risks to the sector, while this is combined with the implications of Brexit in the UK's market in particular. Consequently, investors and occupiers alike must remain vigilant and adaptable in navigating the evolving market conditions.
Recently,
GRI Club
UK met to discuss the impact of politics and policy on real estate as well as the country's economy, with many feeling uncertain on the topic of the country's attractiveness in the eyes of investors when compared to Europe.
Read the full report from the meeting, including a summary of the UK's economic outlook.
Furthermore, the rise of cyber threats and data breaches is a growing concern for businesses. The adoption of robust cybersecurity measures will be critical in safeguarding sensitive data and maintaining the trust of clients and customers.
The changing nature of work and the rise of automation and artificial intelligence is expected by many to impact the demand for office spaces in the long run. Businesses may require smaller office spaces as more tasks are automated, and employees have the flexibility to work from home. However, this may also lead to the creation of new job roles that require a physical presence in the office, leading to a shift in the demand for office spaces.
The Future of Remote Work
One of the most significant factors influencing the European office real estate market is the ongoing trend of remote work. The global pandemic forced businesses worldwide to reconsider their traditional office-centric approaches and embrace flexible work arrangements, such as remote work, hybrid work setups, and coworking spaces.

This shift towards remote work is not just a passing trend. Many experts predict that remote work will continue to impact the office real estate market well into the future. In fact, in 2020, 74% of CFOs stated that they planned to shift at least some of their employees to remote work permanently, although it is likely that some plans have changed post-pandemic. This trend offers cost-saving and efficiency opportunities for businesses; Global Workplace Analytics found that companies can save up to $11,000 for every employee working two or three days remotely.

However, the rise of remote work also presents uncertainties regarding the long-term demand for office spaces, with many GRI Club members stating emphatically that they will focus only on primary city locations for future investment and development. It is essential for landlords and developers to offer innovative workspace solutions that cater to companies' ever-changing needs.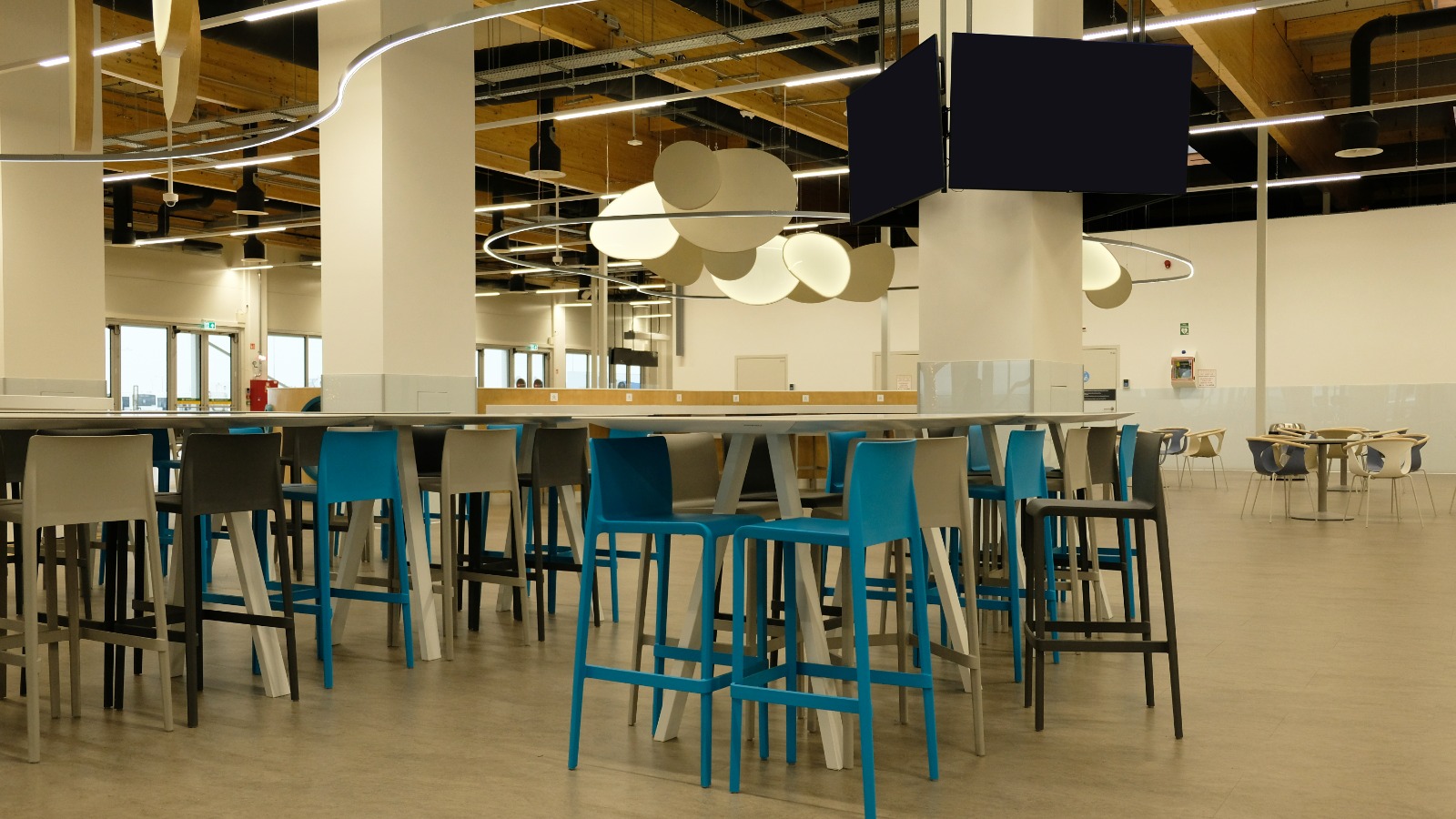 Coworking spaces are becoming ever more popular as the real estate landscape changes.(image: JulieStar | Envato)
One potential solution is the rise of coworking spaces. These shared workspaces provide a flexible and cost-effective alternative to traditional office spaces, allowing businesses to scale up or down as needed. Coworking spaces also offer a sense of community and collaboration, which can be beneficial for remote workers who may feel isolated working from home.

Another trend in the office real estate market is the rise of "hub and spoke" models. This approach involves having a central office (the "hub") and several smaller satellite offices (the "spokes") located in different areas. This model allows companies to have a physical presence in multiple locations while still embracing remote work and reducing their overall office footprint.
Technology in the Office
The ongoing pandemic has accelerated the adoption of technology in the office sector. From virtual tours to smart building management systems, technology has become an essential tool for managing and operating office spaces. This trend is expected to continue in the coming years, as companies seek to optimise their office spaces and improve the overall tenant experience.

Furthermore, the rise of digitalization and technological advancements is expected to revolutionise the way offices function. The incorporation of smart technologies, such as automated climate control, occupancy sensors, and energy-efficient lighting, will enable businesses to optimise their energy consumption and reduce their carbon footprint, which is good news for developers and operators. ESG-friendly technologies will also add appeal to investors who understand the importance of this theme.

New technology will above all incentivize a return to the office for many workers, which will increase demand for these assets, as long as they are comfortable and up-to-date.

Read more about the technology gamechangers impacting the real estate landscape in GRI Club's report here.

Offices need to change to reflect the wants and needs of current tenants. (Image: Slidebean | Unsplash)
Offices Real Estate in London
The London office market serves as a crucial barometer for the overall European office real estate sector. The city has long been regarded as one of the most important global financial centres, which naturally leads to a thriving office real estate market. In the aftermath of Brexit and the global pandemic, the London office sector has remained resilient, attracting significant investment and experiencing solid leasing activity despite the rise of remote work.
London is a city that is constantly evolving, and this is reflected in its office market. In recent years, there has been a greater focus on high-quality, flexible office spaces that cater to the needs of modern businesses. This trend has been driven by the rise of startups and small businesses, who often require flexible lease terms and modern, well-equipped office spaces that can help them to attract and retain talent.
London is always a leading real estate location, but will the UK survive its political turmoil and economic situation? (Image: Mint_Images | Envato)
Another trend that has emerged in the London office market is the increased demand for well-located, sustainable properties. As businesses become more environmentally conscious, they are looking for office spaces that reflect their values and help them to reduce their carbon footprint. This has led to a surge in demand for office spaces that are located close to public transport links and have sustainable features such as green roofs and energy-efficient lighting.

Download GRI's event report on the UK.

Despite these shifts in demand, the London office market remains highly competitive. Landlords are increasingly adapting their offerings to cater to these evolving trends, ensuring that they remain competitive in the face of alternative workspace solutions such as coworking and flexible office space providers. This has led to a proliferation of innovative office spaces in London, from converted warehouses to modern high-rise buildings that offer panoramic views of the city.
The impact of the SVB Crisis on European Offices
The SVB crisis, which began in March 2023, is expected to have a significant impact on the US real estate market overall. Its effects on Europe are less direct, although the coinciding issues with Credit Suisse have no doubt affected the attitudes of banks and their willingness to fund riskier ventures.

One of the asset classes that will be affected most by the crisis is the Office market, which was the most mentioned at GRI Club's emergency online meeting that brought together leaders of global real estate. It was also predicted to have a significant impact on the Offices market as far as India.




Read more about the opinions of leaders of real estate on the impact of the SVB crisis on Europe on GRI Hub.
2023 Outlook for Offices
Looking ahead to 2023, the overall outlook for the European office real estate market remains cautiously optimistic. Market experts anticipate that the continued economic recovery, coupled with a steady improvement in the employment situation, will drive increased demand for office spaces throughout the region, particularly in primary office markets within major European cities.

Additionally, the growth in the adoption of hybrid working models is expected to lead to an increased demand for office spaces that prioritise flexibility and enable seamless collaboration between remote and in-person team members. This hybrid model will enable employees to work from home, while still having access to office space when needed. This will not only improve work-life balance but also increase productivity and employee satisfaction.
High-quality office buildings are still considered to be in-demand in Europe. (Image: Givaga | Envato)

Moreover, the continued focus on sustainability and well-being in office design will remain a critical factor for occupiers during their decision-making processes. The incorporation of green spaces, such as indoor plants and outdoor gardens, will not only improve the air quality but also create a calming and refreshing environment for employees. Additionally, the inclusion of wellness rooms, such as meditation rooms and nap pods, will enable employees to take a break and recharge during their workday.

ESG was a focus of the discussion about Offices at the recent GRI club meeting for the CEE region. Read about the main takeaways here.

Despite the challenges posed by the SVB crisis, the European office real estate market could still be poised for growth. With businesses looking for flexible and high-quality office spaces, developers and landlords have an opportunity to create innovative and sustainable buildings that meet the changing needs of the market. As the world continues to recover from the pandemic, the office real estate sector will play a vital role in driving economic growth and supporting businesses across Europe.

C-level executives and CEOs of European real estate will discuss the future of Offices on the continent, as well as strategies for investing and developing in the new real estate landscape at Europe GRI 2023.