Nastuh Abootalebi / Unsplash
Offices' Global Real Estate Trends in 2022
What's the future of workspaces?
5 MIN READ
•
April 20, 2022
The GRI Global Committee's kickoff session on Future Offices & Workspaces took place on April 5 – "Offices Global Trends in 2022". This special session gathered C-Level real estate investors, asset owners, developers, operators, and researchers.

*Disclaimer: While this review highlights the most relevant topics under discussion, it does not contemplate the full discussion between the Board and all Members. In addition, committee sessions also dedicate time for networking.
Important Takeaways:
Even if hybrid workstyle rules, offices will have to be rebuilt;
Flexible leasing models ask for new brands;
Workspaces will be more heterogeneous than ever;
Rediscovering a company's corporate identity and culture is more urgent than ever;
Technological innovation still does not fully substitute on-site networking.
Leaders are looking for shared office spaces that allow flexibility
Much speculation has been addressed about the global
work-life
scenario after nearly three years of extreme changes regarding pandemic-related events. It's already common sense to think that workplaces will never be the same, and the typical office has become a thing of the past. But whether employees will keep remote, hybrid, or on-site,
how offices are going to be redesigned
is something still uncertain as opinions among leaders vary drastically.
How global operating companies and commercial real estate players will proceed in 2022 might be crucial, not only to the performance of this asset class but also to the foundation of human work in the long term.
Our session started with our Special Guest Carol Hodgson (Director, Global Research, JLL) presenting exclusive research to Committee Members. The great challenge of occupancy management while maintaining flexibility was one key point mentioned.

If we go back to 2020, CEOs believed in downsizing the company's physical footprint. As we turn the corner on 2022, leaders are looking instead for shared office spaces that allow flexibility.

The data given below shows several leading companies are taking different approaches, which means the future office model is far from settled. Carol argues offices may not reduce space proportionally, but rather be rebuilt.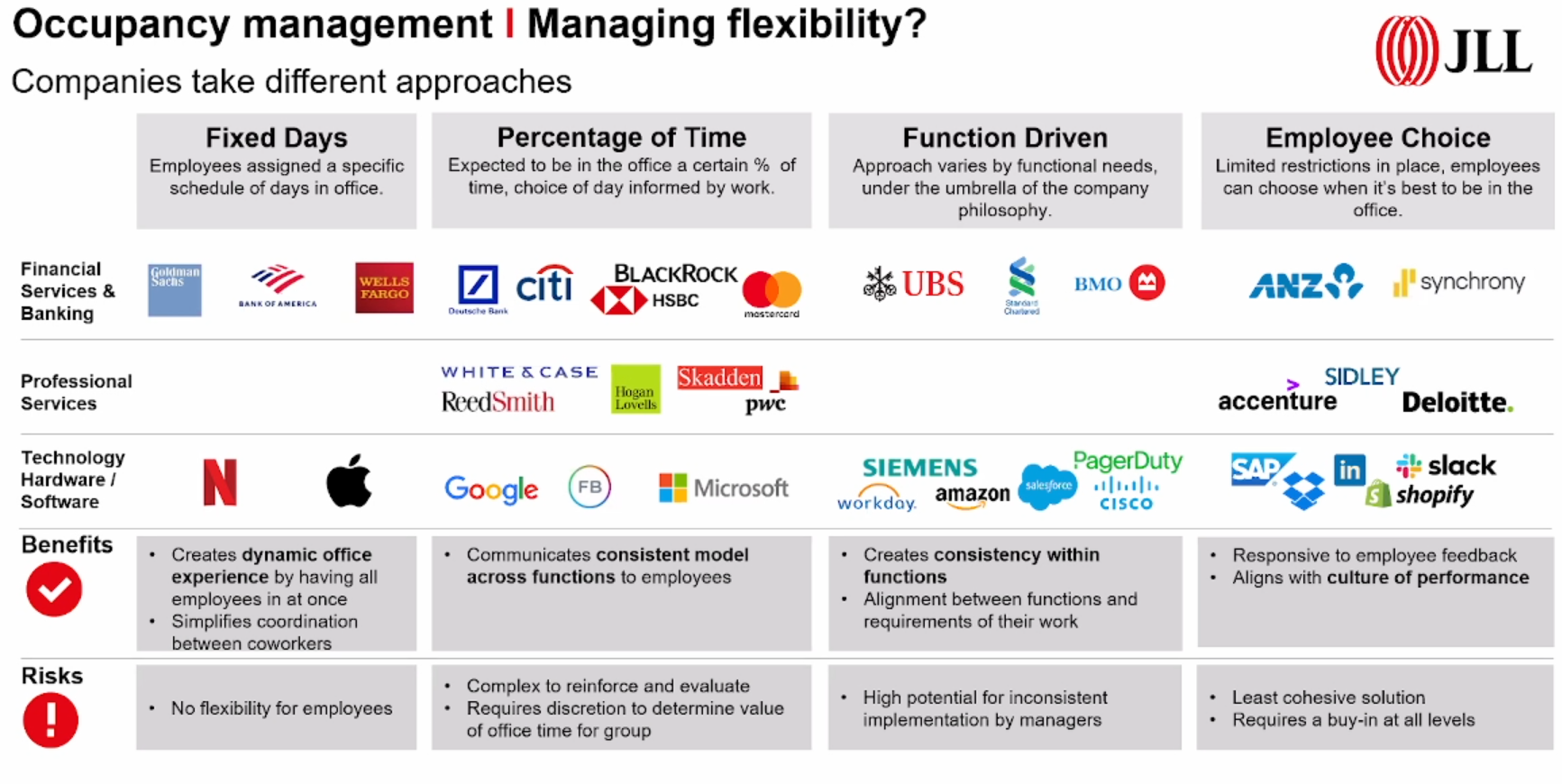 It might also be noted that, even if the
hybrid workstyle
(2-3 days in the office) seems to rule, a few investors pointed out
some successful companies already have their team back in the office.
Another point mentioned was the large number of tax revenues generated by commercial real estate transactions, which put a lot of pressure on organizations from primary cities to occupy offices.

On this matter, some Committee Members were positive about creating flexible leasing models that may allow full occupancy. It should make it possible for developers to capture the upside benefit and suffer less from the downside risk. For this matter, conceiving new flexible operator brands appears to be a good solution.

If occupancy management in workspaces worldwide demonstrates signs to be more heterogeneous than ever, the current office buildings do run the risk of not meeting the needs of a work environment that will probably be shared-space driven.
New investments in offices concerning amenities, social learning, and collaboration spaces can be key when rebuilding work environments, at the expense of individual spaces. Technology and higher services focused on health and wellbeing will be in high demand.

"Things are still changing and companies are still looking at what their future strategies are going to be. We haven't been back in the office long enough to get final data, but the expectation is that hybrid will be one of the most common ways of working."

- Carol Hodgson | Director, Global Research | JLL
Organizations need more than ever to rediscover their corporate identity
Despite the numerous speculations about whether the future of work-life will be hybrid or not, another core issue brought up by operators relates to company culture. While different workplace trend surveys show that people in 2022 are looking for flexibility, there will be places where the entire workforce will be on-site. According to some members, it will depend mostly on each company's culture.
CSR approaches were mentioned as key and flexibility appears to be an essential demand for workers from around the world. But organizations need more than ever to rediscover their corporate identity and reinvent their workplaces if they want workers to come into the office.

The commercial real estate landscape has changed forever as the pandemic turned the working environment world upside down. It will be interesting to see how owners and operators work collaboratively with a variety of tenants. Conceiving different physical spaces for each business model and ways of working will be decisive.

Watch Now