Credit: Leungchopan / Envato Elements
Thursday, June 22nd
Sumadhura Capitol Tower Building, Bengaluru
Office Market Reset: Into the peephole
The pandemic has altered the world as we know it. The way we work, our lifestyle preferences have all changed. As we emerge from this uncertainty, questions remain on the future of work. The drop in Covid 19 cases in India, and fast pace of vaccinations have made occupiers more optimistic. At the same time, there are some niggling worries about new variants too, and future health challenges.
Now is the time to make offices "future ready" as employees gradually start returning to workplaces. There will be some fundamental shifts in occupiers' preferences, some of which we have already started seeing.
WHERE IS OFFICE DEMAND COMING FROM?
India is no longer the back-office capital of the world. Over the last five years, it has proved to be at the center of cutting-edge innovation, product development for the world. Now with talks of the 'third wave of outsourcing' by Goldman Sachs, India is likely to see renewed activity from global majors. We see two main sources of demand for office spaces as we move ahead – a) Global capability centers b) Start-ups and Unicorns. Overall, expect office markets returning to pre-pandemic levels by 2023.
Global Capability centers spurt to drive large office deals
Since 2020, increased adoption of technology and digitization have steered demand for IT services. IT sector hiring is on an all-time high. For example, IT and software hiring has grown by 50% YOY in November 2021 alone. Along with this increased hiring is the phenomenon of 'the great resignation' that we are seeing. This increased churn and movement in the industry give way to a higher number of enquiries for office space from 2022 onwards. This is, in part, led by the growing sphere of global capability centers.
From 2014 to 2020, occupiers leased more than 60 million sq feet of office space in multi-tenanted buildings for their global capability centers. Bengaluru is the market leader, followed by Delhi NCR and Hyderabad. Over the next two years, retail and consumer packaged goods and manufacturing companies have been exploring setting up global centers in India. As per NASSCOM, global centers are expected to employ 2 million people in India by 2025, up from 1.3 million currently.
Start-ups and unicorns
India's bustling start-up scene has grown to greater heights in 2021. India raced ahead of many developed economies, having added 33 unicorns from Jan-Sept 2021 – the highest ever. Indian start-ups have raised more than USD24 billion in the first three quarters of 2021. With high liquidity and funding in start-ups, the demand for new-generation offices will be high. As start-ups grow, a corporate office is essential for creating a collaborative culture.
Bengaluru is the undisputed leader when it comes to startups. Nine of this year's unicorns are in Bengaluru, followed by Mumbai (including Thane) with eight unicorns, followed by NCR with seven. Led by the frenzied growth in such companies, we see flex spaces gaining in these cities. It gives them high flexibility to add or surrender spaces as per their requirements. Moreover, there are some coworking spaces that are also incubation space that fund and mentor start-ups. We can also expect more start-ups from Tier-II locations like Jaipur, Indore, Coimbatore, Kochi etc.
RE-ENTRY OF OFFICEES HINGING ON FUTURE-READY OFFICES
Re-entry of employees has been a focal point for the industry. From September 2021, we have seen employees of large technology companies slowly coming back. While Indian companies are keener on bringing back employees, MNCs continue to bide their time. However, many MNCs are looking to bring back some employees from January 2022 on a hybrid basis. In such a scenario, occupiers will look for next-generation offices with focus on health, wellness and collaboration.
Some aspects occupiers and developers are working on -
Tracking seat utilisation rate to maintain space efficiency

Indoor air quality management through improved air-filtration systems

Reduced surface contact through smart washrooms with automatic sensors, contactless elevators

Energy efficiency through automated lighting to match our circadian rhythm, passive designs

Screening measures such as thermal scanners at building entry points

Curing infection spread through anti-microbial surface protection and enhanced sanitation
Overall, commute to work is a deterrent for people to return to offices. An average Indian spends about 7% of their day commuting to office. However, in smaller cities like Chennai, Pune, Kochi etc, commute time is a lesser concern. In such cities, people are more enthusiastic to come to office for collaboration.
WELL-LOCATED QUALITY PROJECTS SEEING CAPITAL INFUSION
Investment in Indian real estate has remained resilient. In 2020, investments touched USD4.8 bn, with Jan-Sept 2021 reaching the level of about USD3.5 bn. The office sector accounted for USD1 bn of the total investments in Jan-Sept 2021. About 85-90% of the total investments in the office sector were in land or projects under-construction. However, majority of the construction finance is being earmarked for built-to-suit projects or pre-leased projects. Developers are finding it challenging to seek construction finance for speculative projects in the office sector. As demand strengthens, well-located projects with amenities will continue to see traction from investments.
On REITs, developers and investor groups are going slow in the short run. They are assessing the market and postponing decisions until the office market improves. Current occupancy in REITs is about 85-89%. With the office market's recovery starting, and large deals returning, occupancy will rise over the next few quarters.
Overall, the office market will see many things changing. Occupiers' preferences will move towards next-generation offices. Technology and innovation centers will drive demand for office space. At the same time, growth in start-ups and unicorns will need large spaces, even if they continue with hybrid work. As a theme, 2021 saw many re-entry strategies. We see that continuing well into 2022 too.
Going ahead, offices will encompass head offices, satellite office, on demand spaces and work from home. Occupiers are exploring solutions in smart buildings with modern amenities that improve operational efficiency and enable collaboration. Enhanced indoor air quality, biophilia, third-party health certification will be key elements in offices. As employees gradually return to the workplace, retrofitting and upgrading offices will be important. Workspaces will need to meet the expectations of the new normal. This will also boost demand for flex space. We see flex spaces growing 37% by 2023 in metro cities. Flex space is also set to grow in non-metro cities like Indore, Jaipur, Visakhapatnam etc. The growth in non-metro cities will be led by the reverse migration that we are seeing. While metro cities will be mainstay of commercial offices, non-metro cities will see meaningful growth in the near future.
---
This is a summary of key takeaways from the GRI Club club meetings discussion titled "Office Market Reset - What remains constant, what changes?" The discussion was moderated by Ramesh Nair, CEO-India & MD-Market Development, Asia, Colliers. And joined by imminent club members of the GRI India Real Estate Club.
---
Contact
Ramesh

Nair
CEO-India & MD-Market Development, Asia
Currently Unaffiliated - APAC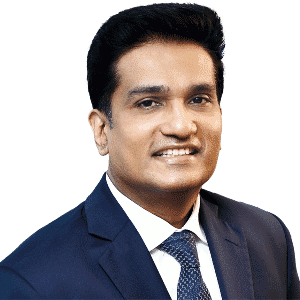 CEO-India & MD-Market Development, AsiaCurrently Unaffiliated - APAC
India
With a diverse experience of over 24 years, Ramesh's career has been focused on driving transformational change & delivering real estate solutions to domestic and multinational owners, investors and occupiers across India & South Asia. As the Chief Executive Officer, India & Managing Director, Market Development, Asia of Colliers, he is responsible for the overall direction, strategy & growth of the India's business. His key responsibilities include driving long-term sustainable and profitable growth for the company along with developing company's short-term and long-term strategy. Ramesh also drives business development and key relationship management across Asia to expand our client base and identify new service lines & opportunities.