Credit: elxeneize / Envato elements
Interview with Johnnie Wilkinson, CEO of Greenman Group

In conversation with John Wilkinson, CEO of Greenman Investments, Wilkinson spoke about the main challenges and opportunities of food retail post-COVID and his thoughts on the future of food delivery. Greenman Investments is based in six countries with over 60 employees across Europe, roughly one billion Euros of assets under management and a focus on grocery retail real estate in Germany.
1. Although Germany appears to be handling the pandemic and its economic consequences - also in relation to the real estate sectors - better than other European countries, what are the main challenges that COVID leaves for food retail asset classes?
I think the main challenge for grocers will be in the development of online retail and different distribution systems, in particular how these channels will remain, grow or alter post COVID. We've seen this play out in countries, such as France, England and Ireland to a greater extent than we have seen in Germany so far. However, I think the lessons are that the pandemic restraints have launched a process of people purchasing online and an increase in click and collect for necessities. This ultimately moves the online retail and new distribution regime forward by 5-6 years.
2. Are there any sections that demand more attention in the food retail sector?
I think there are a lot of sections that need more attention in the food retail market. However, unlike some of the other sectors, which are really badly affected by the results of COVID and the changes in retail trends overall, grocers are incredibly resilient and their balance sheets not only remained intact but improved over the pandemic period.

Secondly, there has been a growing understanding that apart from the consequences of environmental issues, also the need for education, food safety and prioritising sustainability will play a central role. Recent studies of CEOs in European grocery chains have shown that sustainability is a higher priority than online retailing. In a low margin business like grocery, you can imagine that the commitments to sustainability will be key going forward for real estate and grocers alike.
3. What do you think are the main challenges for the food retail sector in terms of sustainability and ESG credentials?
I think the main challenges with sustainability and ESG credentials, are really the philosophical issues through supply and food delivery. We've become very used to buying vegetables and fruit out of season and having them neatly packed and prepared, however, the possible environmental impact of delivering these to supermarkets are quite dramatic. I believe that the younger generations will want to see a move away from this and are wanting to see more sustainable and local food production. With that comes a challenge for the grocers, as they have very large order books they need to fill and finding these orders locally is obviously a big challenge.
4. How do you see the retail and food retail landscape change and adapt to the new demand drivers?
I think grocery retail, just like any other form of retail, is definitely on the point of significant change. We see this not only when it comes to sustainability or delivery and distribution, but also on packaging, selection, product choice, pricing and customer satisfaction.

I think that the starting point for this is supply chain management came with the pandemic. We hear about all of these issues relating to supply chain management and in particular from a sustainability position since the outbreak over a year ago. Those retailers that already have a focus on local acquisitions, such as EDEKA, are in my opinion ahead of the curve. EDEKA has a 30 mile radius to get the products to their stores and this is a trend we will really see growing quite dramatically over the years.
5. How do you see the potential of shortening supply chains as a possibility to build resilience, as well as to focus on ESG considerations for the food retail sector?
I think technology is going to play a very big part in changing supply chain management, apart from all of the things that technology can do to control stocking, infrastructure and overall improvements. I also think technology is going to change the way we grow and package food. We are working with an intelligent growth solution, a vertical farm business. We believe we can add these solutions to the car parks of our stores, which changes the supply chain to almost zero.

The key item of IGS' technology is the ability to grow smaller volumes of produce in different croppings, effectively allowing a small or local supermarket to be able to time the delivery to the hour for fresh produce. This cuts down delivery costs, delivery timing, and of course makes delivery a lot more environmentally friendly, by making sure there's less waste and good quality delivery food.
6. How does Greenman use new technology? You touched upon it already but in a bigger sense, next to vertical farms there is also drone delivery or autonomous vehicles for example. How do you use these to future-proof your portfolios?
During COVID-19 we collected on average 97% of our rent, obviously, that's because almost all our rent comes from grocers. But when these contracts expire at the end of ten years or perhaps earlier than that, we know that there's going to be significant changes in how groceries are distributed.
Whilst we still believe that physical stores are going to be the core of distribution, we also believe that there will be a lot of changes. One of the areas where we think there's going to be changes is our own food delivery and its automatization. That is why we have made an investment in Manna drone delivery.

Manna has been delivering online orders for Tesco within the last year in Ireland and interestingly they believe their solution is ideal for suburban locations. At the moment drone delivery is not working in cities. But this is a really interesting way to distribute in those areas where population is lower and the ability to order from UberEats is less efficient then compared to bigger cities and towns.

That's where I think technology is really going to have a part to play in the future of food distribution. It reduces the costs and we all know that the current online retailing is a loss-making enterprise for everybody, including Ocado, Tesco and all of the German brands as well. The way to reduce cost is to reduce the physical input from humans. I think drone deliveries and other such automated systems are going to be much more present and it's clear that I think there is a desire amongst investors to heavily fund such emerging businesses.
7. Grocery door to door deliveries any concepts to make the numbers work?
I think it's very clear that the delivery of groceries door to door is uneconomical. The grocers are funding this concept, but it will only take off when automation decreases the unit cost of delivery. However, I think currently what we've seen is a trend where people are willing to make large numbers of micro orders rather than large basket orders once a week. I think this is a trend which is going to continue.

If you know that a delivery is almost guaranteed within three to five minutes after you place that order, then if you're cooking and you're missing an ingredient you can easily order it. In cities, I think this is where we're going to see a large change towards these immediate deliveries and I think that has been shown from the Manna delivery in Ireland as well. What people have seen is that in the morning they're ordering coffee and their ingredients for breakfast, while in the afternoon they're ordering sweets for children and in the evening they're ordering eggs, herbs and other items they need immediately.

So I think that the challenge for grocers these days regarding basket sizes will not change. On the other hand, fresh produce perhaps is going to be on a much shorter supply chain, with the staple products and larger bulkier products will be the pain point where grocers will have to facilitate that particular delivery or sale in a different manner.
8. Speaking about drone delivery, you mentioned that it doesn't currently work in city centers, so do you see in the future concepts like Gorilla that are already established in Berlin, London and other big cities as similar future delivery solutions for city centers?
The models of the Glovo and Gorillas of the world is a model that is favoured by investors, as they are seeking the next big thing and have vast amounts of money to allocate to an industry that is very hot at the moment. Profitability seems to be a million miles away and a lot of these businesses are struggling to determine how they will be profitable going forward. The grocers will have a big part to play in this, because they ultimately control so much of the deliveries, and seeing them partner with a Glovo or Gorilla is something which will have to be on a profitable basis.

German grocers in particular don't like losing money, at least for a long period of time, and so I think automation has to be key. Drones and automation have to fit into the scope of the city and unfortunately that means city planners have to look at these items. It seems clear that to solve this delivery issue, there must be infrastructure in place for large scale grocery deliveries.
Contact
John

Wilkinson
CEO
Greenman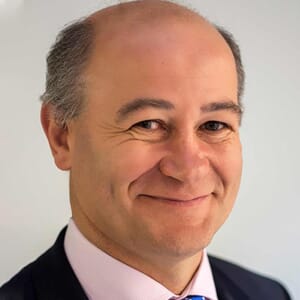 CEOGreenman
Ireland
John Wilkinson is CEO and founding member of Greenman. John has over 15 years' experience in real estate development and investment. Since managing the company from 2005, John gained a significant expertise in the selection, funding, purchase and management of German food and non-food retail warehousing. Since forming Greenman, the company has acquired and manages real estate projects to a value of €900m including Greenman OPEN, Germany's largest grocery focused retail RE fund. John is currently leading the execution of Greenman's European expansion, with the target of acquiring c.€175m of grocery dominated retail real estate in France and Spain during 2020.