Credit: vanitjanthra / Envato Elements
India's Competitive Advantage in Warehousing & Logistics
A detailed discussion was attended on July 8 by select club members. The theme of the discussion was 'India's competitive advantage in Warehousing & Logistics' co-hosted by Ascendas Firstspace.
The discussion pointers looked at the opportunities of Industrial Real Estate India through Investor Lens. Industry players such as ESR, Indospace, Jaipur Warehousing, ADIA, Blackstone, Crystal Group discussed several aspects on India's warehousing and logistics sector. Members discussed issues related to investment, growth of warehousing in Tier 2 cities, and the way forward for India's logistics sector.
Key Takeaways from the meeting
General Overview
The government's manufacturing push has helped in demand recovery for the industrial and modern logistics sector
The logistics sector is at an inflection point and will grow exponentially in the next five to ten years because of strong demand drivers
In India, the sector fundamentals are not straightforward as compared to other countries
Investment opportunities
The unified tax reform was the ultimate trigger point for investment opportunities in India after the 2006-07 period
Prior to this India's warehousing sector was fragmented with no institutional character to it. The GST regime led to institutional flow of capital into the sector
Logistics and warehousing sector is still at a nascent stage in India and the government has done some good work in terms of PLI scheme
In an institutional framework in India, acquiring lands still takes a lot of time in India. Investors have a general feeling that the sector is not scaling up as fast as it was expected to
Expected that rental growth will pick up in Tier 2 cities because of growth in demand and e-commerce players play a huge role in this aspect. The volume of demand has gone up in Ter 2 cities driven by selected e-commerce players who wants to be near to consumption hubs
Present Situation from an investor's viewpoint
India still holds a lot of promise as a market, with a huge long-term potential
Rent growth has been the biggest complication in the India market. Other markets have been more conducive for investment such as Japan, China and Australia as they have allowed investors to grow and exit at a much faster scale
Investors have not been able to justify returns from rental growth in India. A lot of structural change is required to get the right returns out of India in the present situation
COVID has changed inventory management leading to a more distributed model of warehousing
Residential developers will not be able to navigate the industrial real estate market because that has never been their core business expertise area
For India market, Institutional investors need to have a mindset of being in the market for 10-20 years because there are no substantial benefits in the first 5-10 years. Benefits in India are huge for long-term players
---
Ascendas Firstspace
Ascendas-Firstspace is an Industrial Real Estate platform dedicated to creating world-class logistics and industrial infrastructure across India. The platform is a joint venture between Ascendas-Singbridge and Firstspace Realty.
Contact
Aloke

Bhuniya
CEO
Ascendas-Firstspace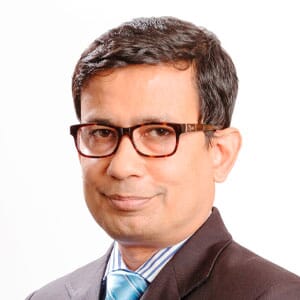 CEOAscendas-Firstspace
India
Mr Aloke Bhuniya is the Chief Executive Officer of the Ascendas-Firstspace platform. Aloke brings with him 17 years of experience across Real Estate Investment & Development, Private Equity and M&A Transactions across industries in India. Previously, Aloke has spent over 9 years in Everstone group, managing the various initiatives of the group in real estate, which included IndoSpace and Everstone Capital. As Managing Director of IndoSpace Capital Advisors, Aloke was responsible for investment to develop Industrial Real Estate in India. His responsibilities included identifying investment opportunities, monitoring developments, achieving financial closure and exiting projects after development and leasing.