Fedak explains why he left Blackstone and created Blue Macaw
The new company will be free to make lower ticket transactions. But has the giant lost its appetite for Latin America?
6 MIN READ
•
March 07, 2019
Blue Macaw. This is the new corporate identity of Marcelo Fedak, who since 2015 had been the 'face' and the head of Blackstone's real estate area in Latin America. The new company was born out of a spin-off done in early February to pave the way for transactions whose tickets fall short of what the investment giant expects and which are precisely the range in which opportunities are most often concentrated on the Latin American markets.

In this interview, the now founder and managing director of Blue Macaw explains the details behind the decision to separate the operations, he guarantees that Blackstone's appetite for the region remains steadfast, and that there are joint ventures planned between the two companies whenever attractive operations are identified. He also reveals how capital will be raised for the new business' first fund, what the investment priorities are, and takes stock of his trajectory as a young executive, with a track record working for major institutions, and now as an entrepreneur.

Check out the conversation with Fedak, who is also a member of the board of GRI Club Real Estate Brazil and attends several club's meetings and conferences in Brazil and Latin America:

When and how did Blue Macaw start being gestated?
I went to Blackstone in early 2015. The group already had a few investments here [in Brazil and in Latin America], and the idea of ​​the team at the headquarters, in New York, was to set up the local office [in São Paulo] and try to expand operations in the region, investing a lot of the capital of the main fund, the Brep [Blackstone Real Estate Partners] – which is global, but ends up being an Americas fund because there is a Europe fund and an Asia fund. At the time, this [Brep] fund was worth $13 billion. After it ended, came another one worth about $16 billion, and now there is a $20-billion one. From the start, we always tried to look at the largest transaction size possible; however, the ticket expectation was rising [along with the expansion of the fund] and, in parallel, the market here was worsening and the exchange rate devaluing. Then it became increasingly difficult to find transactions big enough to justify them. We ended up investing approximately $350 million in that period.

Was the assessment that the investments that were made were below expectations?
What happened was that, in the middle of the way, the opportunities I liked, that I thought made sense and had less competition represented a lower than desired ticket. They usually ranged from $30 million to $70 million. I took them [to the Blackstone committee] and debated, and I heard that the asset or the company was interesting, that the returns were good, but the ticket was small. By definition, this [Brep] fund is made for larger transactions, and this incompatibility always arose in the face of an incipient market. At a given moment, we even tried to design convergence solutions so as not to be limited to one transaction per year – for example, the possibility of buying a company and making the [smaller] transactions within it, which in the end did not materialize. So we decided that the solution would be to separate the Latin America portfolio to have the freedom to make a smaller, market appropriate fund, in a manner consistent with the size of the opportunities on the local market.

What do you consider a reasonable size for this fund that the new company will now raise?
A fund of $250 million to $500 million, allowing checks of $20 million – or possibly even smaller – and larger, for example $50 million, a range where there is less competition from large funds, and all this while maintaining the possibility of making the larger deals, given that the relationship [with Blackstone] continues. Part of the agreement we have, now with Blue Macaw, is that every time a transaction comes up from a certain size, I will talk to the people at Blackstone. Therefore, they still have access to the pipeline and the opportunity to invest in Brazil and Latin America; on the other hand, we have autonomy to carry out smaller transactions. Additionally, we will continue to manage the $350 million Blackstone invested up to the divestment.





Therefore, you no longer have a formal relationship with Blackstone and will act exclusively through Blue Macaw, an independent company?
Yes. Blue Macaw is now the medium, and it is raising a fund to be able to make these investments. And, in the event of a bigger opportunity, we will make a joint venture between Blue Macaw and Blackstone in the asset in question. Basically, with the spin-off, we kept the office and the team that worked for Blackstone. In the end, we had a small team and now we are even hiring more people.

Last year, at a lunch that Nadeem Meghji, senior managing director and head of Real Estate for Blackstone for the Americas offered to GRI Club members at the company's headquarters in Manhattan during the GRI Real Estate Week New York, he mentioned that he considered that moment more favorable to invest in Latin America than three years earlier and said he was very excited about it. Does all this change in strategy that materialized with the spin-off mean that the evaluation has changed?
It is important to elucidate this point. It is not necessarily a change of appetite. The central point is effectively the ticket. If there were frequent transactions here for the check size that was sought, I am sure there would be a will to do them. This transaction size issue is not exclusive to Blackstone, it is also an issue at several other funds that have come or are planning to come here and that manage hundreds of billions of dollars. Everyone is wondering how to have bigger transactions. Therefore, the point is that the market here needs to evolve. The alternative market has grown a lot abroad, while we are stagnant here.

How will the Blue Macaw raise funds, locally or internationally?
A blend of the two. We started talking to investors and have already noticed interest in the local market, from individuals and their family offices and, possibly, a few institutions doing distribution within the private banking structures. In parallel, I am talking to investors abroad, but the impression is that they are not yet 100 percent ready or as optimistic with Brazil as the Brazilians – and this is natural, since Brazilians live here day by day and already perceive an improvement compared to previous years.

So, do you tend to debut raising funds locally and then open the fan?
I think that this is the natural sequence.

How will this fund be shaped?
We will not make a real estate fund, rather a FIP [Participation Investment Fund], a drawdown fund. It will not be traded on the stock exchange. It is a fund like Blackstone's abroad, in which you attract the investor's capital and then start investing. This is a type of business that still has very little representation in Brazil, to which most investors have not been exposed yet, and we think it will grow a lot.

At a first moment, what will the investment priority be in terms of asset classes?
A little of everything in shopping malls, offices, logistic warehouses, and hotels. What we are probably going to try to avoid – and this is something that Blackstone itself avoids – is to do development.





Essentially acquisition, so...
Yes, and seeking to take advantage of the fact that now leverage begins to help in the returns. At the time we made acquisitions with an interest rate of 14 percent [a year], it was not even worth it to put debt because the benefit of leveraging was very small. Today, with the interest rate being where it is, that has changed. It is a kind of transaction opportunistic funds do abroad and that we can replicate, only with a smaller ticket.

Will Blue Macaw look at Latin America as a whole?
Yes. In the original [Blackstone] conception, back in 2015, the idea was to target Brazil, Mexico, Colombia, Peru, Argentina, Central America... that is, everything. We even looked at Costa Rica and Panama. However, we realized that no transaction was big enough in most of the region, and we decided to focus only on Brazil and Mexico. We had a great pipeline of interesting projects in these other markets and now, in this new design [via Blue Macaw]; you can also go back there, because they fit the bill.

Capitals only?
Except for Brazil, it is hard to escape from capitals, except perhaps in Colombia and Mexico. In Brazil, the location will depend on the asset class. For offices, we will probably going to focus largely on São Paulo – and Rio de Janeiro, opportunistically. For retail and hotels, you can look at state capitals, but not secondary and tertiary cities. In the logistics case, a few markets outside of São Paulo and Rio might be interesting, for example Minas Gerais, which is reasonably developed.

Do you see room to go beyond traditional real estate assets?
In the past, we studied hospitals, self-storage and senior housing, among other segments; however, they did not fit because of the check. Now we can start looking at this kind of possibility, but having to give preference to things that already have some performance history.





Why the name Blue Macaw?
We were looking for a name that referred to Brazil and South America, which sounded good and was easy to say, reasonably short and, of course, with the '.com.br' domain available. The choice process took a long time to be concluded, but I remembered what Stephen Schwarzman [chairman, CEO, and co-founder of Blackstone] once said when asked about the origin of the name Blackstone: 'do not get so attached to the name, because if you succeed, everyone will remember, otherwise, they will forget; then it will make no difference.'

You are a young professional, but you accumulate experience at leading institutions (BTG, Goldman Sachs, Credit Suisse). How does it feel to face a solo flight at this moment?
When I worked at BTG bank – and I arrived there before the purchase of Pactual –, everything we did was called a proprietary investment, and at the time, it did not even have a fund structure. Everyone did a little of everything and I, as I already had an affinity with real estate, proposed to dedicate myself to it. So it was something reasonably enterprising within an institution, since it was an area that barely existed. That is what Blackstone, when it started talking to me, said it was looking for: someone who had started a business with very little and who could replicate the experience within the group's system. When I arrived at Blackstone, I had to open an office, hire the team, and so on. Therefore, both experiences were enterprising. Now, however, it is the first time I have this kind of experience in a solo flight. The cool thing is that it is possible to blend many things I saw in my career to build a durable business and do everything in a very diligent, institutional manner.

What accumulated best practices are you 'importing' to Blue Macaw?
From BTG, I brought the more horizontal partnership and hierarchy system, which gives the professionals the freedom to act and, according to their performance, gain more responsibilities, being able to become partners. From Blackstone came a number of processes and the way transactions are looked at in detail from all angles, with efficiency and agility – the way of making transaction memos, for example, that allows you to know where all the information is at a glance, giving you an accurate idea of what each transaction is about, its potential risks, and whether or not we are looking at a good deal. That is the kind of thing we have already done and we are going to keep adopting. We will also continue to manage the portfolio pursuant to the same standards [that we followed at Blackstone]. We will also seek to preserve the buy-fix-sell motto that governs Blackstone's real estate business. I think all this will make us stand out.






Looking back at your record of accomplishments so far, what do you think was your greatest mistake and your biggest hit?
The biggest hit, probably, was ten years ago, in the BTG days, when I decided to devote myself to real estate, a business that was not invested in heavily – and is still a nascent industry. As for the greatest mistake, I think I underestimated the importance of being close to the headquarters for the investment process and its evolution. In my experience at Blackstone, I saw the difference of being at an office that was not the headquarters. There are less spontaneous interactions in daily affairs, and fluidity is lost. We even discussed the possibility of my working in New York, but while on the one hand it would be good to discuss things with the people on the committee, on the other, not being where the investments are made would make it difficult to have first access to the opportunities.

You have an intense work routine and four small children. What is the secret to reconciling your personal and professional lives?
Something positive is living near the office and having my children's school on the way to work. So we have breakfast together every day and I take them to school. This proximity also allows me to participate in some activity at school, when there is one. At night, however, they are often already asleep when I arrive; we spend time together on weekends, though. At this beginning of Blue Macaw, with a lot to do, things are somewhat unbalanced, with less time for the personal side; however, this is natural at a stage like this. Anyway, another important lesson I bring from Blackstone is that, once there are well-organized processes, efficiency is created and everything takes less time. This is very important to me. I have never believed that a person has to stay at work late just because – this is only justified if there is actually a reason. If you can do it from home, do it from home. So I try to have a good balance, because it is now proven that it takes [free] time to be creative, for solutions to come to your head. You have to step away from the problems, and then the solution appears.


Interview with editor-in-Chief Giovanna Carnio


Latin America GRI 2019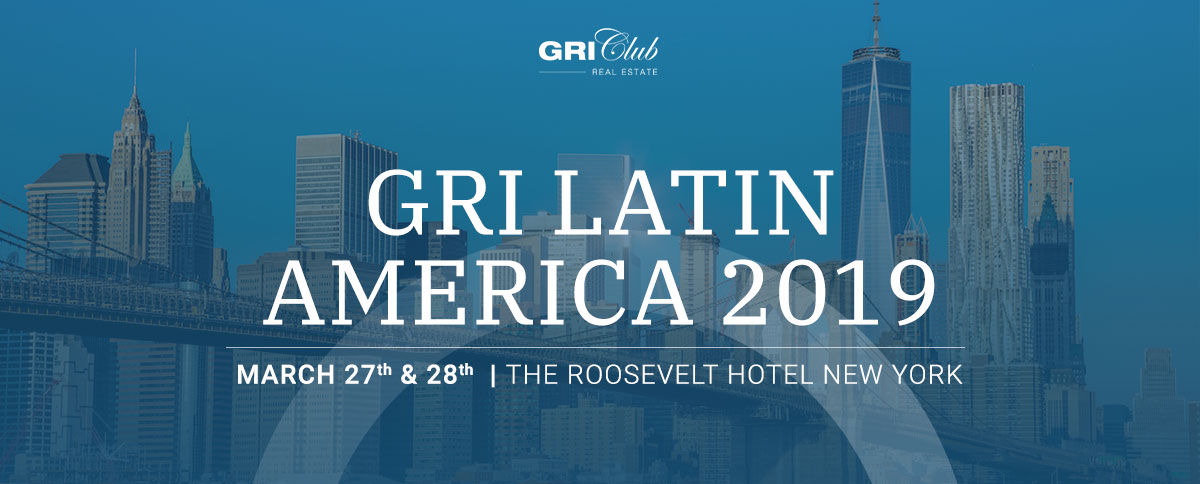 The real estate investment prospects and trends that will guide the industry in Latin America in the coming months are the focus of Latin America GRI 2019. The grand gathering will bring together the biggest names in the various real estate segments operating in the region in New York on March 27 and 28. Marcelo Fedak is among those who have confirmed their presence. Check out the full program.