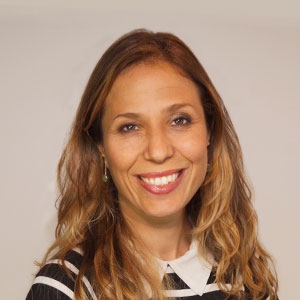 Fulvia
Head of Italy and Hospitality EuropeGRI Club
Fulvia is a Senior Director at GRI, with direct responsibility to lead GRI's activities in Italy, and the GRI Hospitality Club on a Pan-European level. She joined GRI in 2014 to launch the GRI business in Italy while helping to strengthen GRI's portfolio in Sub Saharan African markets. She has over 18 years of experience in b2b event production and brand marketing. Prior to joining GRI, she was Director at Fiera Milano Media for many years, and brand consultant for Italian start-ups in London. Fulvia is Executive MBA from MIP Politecnico di Milano (2012) and M.Sc. in Business & Corporate Communications, University of Siena, Italy.
Valentina
Business Development Executive - GRI ItalyGRI Club
SOME PARTICIPANTS OF THE 2019 EDITION
Antonio
General Manager ItalyAareal Bank AG
Antonio is General Manager of Aareal Bank AG – Italy and board member of several Italian companies within the Aareal Group. Antonio has been working for almost 30 years in the RE market for both Italian and foreign banks. Antonio is a Teaching Fellow at SDA Bocconi School of Management and member of RICS. Following a law degree in 1989, he gained an Executive Master of Business Administration (EMBA) at MIP, School of Management Politecnico di Milano. He is coauthor of three books on property finance: "Finanziamento Immobiliare" ( Egea, Milan 2010), "Property Finance – An international approach" (Wiley, London 2015) and "Property Finance – An International Approach" – Chinese Edition in Chinese Language – (China Citic Press, 2017)
Davide
Managing DirectorRisanamento
Born in 1962, he graduated in Civil Engineering in 1988. Since 2009, he is Managing Director of Risanamento S.p.A. He was CEO of Immobiliare Cascina Rubina owning Sesto Project designed by Renzo Piano for 963.500 sqm and is still CEO of all the subsidiaries of the Group. He sold assets for € 4.0 billion: Paris properties' portfolio for €1,5 billion, a prestigious building in New York for €0,4 billion and other Italian assets. He is managing the mixed-use Development Project in Milan - 440,000 sqm to be built. Previously, he headed the Real Estate Development by IPI (Fiat Group), being Director of the subsidiaries. Until 2000, he worked for a Construction Company, dealing with the construction of infrastructures in Europe.
Diego
Head of Real Estate Finance ItalyNatixis
Diego has been Head of Natixis Real Estate Finance Italy since 2006. A graduate in Economics at the University of Bergamo, he has been working in the banking sector for more than 30 years in various positions (Credit Dept., Marketing, Corporate Front Office) and institutions (BAI, former Deutsche Bank, and Creberg, Credit Lyonnais Italian branch). In 1998, he joined the HQs of Credit Lyonnais in Paris as Senior Credit Officer. In 2001, he moved to Chicago as Large Corporate Senior Relationship Manager of Credit Lyonnais Americas. In 2003, he was appointed Deputy Group Head of the RE team of Calyon in Milan until 2006 when he joined Natixis to lead the Italian Real Estate Desk of the Group.
Donato
Country Head ItalyAllianz Real Estate
Donato Saponara is Head of Italy for Allianz Real Estate. He is responsible for a multibillion euro portfolio owned by Allianz Investors. Donato leads several Boards and Advisory Committees for Allianz in Italy and is sitting in Senior Management Committees of Allianz RE for the West Europe Region. He joined Allianz in 2014 as Head of Asset Management before being appointed as Head of Transactions. He has been responsible for more than EUR 1bn transactions and led more than EUR 300 million of capex on repositioning projects within the Allianz portfolio. Prior to joining Allianz, Donato spent 14 years in Morgan Stanley acting as a Director co-heading the Italian investment team, leading major acquisition, sale and refinancing transactions.
Federico
MD & Head of Asset Management for EuropeStarwood Capital Europe Advisers
Federico Bianchi is a Managing Director & Head of Asset Management at Starwood Capital Europe, based in London and responsible for the management of the European assets. Prior to joining Starwood, Federico was a Principal, Asset Management at GreenOak Real Estate (London), where he worked for 4 years with a specific focus on Spain and Italy. Previously, Federico was Italian Country Manager and a Member of the European Board of ISG; at that time he also joined the Executive Committee of ULI in Italy. Prior to that, he served as a Director of Asset Management at Condotte Real Estate and a Director at Tishman Speyer Properties, where he was overseeing deals and projects for a combined value of more than € 1.5 Bn.
Gabriele
Head Real Estate Finance ItalyING Wholesale Banking
Gabriele joined ING in early 2006 to assist with the development of the Italian real estate loan portfolio. He is responsible for the origination, execution, and portfolio management of the real estate loans. Between 2012 and 2015, he acted as Deputy Head of REF Italy and, between 2015 and 2017, was promoted to Co-Head with wider responsibilities. Since October 2017, he is now promoted Head of REF Italy. After having graduated in 2003 in Business Administration at the Bocconi University in Milan, Gabriele worked for 3 years as financial analyst for the US real estate developer AIG/Lincoln for which evaluated commercial real estate investments. He is married with two children.
Ivan
MD, Head of MSREI ItalyMorgan Stanley
Ivan Mallardi is Head of MSREI for Italy. Ivan since joining Morgan Stanley in 2002 has been actively involved in the Firm's real estate business. Ivan successfully participated in the closing of a variety of complex transactions in the Italian market in Eastern Europe (2006-2007) and France (2008-2010). Ivan graduated cum Laude at University of Economics in Turin Italy in 2006 having previously obtained in 2002 a French Degree in Paris "Diplôme de Grande Ecole de Commerce" a German Degree in Berlin "Diplom-Kaufmann" and an English Degree in Oxford "English Master in Management ".
Jacopo
CEO & Managing DirectorImmobiliare Percassi
Jacopo graduated with honors in Civil Engineering from Università degli Studi di Napoli Federico II, has an Executive MBA from SDA Bocconi in Milan and an Advanced Management Program from INSEAD in Fontainebleau. He started his professional experience in infrastructure projects. From 2001 - 2011 he has pursued a career in big construction companies such as Astaldi and Torno Internazionale. Beginning with experiences abroad in Venezuela and Morocco, he then assumed the role of Director in complex infrastructural and civil building projects both national and European (e.g. Naples subway, hotel and office buildings in Romania and Algeria). Since 2011 he works in Immobiliare Percassi Group, in which he holds roles of CEO and Managing Director.
Joseph
Senior PartnerBenson Elliot Capital Management
Joseph has over 20 years' experience in the real estate industry across Europe and North America. Joseph joined Benson Elliot in 2008 and co-heads all investment and asset management activity. Before joining Benson Elliot, he was a Managing Director at Fortress Investment Group in Frankfurt, Germany where he built and managed a team of 40 real estate professionals with investments of €5.5bn, and led c. €700m of exits and re-financings. Prior to joining Fortress, Joseph was a Vice President at Oxford Properties Group in Toronto, Canada and worked at Borealis Capital Corp, where he managed a C$3.8bn retail investment business.
Lorenzo
Country Head of ItalyCromwell Property Group
Lorenzo is responsible for driving the business and executing Cromwell's business plan in Italy: established in 2017, Cromwell now manages €560m in Italy across different mandates, mostly on behalf of Asian capital partners. Previously Lorenzo served as transaction manager in Antirion SGR, where he covered sectors such as office, retail and hotel. Lorenzo holds a Master in Real Estate Development from Columbia University in New York and a degree in Economics from Bocconi University in Milan.
Luca
Managing DirectorVarde Partners
Luca Malighetti is a Managing Director with primary responsibility for real estate investing in Italy. Based in Milan, he joined the firm in 2014. Prior to joining Värde, Luca spent 11 years at The Carlyle Group, in the pan European real estate department. Luca earned a B.S. in Economics from University of Bergamo, Italy.
Manuel
Real Estate Director EMEIAApple
Manuel graduated from the University of Modena in 2006 with a Master Degree in Management Engineering. He then obtained professional qualification to the Engineers Order of Modena, Italy in 2007. Prior to joining Apple, Manuel worked in Retail Property Development at Prada Group, where he was responsible for achieving retail development targets for Europe. Manuel has worked with Apple since 2012, firstly as a Real Estate Manager before being promoted to his current role of Real Estate Director just a year later. During Manuel's career at Apple he has successfully negotiated deals for Apple's Flagship Stores including the most recent stores in Milan and Paris. Manuel lives in London with his wife and 2 young sons.
Matteo
Managing PartnerGWM Group
Matteo has over 25 years' experience in the real estate investments and finance sector, of which almost 10 with GWM. Prior to joining GWM Matteo was managing director of BNP Paribas, CIB division, heading the RE division for Europe ex-France and before that he held a similar role within the global RE group of Lehman Brothers. Matteo executed over €20 bn of RE transactions in Europe, including investments in offices, healthcare, retail, and residential asset classes and private and public debt and equity fund raisings. Matteo has executed over €15 bn of RE transaction in Italy, with counterparties including institutional investors, property companies, public entities, and professional investors.
Matteo
CEOBrera Serviced Apartments
Matteo Ghedini is the founder and CEO of Brera Serviced Apartments. Matteo started Brera in 2013 by opening the first location in Nuremberg. Since then Brera expanded in Munich and Frankfurt and manages today ca. 150 Apartments. Born in Italy, Matteo started his career as a consultant at the Boston Consulting Group, attended an MBA at INSEAD and thereafter successfully completed the turnaround of a Real Estate Family Officein Germany. Passionate about Interior Design and about unleashing People´s talent, Matteo´s goal is to develop Brera to one of the most important long stay players in Europe.
Nicolas
Head of Real Estate, Southern EuropeWeWork
Nicolas is the Head of Real Estate, France & Southern Europe for WeWork. He is responsible for sourcing new locations, negotiating leases, working with landlords, external consultants and teams across WeWork to ensure business needs are met across the region. Nicolas holds a MSc in Hospitality Management and Real Estate from ESSEC Business School.
Paola
Head of Real Estate EuropeDolce&Gabbana
Since 2002 Paola Macchi is the Real Estate Director of Dolce & Gabbana, responsible for the European Region. Previously she was head of the high street retail department of JLL in Italy. Paola is graduated in Business Economy at Bocconi University in Milan.
Sandro
Country Manager ItalyCBRE Global Investors
Sandro Campora is the Country Manager and COO for the Italian office, which services a number of different fund clients and currently manages a real estate portfolio of around €1.7 bln. In his role, Sandro is responsible for investment sourcing and strategic transactional advice, investors relationship, asset management overview and coordination of local business activities. Sandro joined CBRE Global Investors Italy (then ING Real Estate Investment Management Italy) in 2006. Prior experiences include being CFO at Lloyd's of London in Milan and Head of Administration at Directa SIM. He holds a degree in Economics from the University of Turin and in Political science from the University of Triste.
Sandro
SVP, Country Manager ItalyPrologis
Since July 2014, Sandro Innocenti has served as senior vice president, country manager Italy. Before joining Prologis, he was development manager with Vailog. Prior to transitioning to real estate, Innocenti worked for 3M and Imation Europe, where he was the European purchasing manager at the Rotterdam and Schiphol-Rjik head offices in Holland. Innocenti was also chief executive officer for Eurinpro and Parkridge Italy, as well as general manager of Panattoni Italy. For all three companies, he oversaw the opening of the businesses in Italy. From 2005 to 2006, he was commercial director of GSE Italia.
Stefan
Head of Research Real Estate EuropeNuveen Real Estate
Stefan oversees all research across Europe, including the United Kingdom, within the global research function. He specialises in global logistics and was instrumental in launching the Nuveen Real Estate logistics franchise. He represents the research team in the Nuveen Real Estate investment committee. Since joining the company in 2006, Stefan has been involved in marketing and consultancy for German speaking clients as well as for European products globally. He has pioneered Nuveen Real Estate's city research approach in Europe, and heavily supports the capital raise and asset selection for the European Cities Fund (ECF).