O maior evento de Loteamentos do Brasil
Projetos Inovadores
Conheça projetos que são referência através de visitas técnicas
+1.000
Executivos de todo o Brasil reunidos nas últimas seis edições do evento
Networking
Conecte-se com possíveis parceiros, investidores e desenvolvedores
Tecnologias
Aprenda mais sobre soluções e modelos disruptivos que impactarão o setor
Cases práticos
Desenvolva conhecimento através de apresentações de projetos, marketing imobiliário e vendas
Acesso a discussões exclusivas
Antecipe tendências do mercado imobiliário
As vagas já estão disponíveis para a edição de 2020
Reserve agora mesmo o seu lugar e faça parte do maior evento de Loteamentos do Brasil
Algumas empresas que participaram da nossa última edição
Alguns dos temas discutidos na edição deste ano
Tendências - Quais são os novos produtos para o setor e como rentabilizá-los?
Estudo de casos de sucesso - O que aprender com quem fez e deu certo?
Política - Qual é avaliação do desempenho do atual governo e o que esperar para os próximos 3 anos?
Tecnologia e mercado imobiliário - Quais tendências podemos esperar para o setor?
Startups disruptivas - As empresas já estão preparadas para o futuro?
Millennials e Geração Z - Como estar preparado para atender a este público?
Bairros Planejados - Projetos rentáveis aliados ao desenvolvimento das cidades?
Stand de vendas - Como atrair mais o "novo consumidor"?
Gestão corporativa e sucessão patrimonial - Como preparar a nova geração das empresas familiares?
Faça sua reserva online no Hotel Intercontinental para o
GRI Loteamentos

Ludwig
Production ManagerGRI Club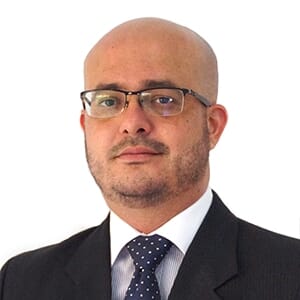 Marcelo
Club DirectorGRI Club


Anderson
Diretor GeralABecker Loteamentos

Bruno
Fundador e Sócio DiretorCasa & Terra Empreendimentos
Brazil
Engenheiro Civil, há 20 anos, é o fundador e sócio-diretor da Casa & Terra Empreendimentos, empresa que tem como principal produto a aquisição de grandes terras e implementação de loteamentos urbanos para venda. Neste caminho a empresa já possui mais de 40 mil clientes atendidos, 52 empreendimentos lançados, 56 milhões de metros quadrados de áreas urbanizadas, mais de 5 mil empregos gerados e com cerca de 65 mil lotes a serem lançados nos próximos anos em terras já adquiridas.

Caio
PresidenteAELO
Brazil
Administrador de Empresas pela FGV/SP; Bacharel em Direito pela PUC/SP; Presidente reeleito da AELO/SP (Quinto mandato); Vice-Presidente de Desenvolvimento Urbano e Meio Ambiente do SECOVI/SP desde 2005; Diretor Superintendente da GP Desenvolvimento Urbano - empresa Loteadora com mais de 67 empreendimentos realizados e com mais de 34 anos de atuação.

Celso
Diretor ExecutivoFurtado de Mendonça Empreendimentos
Brazil


Claudio
DiretorJoal Teitelbaum
Brazil

Colin
Managing PartnerLW Design Group
Brazil
Colin is an experienced managing partner with a demonstrated history of working in the architecture & planning industry globally. His strong business development skills couple with talent for design management, feasibility studies, complex mixed-use projects, from inception to construction stages. With an extensive portfolio of high profile, international projects including The Dubai International Convention Centre, Colin has had the opportunity to develop his own, strong holistic approach to design. This philosophy provides the foundation for the LW Design's architectural practice.

Constantin
Economista SêniorBradesco

Danilo
Secretário de Planejamento UrbanoPrefeitura de Joinville

Danilo
SócioParamis Capital
Brazil

Denise
Diretora ComercialTendências Consultoria Integrada
Brazil
Economista com graduação pela Universidade de São Paulo, pós-graduação em economia do setor financeiro pela Fipe-USP e especialização em Administração para Graduados pela FGV, atuou como pesquisadora na Fipe e no Iesp (1992-1994). É Diretora Comercial da Tendências.

Douglas
DiretorD&Z Urbaniza
Brazil

Dourival
CEOD.R. Morais Engenharia
Brazil

Need help?
WhatsApp Assistance
Monday to Friday - 8:30 a.m. to 6:00 p.m.