Uma oportunidade única de estar com os principais investidores e gestores de FIIs do país.
André
Partner & CEOHedge Investments
Andre is the CEO and CIO of Hedge Investments, an Asset Management Company founded in 2015 that manages Real Estate Investment Funds (FII), Private Equity (FIP), Hedge Funds (FIM) and managed accounts for institutional investors. Previously, he was a co-founder and senior partner of Hedging-Griffo, from 1983 to 2006, and an MD at Credit Suisse Hedging-Griffo from 2007 to 2016. He is also the chairman of the Real Estate Consulting Committee at B3 and a member of the Real Estate Financial Products Committee at ANBIMA. Anita
Partner and Director of Real EstateRio Bravo Investimentos
Augusto
Head Real Estate CSHGCredit Suisse Hedging-Griffo Bruno
PartnerBanco Modal
Bruno Castro has been at Banco Modal since 2002 and has more than 15 years of experience in the financial market, with the last 3 years focused in Banco Modal's Private Equity Division, dedicated to manage 06 assets (05 Real Estate and 01 Utilities), develop exit strategy and lead the full (or partial) disinvestment. Before joining the Private Equity Division, Bruno Castro worked for 10 years in the Investment Banking Division, dedicated to Mergers & Acquisitions and Corporate Finance, when he was responsible for prospect and develop relationship with clients across multiple sectors, including Real Estate and Financial Sponsors. Current Real Estate portfolio includes: 2 Hospitality; 1 Residential; 1 Brokerage Firm; Structure Debt (CRIs).
Caimi
PartnerBFIN - Brookfield Financial
Carlos
Sócio ExecutivoKinea Investimentos
Fernando
Executive DirectorBTG Pactual - Medellín
Leandro
Partner and Head of Real EstateVinci Partners
Head of the Real Estate Group of Vinci Partners. Previously, he was the CFO and IRO of BRMalls where he was responsible for investors relations, funding strategy, acquisitions and monitoring financial operations performance of greenfield and brownfield developments. Before, worked for Banco Pactual from 2004 to 2006 in its Investment Banking Division covering the Real Estate sector. From 1999 to 2004, he was Partner and the head of the Real Estate Group at Banco CR2. From 1994 to 1999, he was co-head of the Real Estate Group of Banco BBM. He holds a bachelor's degree in Economics from PUC-Rio and an EP Degree from Stanford University.
Pedro
Gestor ImobiliárioXP Asset Management
Responsável pela originação dos fundos de renda e líder da estratégia de investimento no setor de shopping centers do núcleo de Fundos Estruturados da XPG. Possui mais de 11 anos de experiência no mercado imobiliário, tendo trabalhado na BRMalls Participações S/A durante 9 anos e meio, desde a criação da empresa em 2007. Passou pelas áreas de finanças corporativas, análise de investimentos dos projetos greenfields e expansões das Cia., planejamento financeiro, novos negócios e M&A. Também foi responsável pelas áreas financeira e comercial do Shopping Tijuca entre 2011 e 2012, sendo este um dos maiores shoppings da BRMalls.
É formado em Engenharia de Produção pela PUC-RJ e possui a Certificação de Gestores ANBIMA
Regis
Managing Partner - Head of AssetRB Capital
O maior fórum de FIIs do Brasil
Perspectivas e
Oportunidades
Os fundos de investimento imobiliário (FIIs) ganham cada vez mais espaço na carteira de investimentos e são avaliados como opções atrativas de boa rentabilidade e baixo risco.
+1.000
Participantes
Investidores institucionais e pessoas físicas. O evento reúne especialistas qualificados para debater tendências e oportunidades de investimento nos diversos segmentos de FIIs.
Acesso a Conteúdos
Exclusivos
Participar deste evento proporciona uma experiência única, relacionamento de alto nível, compartilhamento e acesso a conteúdos qualificados.
As vagas já estão disponíveis para a edição de 2020.
Reserve agora mesmo o seu lugar e faça parte do maior Fórum de Fundos de Investimentos Imobiliários do Brasil.
Algumas empresas que participaram da nossa última edição
Compartilhamento e acesso a conteúdos qualificados
Temas e cases de sucesso serão divulgados através de especialistas em suas áreas. Uma boa visão de indicadores e estratégias para o cenário futuro.
Relacionamento de alto nível (networking)
Conversas informais e troca de experiências com os mais respeitados investidores de FIIs de todo o Brasil.
Análise de investimentos e apresentações de FIIs
Conheça os bastidores da gestão dos FIIs mais desejados do mercado.
O mais exclusivo evento
com os maiores especialistas
de FIIs do Brasil
Receba todas as atualizações do evento

Investidores institucionais

Gestores de Fundos de Investimento Imobiliário

Corretoras e Distribuidores de FIIs

Agentes Autônomos de Investimentos

Investidores Pessoa Física

Fórum GRI de Fundos Imobiliári...
Fórum GRI de Fundos Imobiliári...
Fórum GRI de Fundos Imobiliári...
Fórum GRI de Fundos Imobiliári...
Fórum GRI de Fundos Imobiliári...
Fórum GRI de Fundos Imobiliári...
Fórum GRI de Fundos Imobiliári...
Fórum GRI de Fundos Imobiliári...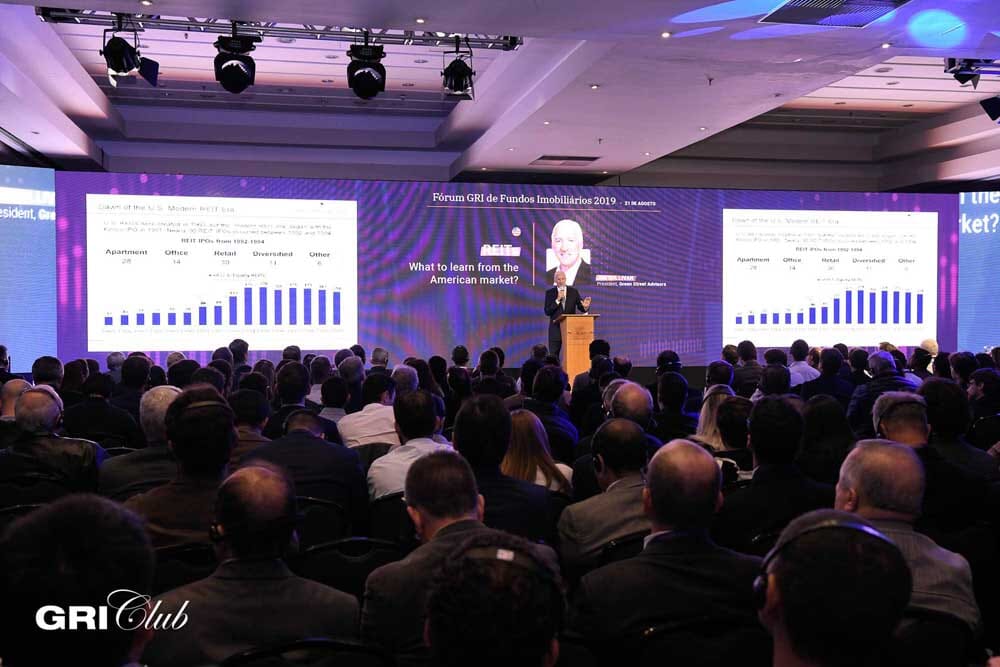 Fórum GRI de Fundos Imobiliári...
Fórum GRI de Fundos Imobiliári...
Fórum GRI de Fundos Imobiliári...
Fórum GRI de Fundos Imobiliári...
Fórum GRI de Fundos Imobiliári...
Fórum GRI de Fundos Imobiliári...
Fórum GRI de Fundos Imobiliári...
Fórum GRI de Fundos Imobiliári...
Fórum GRI de Fundos Imobiliári...
Fórum GRI de Fundos Imobiliári...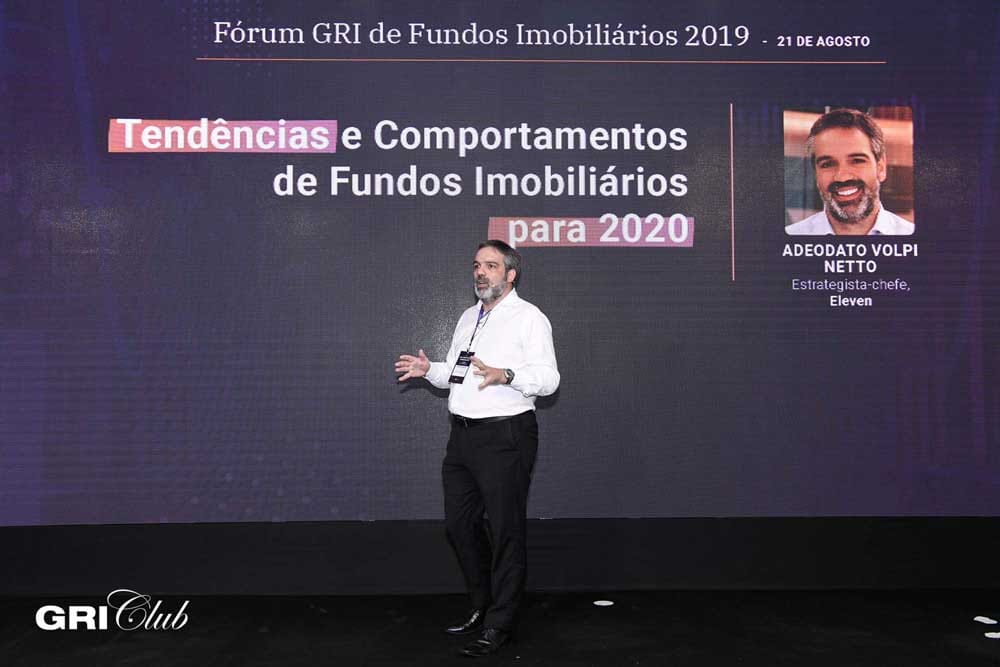 Fórum GRI de Fundos Imobiliári...
Fernanda
Senior Club DirectorGRI Club
Fernanda Magnabosco é Club Director no GRI Club. Com mais de 5 anos trabalhando com incorporação imobiliária tem experiência em vários segmentos do mercado tendo atuado com a gestão de projetos, desenvolvimento de produto e coordenação de equipes em Loteamentos, Residenciais, Corporativos e Logísticos. Formada em Arquitetura e Urbanismo pela Puc-Campinas, teve escritório próprio no Brasil por 4 anos e passou 3 anos em Londres trabalhando para o escritório Clifford Tee + Gale Architects and Surveyors em Londres.
Robinson Silva
Robinson Silva
Partner and Head of Real Estate - Brazil
GRI Club
+55 19 3203-0645
Robinson Silva é diretor do GRI Club, que reúne os principais players imobiliários e de infraestrutura em mais de 20 países. Lidera a divisão de Mercado Imobiliário do clube no Brasil, incluindo conferências e atividades exclusivas a membros atuantes nos segmentos residencial, de loteamentos, shopping, varejo, hotéis, escritórios, industrial e logística. Destaca-se também moderador de debates com grandes nomes do mercado, da economia e da política.
Tem uma extensa rede de relacionamentos e uma ampla experiência na indústria imobiliária brasileira e nas áreas financeira e de crédito. É graduado em Relações Públicas pela Esamc e pós-graduado em Marketing pela ESPM. Possui ainda especializações em Marketing e Gestão de Projetos pela Fundação Cásper Líbero.
Need help?
WhatsApp Assistance
Monday to Friday - 8:30 a.m. to 6:00 p.m.