Guarantee your participation and
get Advanced Saver price!
Click here
Discussion Participants Include:
Head of IberiaPatrizia Immobilien AG
Eduardo began his real estate professional career in 2003 at Aguirre Newman in Madrid. In 2004 Eduardo joined Sonae Sierra as Asset Manager with responsibilities for the Spanish portfolio of shoppingcentres and also for new business opportunities. In 2007 Eduardo left Sonae Sierra to be part of the Spanish Investment team at Unibail-Rodamco as Senior Investment Manager. During his stay in Unibail-Rodamco, Eduardo had the opportunity to participate in the acquisition of La Maquinista – a mega regional shopping centre in Barcelona – and Habaneras in Alicante both of them owned by Metrovacesa. He also participated in the sale of 2 packages of logistic warehouses to Invesco. Eduardo is currently interim Head of the Iberia Region at Patrizia.
Christopher
Managing DirectorCorestate Capital Advisors
Christopher Hütwohl has covered management positions in project development, asset management and investment management and was regional manager Southern Europe for Germany's leading real estate funds from 2002 - 2014. He has headed many benchmark operations throughout Europe in the volume of more than 3bn. Euros. His former engagements include: Commerzbank AG (1995 - 2000), Fraport AG (Frankfurt Airport Authority) (2000 - 2002), Commerz Real AG (2002 - 2008), Deka Immobilien GmbH (2008 - 2014)
Cristina
Managing PartnerAzora Capital
Cristina García-Peri is Head of Corporate Development and Strategy for the Azora Group, an independent investment and asset management group with more than €3.7bn of equity raised. Prior to joining the Azora Group in 2011, she worked for 16 years in the investment- banking sector at both Merrill Lynch (2 years) and JP Morgan (14 years), where she held various positions in the area of M&A for 4 years and for 10 years was MD responsible for Corporate Equity Derivatives for EMEA. Her last two years in investment banking took place at Merrill Lynch where, in addition to continuing to lead Corporate Equity Derivatives she also was responsible for Equity Capital Markets for Spain and Portugal.
Gregg
Principal, Head of IberiaBenson Elliot Capital Management
Gregg is a Principal and Head of Iberia at Benson Elliot, a pan-European real estate private equity fund investing across all asset classes. He dedicates his time to originating and analysing new equity and debt investment opportunities across Europe, with a primary focus on Spain and Portugal. In addition, Gregg manages Benson Elliot's current investments in Spain. Gregg joined Benson Elliot in 2011 from Colony Capital, where he worked on debt and equity investments across Europe. Earlier in his career Gregg was a consultant at ERA, advising clients on the market and financial feasibility of large-scale hotel, residential, and leisure developments across the United States, Asia,
Guillermo
Country Head SpainMileway - Spain
Guillermo Ravell is the Country Head of Mileway in Spain. He has a wide experience in the real estate industry of more than 20 years in all its fields and more particularly in asset management, investment and development of logistics and office portfolios in Spain. Previously to Mileway he served as Senior Advisor for the investor and asset manager Kefren Capital Real Estate and 10 years as Country Manager in Spain for the Australian listed logistic developer Goodman. He initiated his professional career at CBRE where he played different roles during 8 years. Guillermo holds an engineer degree and a senior executive program at IESE business school.
Javier
CEOCG Capital Europe
Mr. Beltran is Managing Director of Carlton Group Europe and CEO for Iberia and he has more than 20 years of investment banking, real estate and capital markets experience throughout Spain, Portugal and rest of Europe. Most recently, he was a Managing Director of UniCredit's Investment Banking division and had previously worked for UBS, Morgan Stanley and Barclays Capital. Over his career, Mr. Beltran has intervened in the completion of more than €20 billion in European transactions, including a wide spectrum of equity and mezzanine investments and direct lending transactions. He holds a PDG degree from IESE Business School and graduated from CUNEF with a BD in Business Administrations & Finance.
Joan
Managing PartnerSpinnia
Prior to founding SPINNIA, Joan developed his entire career in RE, both in Spain and abroad (UK, France, Germany, Poland, Portugal, Bahrain, the U.S. and Brazil), serving as Asset and Property Manager at Landscape (Bank Sabadell, with over €650 M AUM), International Director General at ESPAIS (developer with over €1 Bn investment), and Country Manager of SEGRO (REIT with €6 Bn AUM), among others. With more than €2.2 Bn of managed assets and €3.0 Bn in RE transactions, he is currently founder and managing partner of SPINNIA, a RE asset management company focused at sourcing, structuring and managing commercial RE projects. Education: BA (UB, Barcelona), MBA-MIM (ESADE, Barcelona), EFQM Model Assessor (Brussels) and MRICS (RICS, London).
José
José
Ignacio Tramuns Pladellorens
Head of CRE Finance EMEABanc Sabadell
José-Ignacio Tramuns is the Head of CRE Finance EMEA at Banco Sabadell. He joined Banco Sabadell in 2006 as a member of the Structured Real Estate Finance team, and afterwards was the CIO-Real Estate in BanSanbadell Inversión, with more than €1 billion under management. Prior to joining Banco Sabadell, he gained experience in Real Estate and Private Banking in firms such as Aguirre Newman and Morgan Stanley. He graduated in Economics with an MBA from ESADE Business School.
Kirat
Managing DirectorPlatinum Estates Limited
Kirat Dhillon is a Managing Director at Platinum Estates Limited based in London. Platinum is boutique real estate investment and advisory firm serving ultra high-net-worth clients. Established in 2012 we operate a highly focused investment platform, pursuing niche opportunities across Europe.
Michael
PartnerTPG
Michael is a Partner based in London. He has helped establish TPG Real Estate's efforts in Europe and is a member of TPG Real Estate's Investment Committee and TPG Europe's Executive Committee. He previously worked at Europa Capital and in the PERE divisions of J.P.Morgan and Lehman Brothers. He holds a Diplome de Grande Ecole and MSc in Management from ESCP Europe, and speaks German, Spanish, English, Portuguese and French. He serves on the Board of Directors of several companies, including A&O Hostels, Campo Properties and Campus Living. He serves as Chairman of the Board of Tempore Properties SOCIMI and is also a member of the Board at Great Ormond Street Hospital Charity, a non-profit organization that supports seriously ill children.
Paulo
CEOLouvre Capital
Paulo Loureiro is the Founder and Managing Partner of Louvre Capital. Since inception, Louvre Capital's principals have invested, along with their partners, more than €100 million in residential developments in Portugal. Prior to founding Louvre Capital in 2015, Paulo was an Executive Director at Morgan Stanley in New York, focusing on the oil and gas industry. He started his career with Schlumberger, the world's largest oil service company, spending six years in Argentina and Brazil. Paulo received his MBA with honors from The University of Chicago Booth School of Business and holds a Master of Science degree majoring in Maths and Physics. Paulo is a Portuguese national, fluent in English, French, Spanish and Portuguese.
Pedro
PartnerExplorer Investments
Joined Explorer in 2012 and currently is the Partner in the Real Estate Business Area. He worked at CBRE in Madrid in 1987 and opened the Portuguese office in 1988, leading it until 2012. Pedro has a degree in Systems Engineering from Instituto Superior de Matemáticas Aplicadas and a master in Finance and Company Financial Management from ISCTE-INDEG. He is a Fellow of the Royal Institute of Chartered Surveyors (RICS) and appraiser certified by the CMVM.
Philippine
Presidenta & Consejera DelegadaElaia Investments/ Batipart
Philippine Derycke is Head of Spain for Batipart group and CEO of Elaia Investment Spain (EIS). She was COO and CIO of EIS operations from 2016 to June 2017. She was previously in charge of international acquisitions within the French company Eurosic SIIC SA and has been actively envolved in the development of the Spanish companies. Philippine worked for four years as a senior real estate investment manager at Unibail-Rodamco. Previously, she worked in the real estate divisions of Carrefour and UBS.
Thibault
DirectorLaSalle Investment Management UK
12-year experience in European RE investment on both the debt and equity side: 7-year in transactions at GERE (Paris, Madrid and London offices) both equity and debt side and 5-year origination/execution role in the debt and special situations investments (construction finance and Mezzanine finance/preferred equity investment against RE assets in UK and Continental Europe). French native, fluent in English and Spanish
Yotam
Co-Founder & Chief Business DevelopmentMindspace
Mr. Alroy co-founded Mindspace and currently serves as Chief of Business Development. Prior to co-founding Mindspace, Mr. Alroy had several executive business development roles at Roboteam and SHL Telemedicine (SWX: SHLTN). During his career he served as a consultant for AYRAD Investments, a single-family office focused on high tech investments. Mr. Alroy holds a BA in Law & Business Administration from the Interdisciplinary Center in Herzliya, and an EMBA from Northwestern University Kellogg School of Management. He resides in the Tel Aviv Metropolitan area, with his wife and two children.
España GRI
20 - 21 April, 2020
The Westin Palace Madrid
A get-together of senior investors, lenders and developers active in the Spanish real estate market
The 7th edition of España GRI will welcome leading real estate investors, developers and lenders active in Spain.
Hosted by GRI Club España, the annual España GRI 2020 will welcome senior real estate investors, developers and lenders for two days of discussions covering where we are in the cycle, as well as emerging opportunities across the sectors.

With new entrants to the Spanish market, the race for competitive yields and deploying capital in becoming increasingly intensified. España GRI is set to cover everything from millennials impacting asset management strategies, institutional investment appetite for real estate assets, fund structure and deal flow, proptech, affordability, structural vs cyclical shifts, among much more.

España GRI is not a typical conference and the unique GRI discussion format enables you to interact and engage with others in a relaxed and personal environment, much like a conversation in your living room. Attendees find the meeting a useful way to connect with their global and local peers, building meaningful business relationships and understand the emerging market trends.

Global Investors - Entry, consolidation & JV strategies
Which is their strategy to enter the country?
Looking for a local partner?
Are they here to stay for long?
Are new RE players emerging from the fusion of big foreign funds and local developers?

Private Debt Alternatives - Returns better found in evolution of equity or bank alternatives?
Which is the borrower point of view?
Hybrid Models - Who's up for it?
Do we have a more solid market with higher competence?
Are the returns really as similar as in equity?
Bigger Picture & Disruptive Trends

Millennials & Re-Thinking Future of Real Estate - Everyone's talking about it, who's doing it?
Demands on Assets - How much do we need to change?
Demands on Development -Do the price points work with what is needed?
Or we still build like 20 years ago?
Bigger Picture & Disruptive Trends

Operational & Serviced Real Estate - Competitive edge, the only way to evolve?
Only way to make money these days?
Operators, the new players in the market,how important are they?
All assets as a service or just made for some of them?

Build to Sell Resi - Political intent creating opportunities or just a high-End Hero?
Only luxury products give us good profit?
Who's investing in mid and affordable?

Student Housing - Priced up, players out or still room for more?
Will the "boom" of student housing end in tears?
How are we finding the yields?
Is the appetite turning towards co-living and serviced living?

Madrid & Barcelona - Where are the yields?
Products too expensive?
Any spot left in the big cities for good returns?
The winner asset class?

Shopping Centres & High Street Retail - Structural vs cyclical, when will investors jump back in?
Still interest for mortar retail or e commerce taking it all?
Will we ever find again a good moment to invest or are the glory prices over?
Who's the winner these days, shopping centers or high street retail?
Executives from France, Spain, Netherlands, Germany, USA amongst others
71%
Investors & Developers
Meet our exclusive format

GRI has no speakers, no presentations. Instead, you have a selection of closed-door discussions where everyone can participate.

Much like a conversation in your own living room, the dynamic environment allows you to engage with your peers in an informal and collegial setting.
20 - 21 April, 2020 - The Westin Palace Madrid
Wednesday, April 10th
2019
Close
See complete schedule
Close
See complete schedule
12:00pm - 12:10pm
Millennials & Re-Thinking Future of Real Estate - Everyone's talking about service, who's doing it?
06:30pm - 06:50pm
People, Property and Proptech- Who wins, who loses and why?
Wednesday, April 29th
2020
Close
See complete schedule
08:00pm - 09:00pm
Work without walls - How to embrace for the next customer shift trend impacting the Real estate
Thursday, April 11th
2019
Close
See complete schedule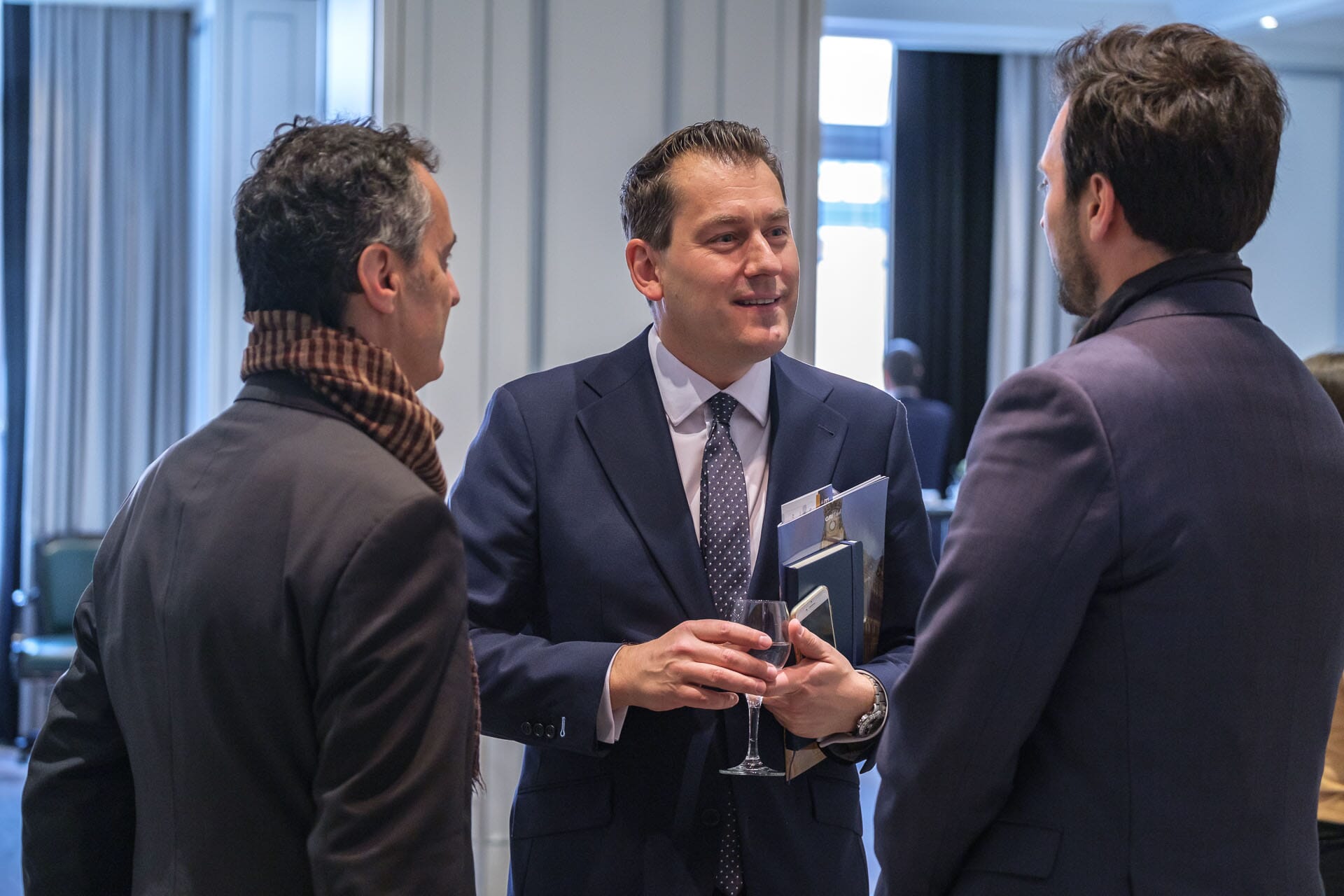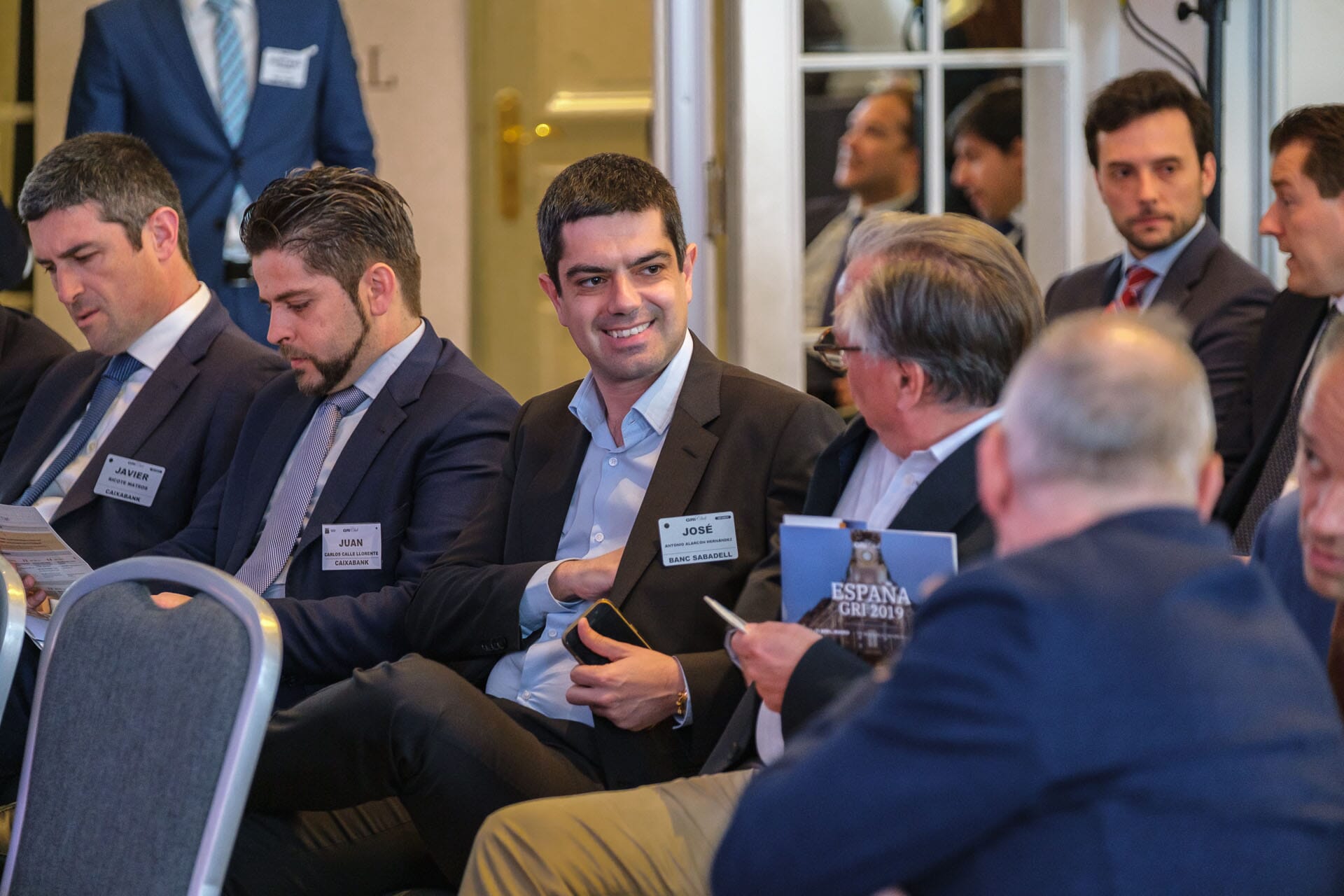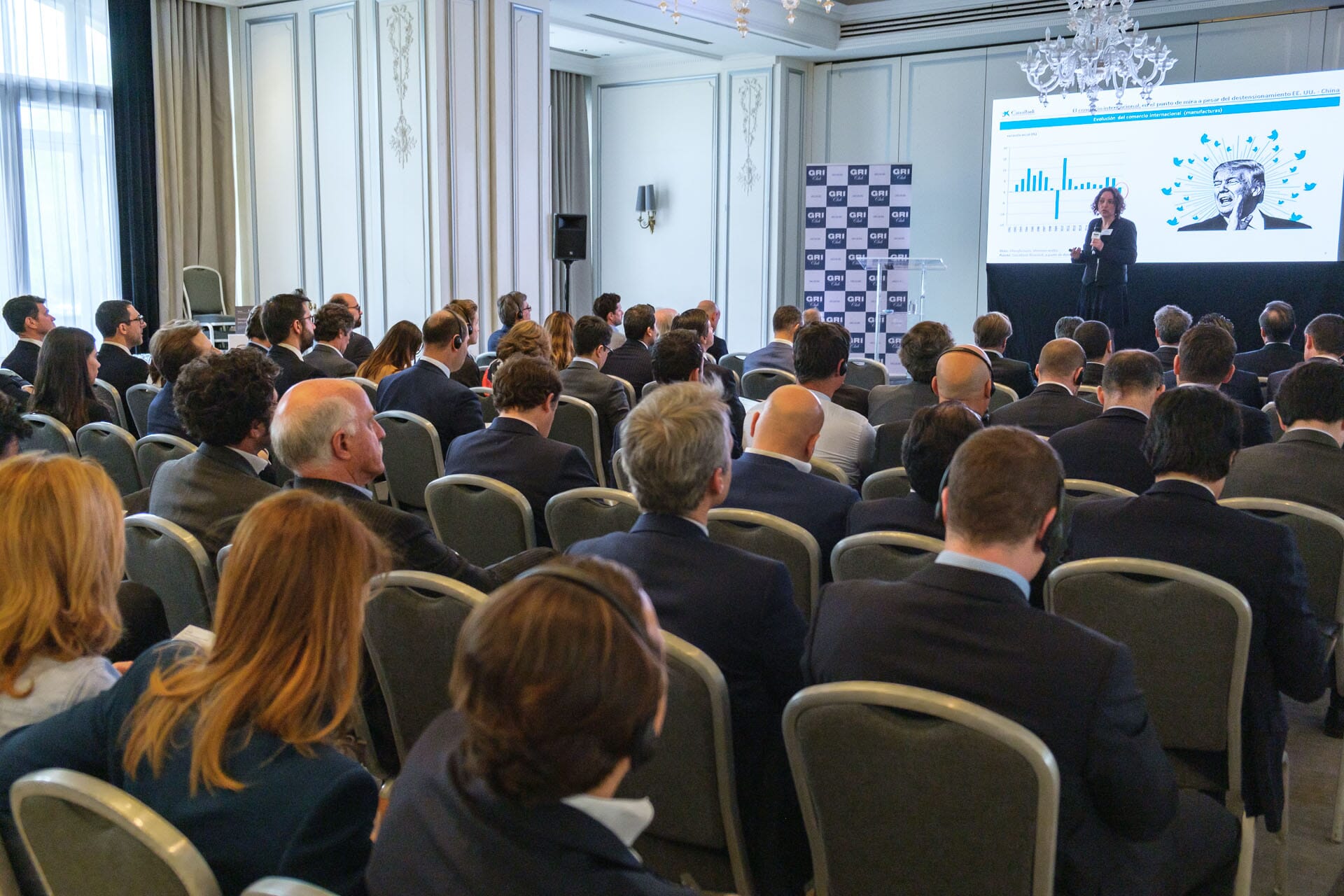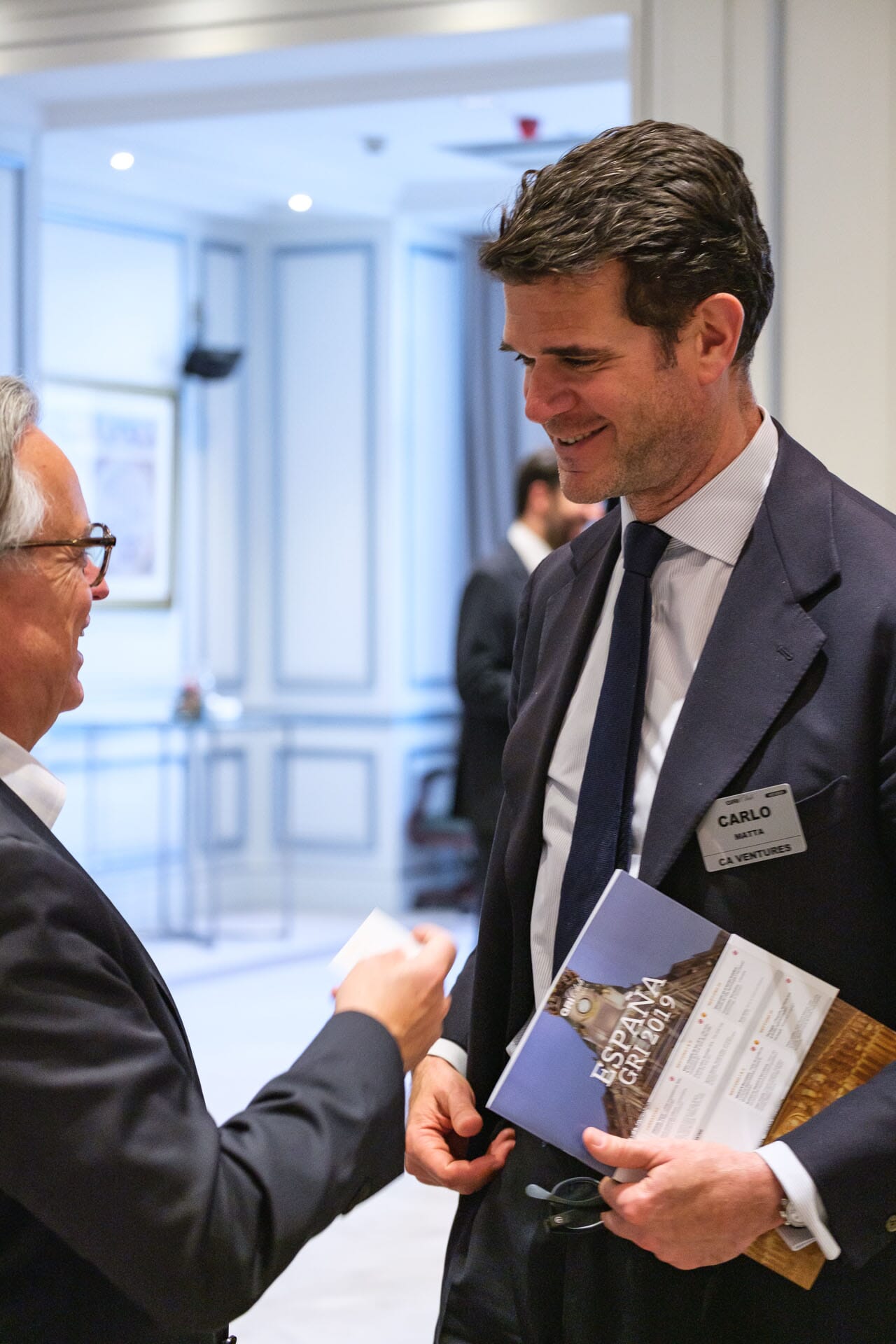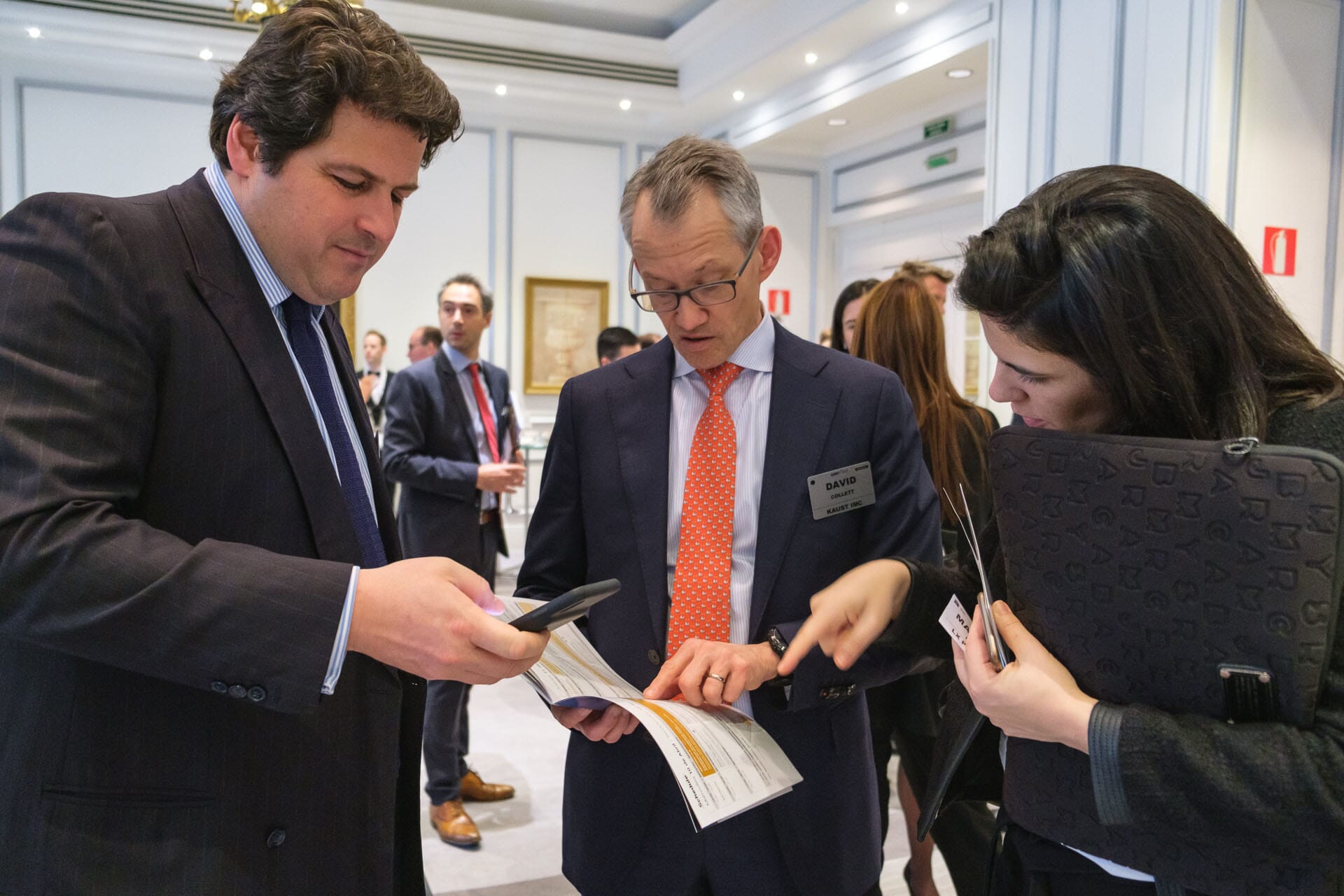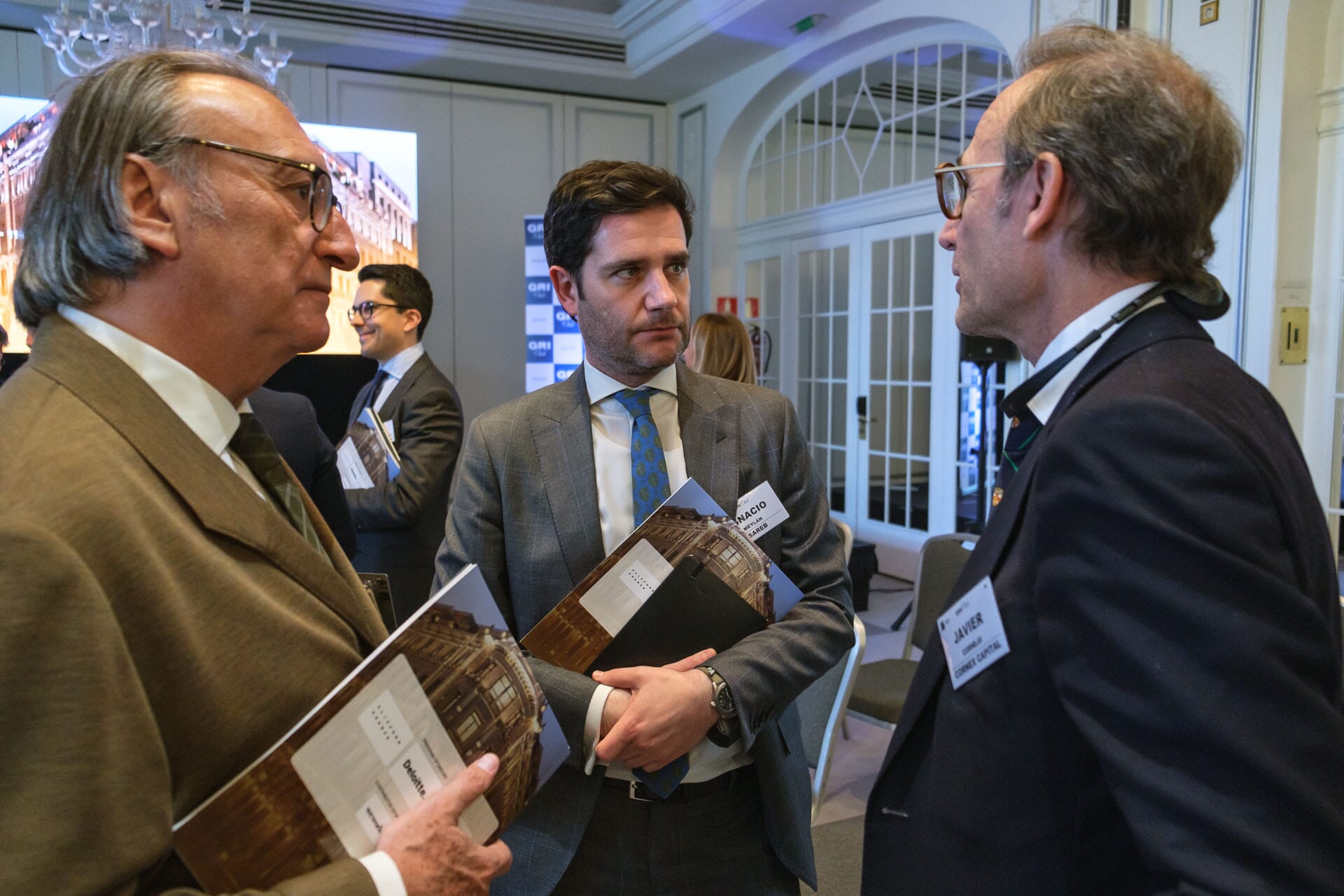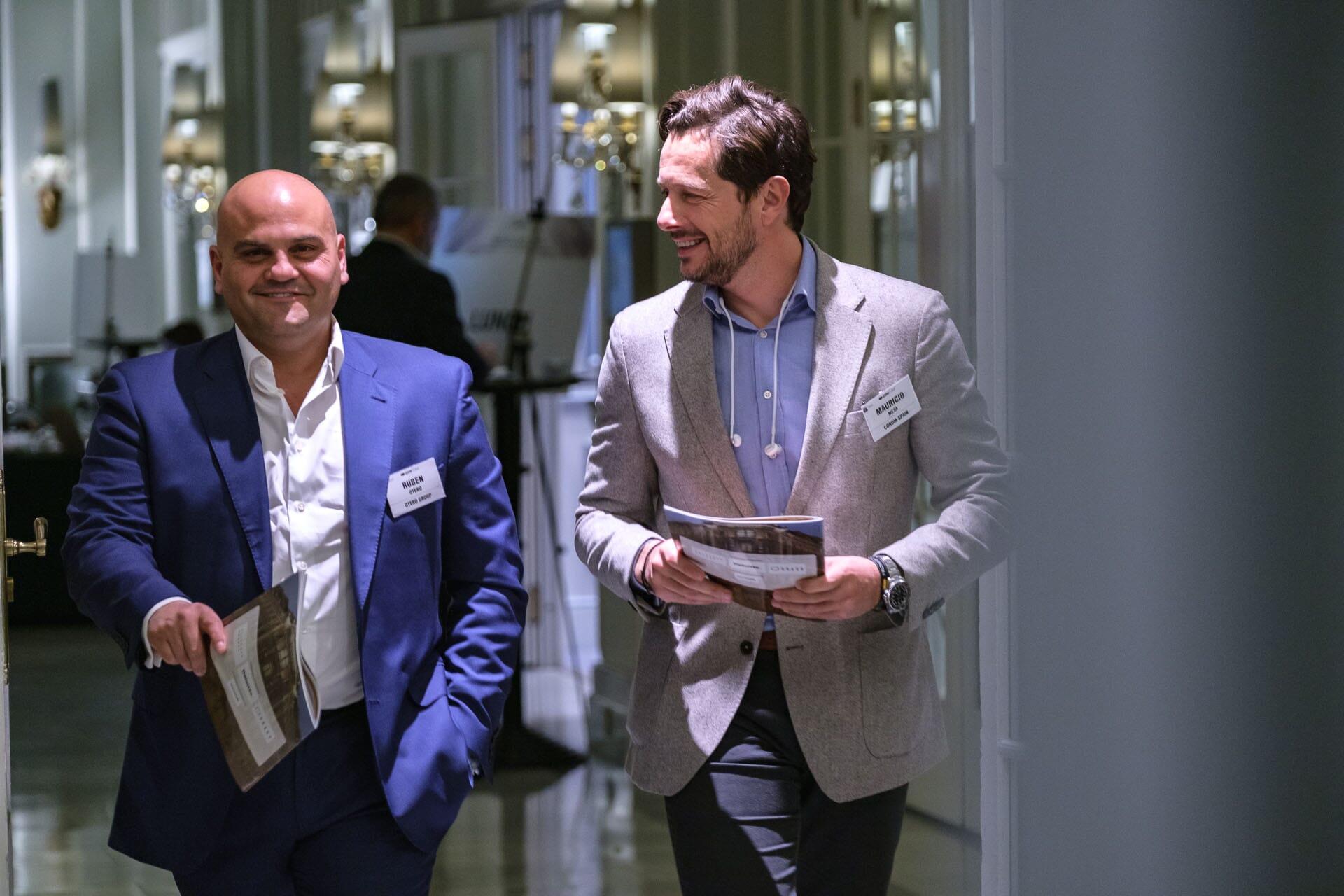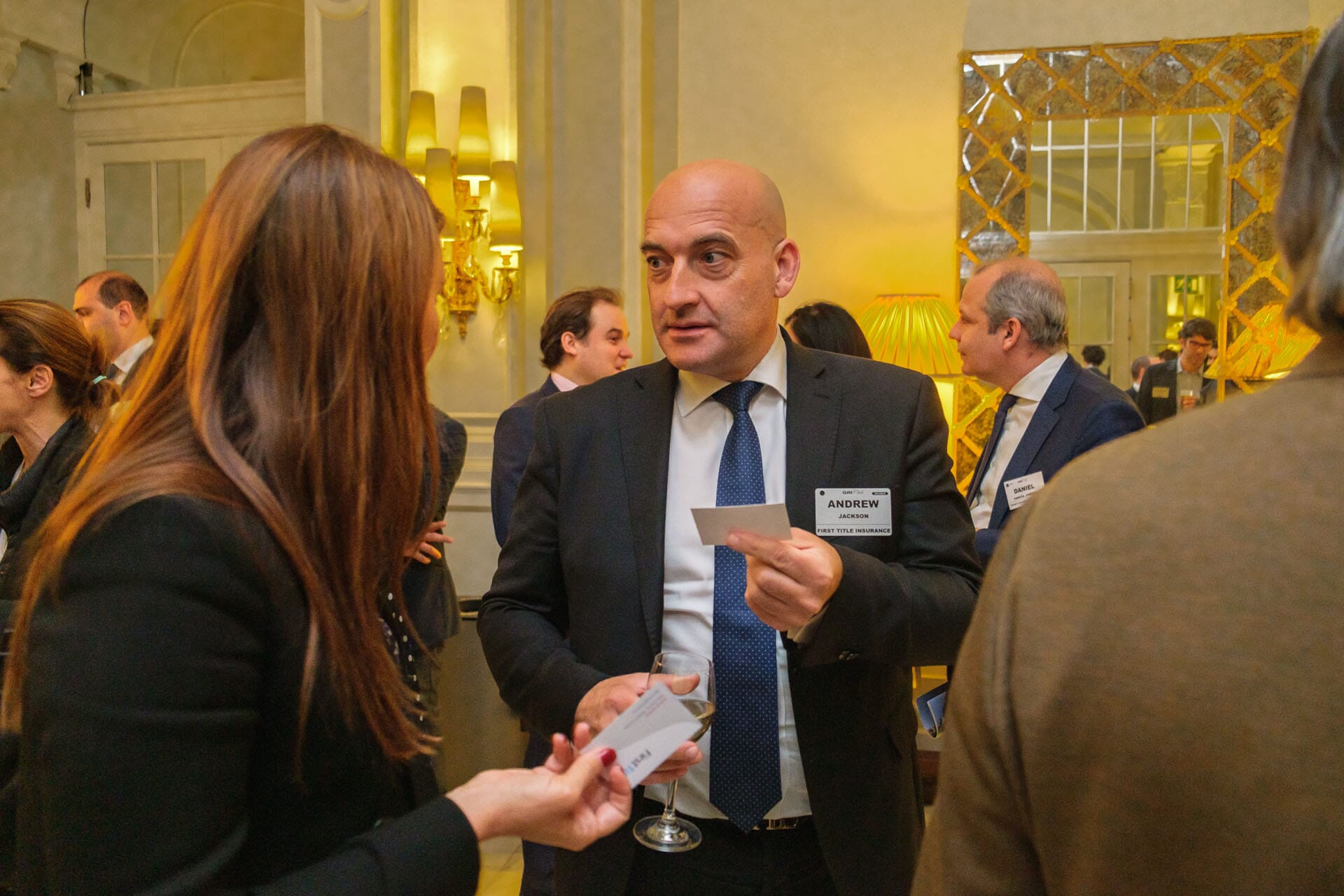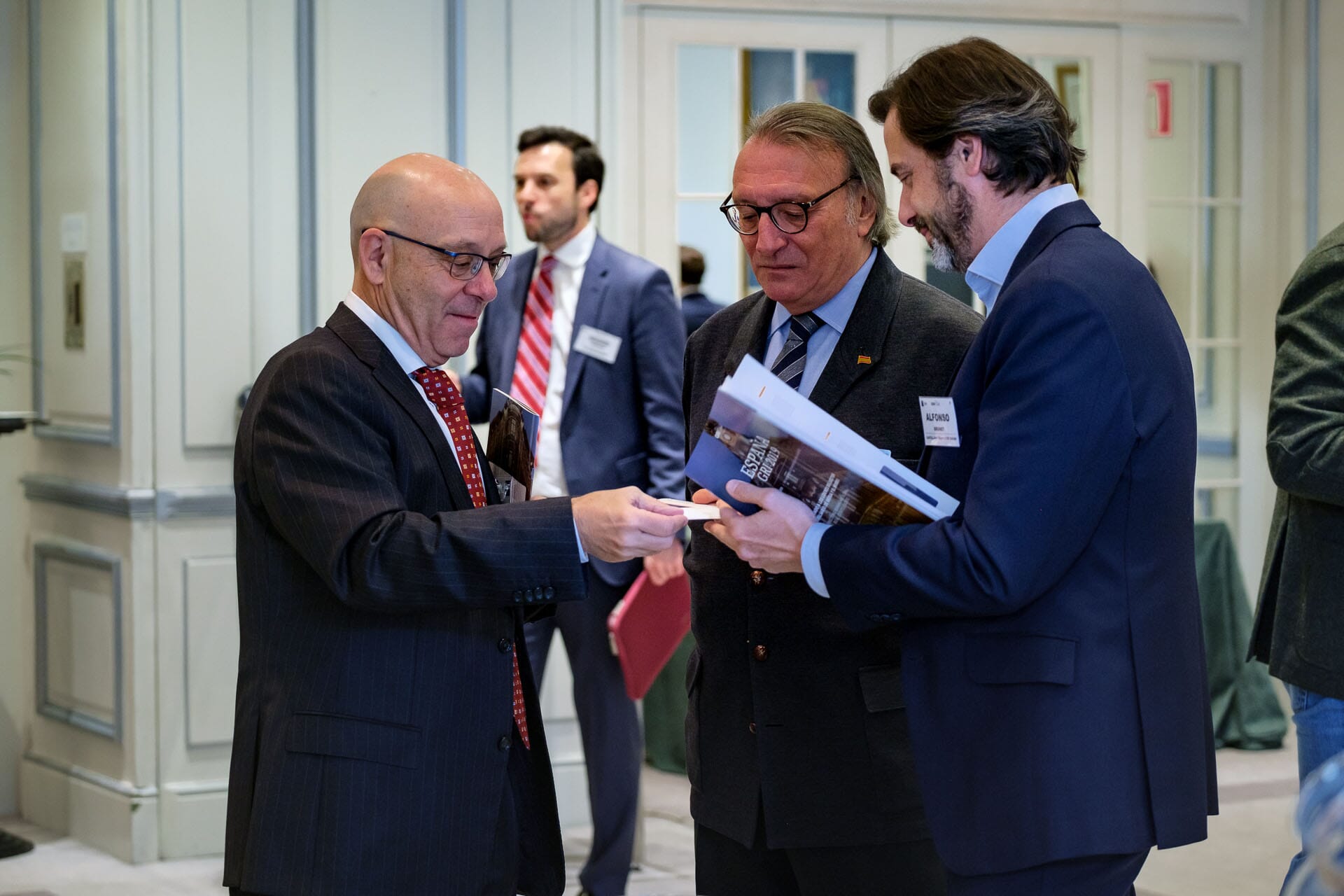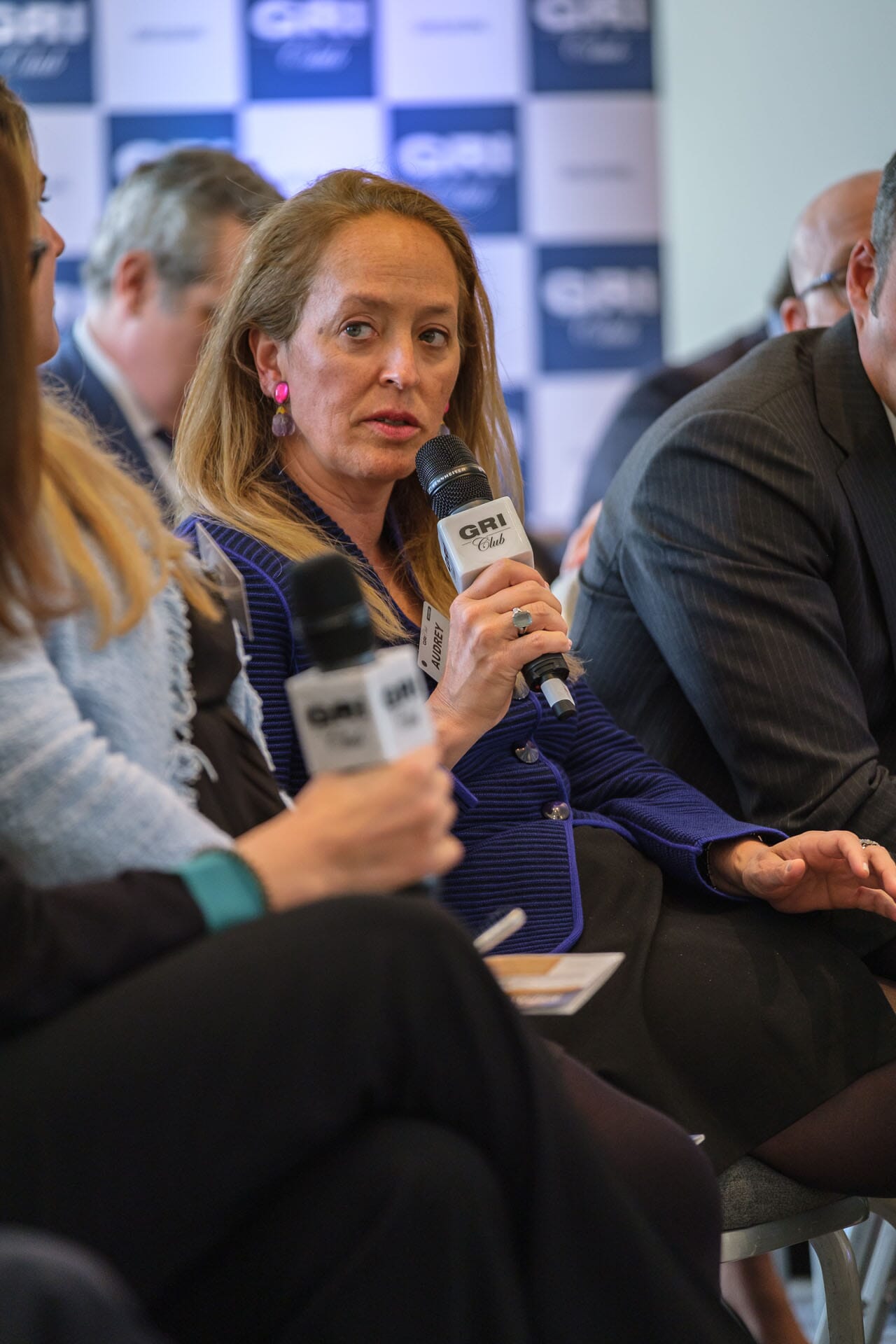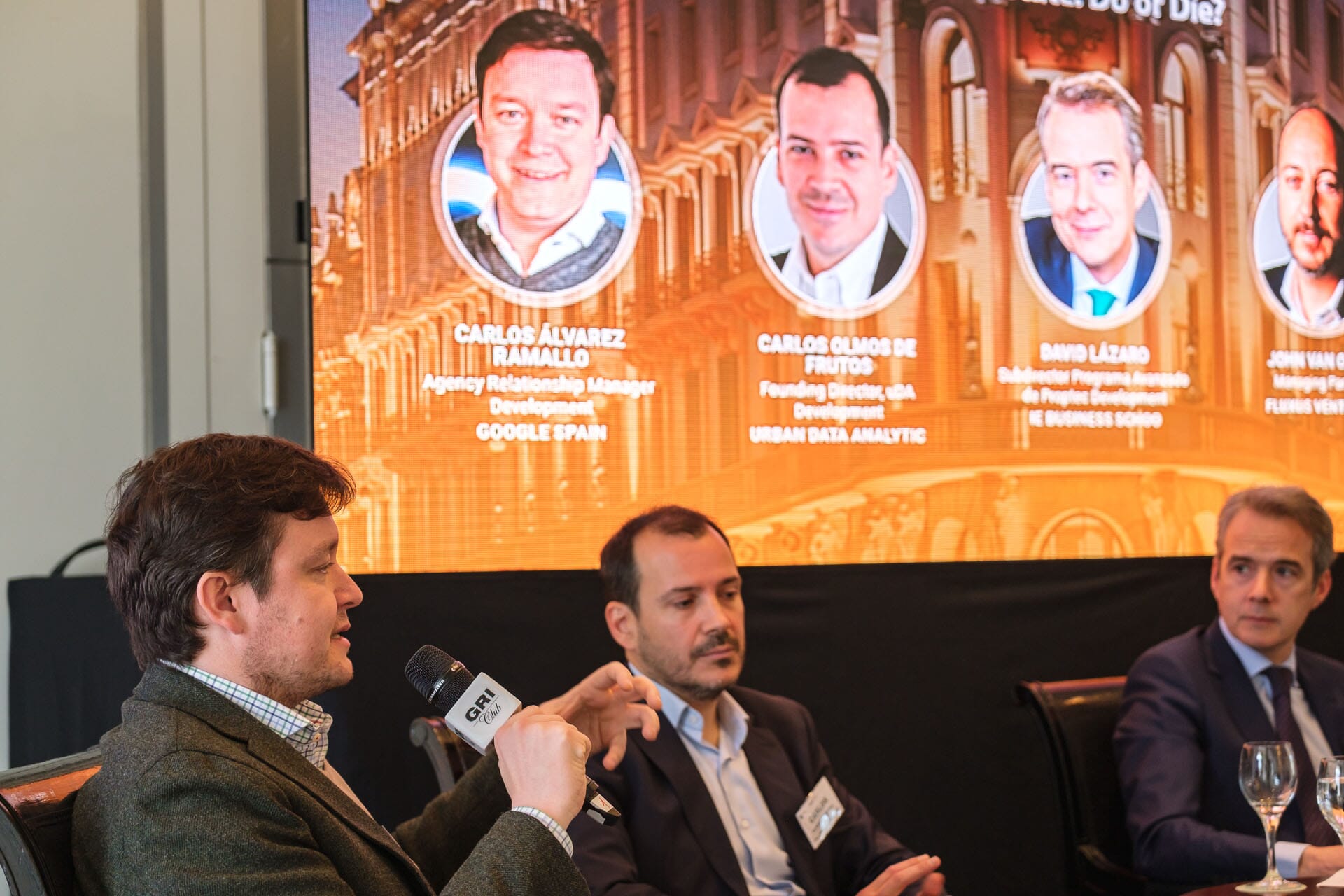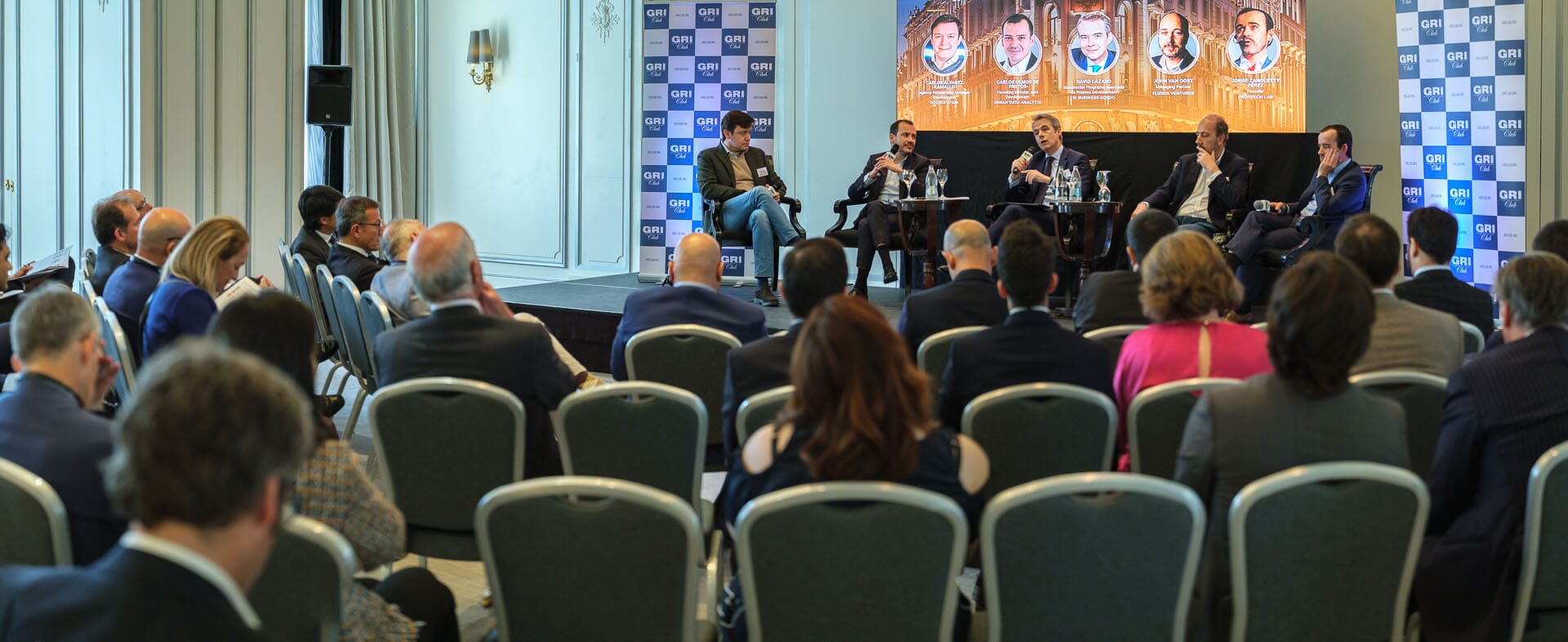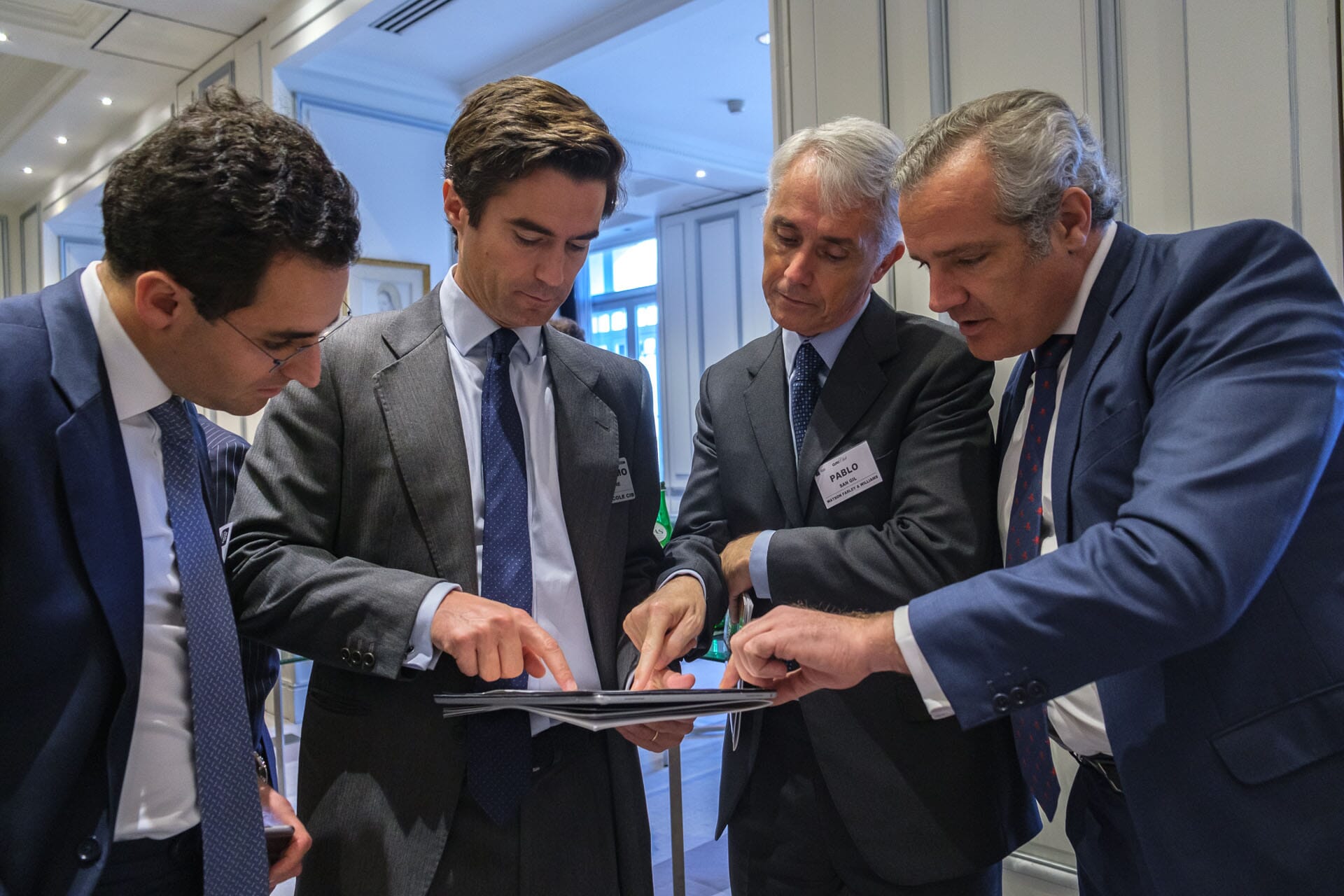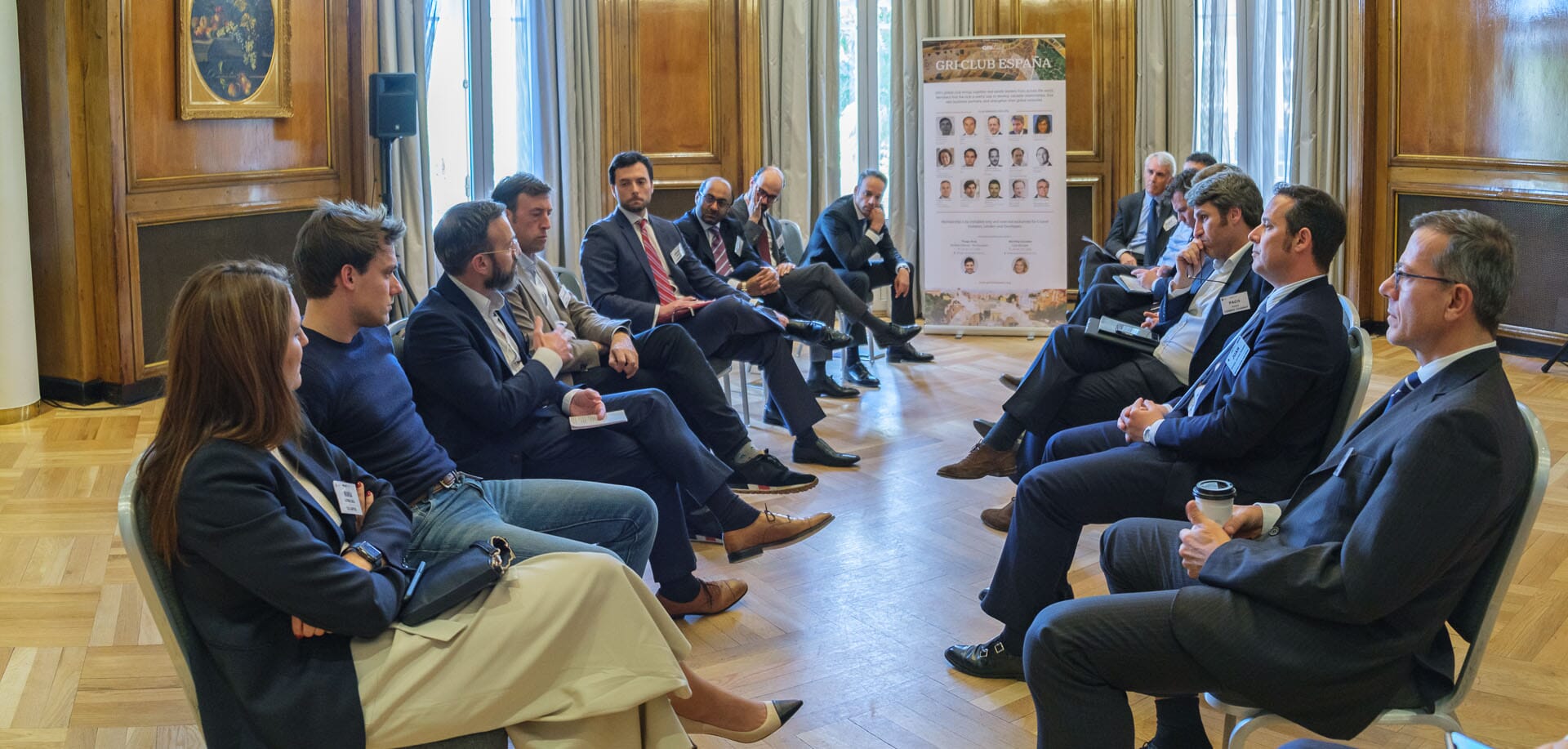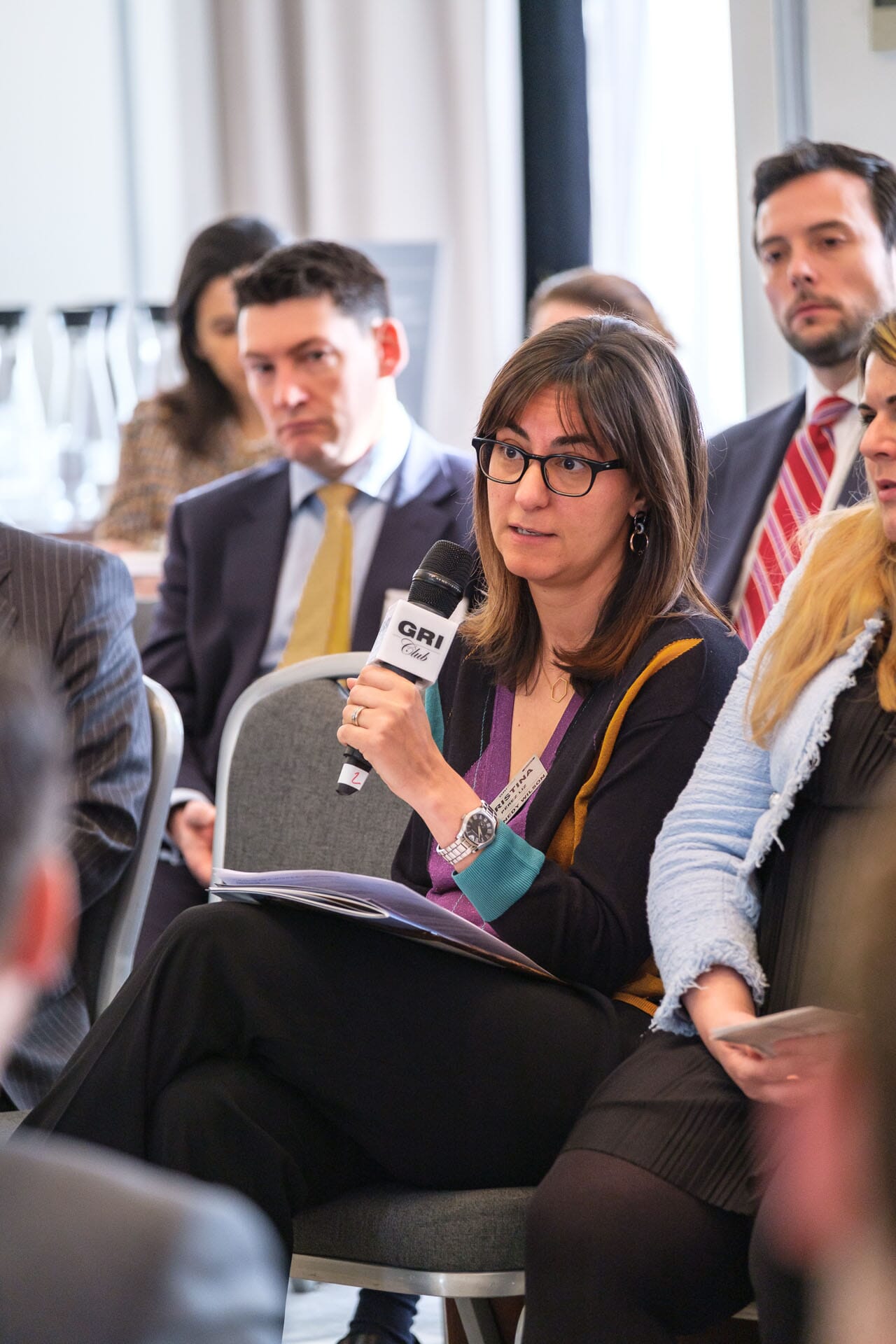 Fernando
Business DevelopmentGRI Club
+ 44 20 7121 5085
+44 20 7121 5060
Iryna
Club ExecutiveGRI Club
+44 20 7121 5060
+44 20 7121 5060
Maria
Relationship ManagerGRI Club
Melina
Production DirectorGRI Club
+44 7427 936391
+44 20 7121-5060
Thiago
Head of RE Iberia & ItalyGRI Club
Thiago is part of the GRI senior management team in Europe and leads the UK & Ireland, Spain & Portugal real estate relationships in Europe. His extensive & varied career has seen him manage & deliver large-scale national & international events, project manages the delivery of a number of luxury publications in the UK & UAE, providing first class service to his clients. Educated at university level & well travelled, he has begun his career in the medical profession to then start his creative profession in Events, Marketing & Publishing. Thiago is very engaged with international development projects and is fluent in Portuguese, Spanish & English.
+44 794 383 9783
+44 20 7121-5060
Brian
Managing PartnerASG Iberia Advisors
Brian has worked for 25 years in the RE sector investing in 6 countries covering a wide range of products in Private Equity RE including CRE value add, turnarounds and residential, hotel and resort development in addition to alternative asset classes. Brian has a further specialty in debt and NPL acquisitions and workouts navigating insolvency processes to unlock value in distressed special situations. He spent 14 years in North America and Europe at a major PE fund with his final position as MD in Spain before opening the ASG Iberia office in Spain as the Managing Partner and setting up ASG Homes Propcorp as a Founding Partner currently developing multifamily residential projects in ten cities throughout Spain with 1,750 condominiums.
Cristina
Managing PartnerAzora Capital
Cristina García-Peri is Head of Corporate Development and Strategy for the Azora Group, an independent investment and asset management group with more than €3.7bn of equity raised. Prior to joining the Azora Group in 2011, she worked for 16 years in the investment- banking sector at both Merrill Lynch (2 years) and JP Morgan (14 years), where she held various positions in the area of M&A for 4 years and for 10 years was MD responsible for Corporate Equity Derivatives for EMEA. Her last two years in investment banking took place at Merrill Lynch where, in addition to continuing to lead Corporate Equity Derivatives she also was responsible for Equity Capital Markets for Spain and Portugal.
Cristina
Managing DirectorKennedy Wilson
Ms Perez Liz, based in Madrid, is the Managing Director of Kennedy Wilson Spain and has almost 20 years of investment banking, real estate and capital markets experience throughout Spain and the rest of Europe. Prior to joining Kennedy Wilson, she was a Managing Director of Banco Santander's restructuring unit for medium size corporates, and had previously played different roles at PwC, and Goldman Sachs and JP Morgan in London . Over her career, Ms Perez has intervened in the completion of more than 25bn in European real-estate related transactions, including equity, direct lending, mezzanine, securitisation, and restructuring work.
Dilip
Managing DirectorCadena Spain
Dilip is Cadena's Managing Director for Spain and in this capacity responsible for all aspects of Cadena's property development and investment activities on the Iberian Peninsula, having worked in Spain for 22 years. Prior to joining Cadena, Dilip held senior positions with US developer Hines and was Managing Director of Canadian investor and developer TrizecHahn Spain. Dilip holds undergraduate and post graduate degrees in Economics and Land Economy and an Advanced Certificate in innovation, management and technology from the MIT Sloan School of Business. He is a UK trained Chartered Surveyor, a member of the Urban Regeneration Council of the Urban Land Institute Europe and a partner of the business think tank the Círculo de Empresarios.
Félix
CEOWilcox
8000 residential units developed, 300000 m2 Logistics under development, 50000m2 retail High STREET under management, 16000m2 Houses for seniors under development, 120 Student Housing units recently open. TRAINING: • IESE - Senior Business Management Program • Bachelor of Business Administration and Management. • Technician in Business Administration and Management • Master in Financial Management • High Executive program RE Management and Valuations • High Executive degree grade: Private equity and structured finance • Executive Administration Program. PROFESSIONAL PROFILE: • General Director of Grupo Wilcox • Vice President of AEDHE • Member of the Board of Directors of CEIM • Member of ULI and ICSC.
Jordi
General ManagerVolumetric
Jordi Sans is General Manager of Volumetric. Member of the family owners.Since 1999 leads real estate division of Grup Volumetric, and with his team of professionals has developed 270,000 sqm of land and built 437,000 sqm, mainly residential. He has also managed refurbishment projects, logistics, commercial and office buildings. In 2006 he started up partner companies in Poland, Romania and Hungary recruiting local management teams and adapting to each country the systems and working philosophy of the group. In those countries we have built 1,150 homes. Under his management Volumetric has developed projects continuously since 2000.
Walter
CEO & FounderIbero Capital Management
Walter de Luna holds a PhD in economics and business finance from the Complutense University of Madrid (UCM), a degree in Law and Business Administration from Comillas Pontifical University (ICADE E3) and is an associate professor at the IE Business School. Earlier in his career, he was the CEO of Acciona Inmobiliaria. Prior to this, he was the General Director and Board member of SAREB from its creation in November 2012.Most of his career has been within ING, and he has been General Director of ING Real Estate for Spain and Portugal. At the beginning of his career he worked in different companies of Corporación Mondragón in the area of corporate finance.
Contact our team and check the sponsorship and exposure opportunities according to the strategy of your company.
Need help?
WhatsApp Assistance
Monday to Friday - 8:30 a.m. to 6:00 p.m.
X
Privacy policy and how we use cookies
Accept and hide this message