Les Club meetings du GRI Club
Le panel donne le coup d'envoi à la discussion et par la suite, les participants peuvent choisir leur approche pour s'y joindre.
L'incomparable style du GRI Club : informel, direct et très privé !

Qu'est-ce que c'est qu'un Club Meeting?
Une réunion en personne pour des petits groupes, exclusive pour les membres du Club. Passez du temps et participez à des discussions interactives pour parler de capital et des transactions en cours avec les hauts dirigeants les plus expérimentés du marché immobilier.
Qui peut s'inscrire
Investisseurs seniors, prêteurs, propriétaires d'actifs et promoteurs, actifs dans le marché immobilier. Il s'agit d'événements exclusifs pour les membres ayant un abonnement de niveau Bronze, Silver, Platinum et Diamond.

Comment s'inscrire
Cliquez sur « Join the event ». Si vous n'êtes pas encore membre, remplissez le formulaire pour postuler ou mettre à niveau votre adhésion.
Découvrez notre format exclusif
Une réunion GRI n'a pas d'intervenants, pas de présentations. Au lieu de cela, choisissez parmi une sélection de discussions à huis clos au cours desquelles tout le monde participe.
Tout comme une conversation dans votre propre salon, l'environnement dynamique vous permet de dialoguer avec vos pairs dans un cadre informel et collégial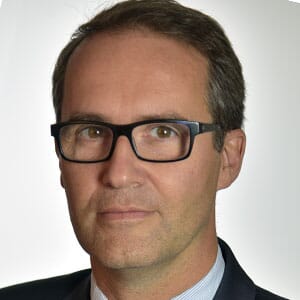 Directeur Général / Chief Executive OfficerCDC Investissement Immobilier
France
Arnaud Taverne est diplômé de l'Université Paris IX Dauphine d'un Magistère Banque Finance Assurance (License, Master 1 et Master 2) et d'un Master 2 (DEA) en Economie et Finance internationale. Il a débuté sa carrière chez PWC en 1997 (Auditeur Senior Banques et Assurance) avant de rejoindre Arthur Andersen en 2000 (Restructuring Transaction Advisory Services Paris, Senior Manager).En 2006, il a intégré la Direction Financière de Veolia Transport en tant que Responsable acquisitions. Il a rejoint la Direction Financière du Groupe Caisse des Dépôts fin 2007 au sein du département immobilier compte propre et a pris la direction générale deCDC Investissement Immobilier (anciennement CDC GPI) en juillet 2014.

Executive AdvisorStaycity Aparthotels
Ireland
Eric started his career with management experiences in the trading division at Total in Singapore, in the European parliament at the European Union in Brussels, in the international private equity division at ABN AMRO bank in Amsterdam. He continued on as Director of development at REGUS Europe, before setting up GUILLON&CO, and being appointed as an Executive Advisor to the Staycity Aparthotels Group in 2010 He possesses over 20 years of experiences in the arranging and management of international investment and development most notably of innovative growth businesses, real estate, serviced offices, serviced residences, hospitality, or other related services. Eric has lived extensively on 4 continents

Directeur Associé Immobilier123 Investment Managers
France

Senior DirectorICAMAP
France

Head of AcquisitionsSwiss Life Asset Managers
France
Mr. Pham is a Senior Fund & Portfolio Manager at Swiss Life Asset Managers, responsible for acquisitions in France, Belgium and Luxembourg for Swiss Life's German and Swiss funds, as well as sourcing, structuring and executing deals in Italy, Spain and Portugal for the group. Prior to that, he was at GE Real Estate in a number of roles, the last one being European Head of Portfolio Management, as well as at Lehman Brothers Real Estate Partners where he was a Principal responsible for investments in France. Mr. Pham also worked as a project engineer for the City of Vancouver. Mr. Pham holds a Bachelor of Engineering (Civil) from McGill University, a Masters in Engineering from the University of British Columbia and an M.B.A. from INSEAD.

Head of Investment and Asset ManagementAG Real Estate - France
France

Head of Project & Development Services EMEAJLL
France
Walid rejoint JLL en 2006, d'abord au sein des équipes Tenant Representation sur des transactions complexes en VEFA/BEFA puis intégre en 2010 les équipes de maîtrise d'ouvrage. Il dirige l'équipe Conseil & AMO-MOD depuis 2015 et est membre du Comité de Direction depuis début 2020. En 2020, Walid prend également la responsabilité du périmètre France - Benelux & Nordics.
This eMeeting is exclusive
for Premium members
This event is exclusive for GRI members.