Alejandro Catterberg
Director
Poliarquía Consultores
Argentina 2020: ¿Qué esperamos ahora? - Análisis y proyecciones políticas para el país
Analista político y de opinión pública altamente reconocido en Argentina. Asesora a los principales políticos, empresarios y líderes sociales del país. Es Presidente y cofundador de Poliarquía Consultores. Previamente, fue Director Ejecutivo de Catterberg y Asoc. y parte de LEGC. Trabajó en numerosas campañas electorales y creó indicadores como el Índice de Confianza del Consumidor, el Índice de Confianza en el Gob. y el Índice de Seguridad Ciudadana. Coordinó más de 200 proyectos de investigación y consultoría en temas sociales y de investigación de mercado. Posee un Máster en Métodos Cuantitativos en Cs. Soc. por Columbia University, Lic. en Economía y Posgrado en Finanzas, por la UTDT. Fue Prof. de economía en la UBA y Prof. invitado en el MBA y Executive MBA de la UTDT y el ESEADE. Es frecuentemente consultado por medios nacionales e internacionales. Durante la última década, Poliarquía y La Nación proyectaron exitosamente los resultados de más de 20 procesos electorales en el país
Alejandro
DirectorPoliarquía Consultores
Buenos Aires | Argentina
Líder argentina en la provisión de información estratégica para interpretar el contexto sociopolítico nacional. Con los más altos estándares éticos y profesionales, garantiza precisión en el análisis de la información y la búsqueda creativa de soluciones.
Alejandro
DirectorPoliarquía Consultores
Buenos Aires | Argentina
Líder argentina en la provisión de información estratégica para interpretar el contexto sociopolítico nacional. Con los más altos estándares éticos y profesionales, garantiza precisión en el análisis de la información y la búsqueda creativa de soluciones.
Tendencias globales de negocios ¿Cómo ser disruptivos cuidando los recursos?
¿Qué modelos de negocios traen los players internacionales?
¿Cuáles son los factores clave para su éxito?
¿Cuáles son los riesgos que debemos tener en cuenta?
Transformación digital en la industria de las propiedades - ¿Cómo evitar quedarse en el camino?
¿Qué opciones están disponibles en el mercado?
¿Qué puntos debemos analizar al momento de elegir una solución?
¿Cómo seguir las tendencias con recursos limitados?
Tomar decisiones en tiempos de incertidumbre: ¿Qué piensan los líderes?
¿Cuál es la visión de los empresarios sobre el nuevo contexto?
¿Qué oportunidades y desafíos tenemos por delante?
¿Dónde se deben enfocar las energías?
Desarrollo hotelero - ¿Cómo seducir al player internacional?
¿Qué necesitamos para sentarlos en la mesa?
¿Cómo trabajar en conjunto pensando en el largo plazo?
Turismo - ¿Es el motor del mercado? ¿Dónde están las mejores oportunidades?
Some confirmed participants
Gonzalo
CFOConsultatio S.A.
Es Licenciado en Economía de la Universidad de Buenos Aires (mención magna cum laude) y Analista Internacional de Inversiones de la ACIIA (Association of Certified Internacional Investment Analysts). Antes de unirse a Consultatio en el año 2010, fue trader de la mesa de dinero de Telecom Argentina y Analista Cuantitivo en el equipo de inversiones de Metlife AFJP.
Paul
VP, Development LatAm & CaribbeanMarriott International
Paul Adan is the VP of Lodging Development for Marriott International Inc. and The Ritz-Carlton Hotel Company for the Caribbean & Latin America region. Mr. Adan is responsible for hotel development of all the brands for Central and South America. Mr. Adan began his career with Hilton International, working with their Board of Directors on the development of the group's properties in Brazil. Since then, Paul has held executive positions with Meliá Inversiones Americanas, Sol Meliá, NH Hoteles, CB Richard Ellis, and Amerisud working on development deals from all perspectives. Paul has focused his career on hospitality development in Latin America and the Caribbean.
Cristiano
Regional VP Development - Andean RegionIHG - InterContinental Hotels Group
Philipp
Managing DirectorJamestown
Philipp Braunfels is a Director and Investment Manager for the Andean Region at Jamestown, focusing on Latin American investments and asset management out of the local office in Bogotá, Colombia. He has also worked in Jamestown's German Fund Management department and its US offices in Atlanta and New York. Prior to joining Jamestown Mr. Braunfels worked at Deloitte Consulting in Germany and an early stage venture of Rocket Internet based in Singapore. Mr. Braunfels graduated Cum Laude from Maastricht University with a Master of Science in International Business Finance and also holds a Bachelor of Science in International Business Economics.
Federico
President & CEOVitrium Capital
Federico Gagliardo, CEO & Founder de Vitrium Capital, tiene más de 25 años de experiencia internacional en negocios, gerenciamiento corporativo y desarrollo de proyectos inmobiliarios. Su trayectoria en el mercado inmobiliario comenzó en 2001 como miembro de un equipo de inversión. En 2006 fundó Vitrium Capital, con el objetivo de ofrecer propuestas de valor en el mercado a inversores e instituciones calificadas. Desde entonces ha estado involucrado en todos los aspectos del negocio. Actualmente, gestiona una cartera diversificada de inversiones inmobiliarias, con activos en propiedades residenciales, comerciales y de retail en USA, Uruguay, Argentina y México. Anteriormente ocupó posiciones ejecutivas en Microsoft Corp. NCR y Apple.
Mariano
Vice PresidentEquity International
Mariano Menkes is a Vice President in Equity International's Investments group, primarily responsible for Latin American investment origination and execution, and portfolio management of three EI portfolio companies. Prior to joining Equity International in 2013, Mariano worked in Citigroup's Latin American investment banking group in New York. Mariano serves on EI's investment committee and is a director of two EI portfolio companies: ARG Realty and Decameron Hotels & Resorts. Mariano earned an MBA from the University of Chicago Booth School of Business, and a BS in Economics from Universidad de San Andrés.
Lucas
PresidenteGrupo Proaco
Lucas Salim es fundador y CEO de Grupo Proaco. La compañía más importante del Real Estate en el interior de Argentina con desarrollos de tierra por 800 ha y proyectos de construcción en cartera por 1.000.000 de m2 cubiertos. Con su compañía ha desarrollado todo tipo de proyectos inmobiliarios entre los que podemos destacar: Condominios de lujo / Edificios corporativos/ Housings/ Torres/ Complejos mixtos/ Shoppings. Presidente Grupo Proaco Fiduciaria Director de Fundación Endeavor Córdoba Vocal titular CEDUC ( Cámara Empresarial De Desarrollistas Urbanos Córdoba)
Santiago
CEO & Co-fundadorLife Desarrollos
Santiago es CEO y co-fundador de LIFE, una compañía líder especializada en urbanizaciones planificadas.

Así mismo, es co-fundador de SINERGIA, empresa desarrolladora con el foco puesto en el segmento residencial con proyectos de alto valor agregado.

También es fundador de O´Feely Negocios Inmobiliarios, una consultora para inversiones en Real Estate.

Más de 10 años en el mercado inmobiliario lo posicionan como un joven referente en Rosario y el interior del país.
Nicolás
President Argentina - ChileCBRE
Nicolás Cox es el responsable de todas las operaciones de la multinacional CBRE en territorio Chileno desde 2014. Tiene más de 20 años de experiencia en desarrollo de negocios y financiamiento de proyectos en áreas de tecnología y Real Estate. Es Ingeniero Agrónomo y posee un MBA otorgado por la Universidad Adolfo Ibáñez, donde también ha impartido clases de Estrategia Corporativa a alumnos de pre y post grado.
Paula
VP of Real Estate and Southern ConeHyatt Hotels Corporation
With almost 25 years of experience in the hospitality industry, Paula joined at Hyatt in September 2015, She is the Vice President of Development & Real Estate for Hyatt Hotels Corporation, responsible for the company expansion in Brazil and Southern Cone. She started her career with Hilton International in Sales & Marketing, since then acted in different senior positions at leading companies such as Hilton Worldwide and IHG. In 2008, she started acting in Real Estate/Hotel Development with Hilton Worldwide. Paula holds a degree in Foreign Commerce and Business Administration from Metodista University in Sao Paulo, a certification in Real Estate Investments and Asset Management at Cornell University (USA) and an Executive International MBA
Pablo
Gerente de DesarrolloHilton
Pablo Maturana, Director Development Caribbean and Andean Region, is responsible for the development and expansion of Hilton brands in Caribbean and Andean region. Pablo brings great expertise in the real estate industry with experience in different sectors, such as, retail, multifamily and now hospitality. Working for Cencosud, one of the most relevant multi format retailers in Latin America, Pablo served in different real estate-related executive roles until he became responsible for the organic growth of the company in Brazil, Peru, Argentina, Chile and Colombia for all formats, in addition to serving in some company boards.
Benjamin
CEOBlue Water Advisors Maria
Investment OfficerIFC - International Finance Corporation - USA
Alejandro
PresidentGnv Group
Alejandro Ginevra es uno de los desarrolladores inmobiliarios más reconocidos del mercado y su prestigio ha trascendido las fronteras del País. A lo largo de tres décadas ha realizado una fructífera labor profesional. Su pasión por el urbanismo, una personalidad emprendedora incomparable y su liderazgo, aunado a la tradición familiar, lo han llevado a concretar obras de gran relevancia y siempre de carácter innovador. Supo detectar las tendencias del sector, introduciendo un nuevo concepto en Argentina, el Shopping Center, participando en la realización integral de proyectos comerciales en todo el país. La construcción del Edificio Malecón, ubicado en el Dique 1 de Puerto Madero, marcó un hito en la Ciudad de Buenos Aires.
Eduardo
CEOPlaza Logística
CEO de Plaza Logística, Argentina. Eduardo Bastitta es Licenciado en Economía Empresarial, egresado de la Universidad Torcuato Di Tella. En 2009 co-fundó y asumió el cargo de Gerente General de Plaza Logística, una empresa pionera en la provisión de infraestructura industrial y logística en el país y la región. El señor Bastitta es miembro del Consejo Consultivo de CIPPEC y asesor de la Coalición Cívica.
Jerónimo
Managing DirectorARG Realty Group
Joined Pegasus in 2003. Over 20 years of experience in real estate, private equity and venture capital investments, mergers and acquisitions in Latin America and the US. Previous experience include Morgan Stanley and Salomon Brothers. Has a BS in Economics (UdeSA, Buenos Aires).
Sebastián
Founder & DirectorTayron Capital
Santiago
CEO and ChairmanRIVA S.A
Santiago is currently CEO and Chairman of the Board of RIVA SA, having joined the company in 2004. Previously, Santiago worked for Techint in Argentina and Saudi Arabia, and for John Holland in Australia. Santiago holds a Civil Engineering Degree from Universidad de Buenos Aires and an MBA from IAE ; he also seats on the board of the Argentine Construction Chamber and is Vice President of the Ciudad de Buenos Aires Chapter.
Rodrigo
Regional Director, South Latin AmericaJLL
Rodrigo Millán posee experiencia en una variedad de negocios y países.Comenzó su carrera como investigador de mercado en Mackenzie Hill, compañía británica de bienes raíces focalizada en Sud América.Adquirió experiencia en una variedad de tareas, desde consultoría y valuaciones hasta representación de inquilinos y propietarios. En el año 2000, se unió a JLL con el puesto de broker en el área de Agency Leasing en Argentina.Ha sido responsable de líneas de servicios regionales en toda América Latina, incluyendo Tenant Representation, Capital Markets y Project Management. Inició la operación de JLL en Chile y se desempeñó como Country Manager para Argentina y Chile. Es actualmente Director Regional Ejecutivo para Argentina, Uruguay y Paraguay.
Mauricio
Managing DirectorPeninsula Investment Group
Mr. Levitin has been actively involved in Real Estate investment since 1996. He co-founded Peninsula in 2005, an asset management firm focused on Real Estate investments across the Americas. Mauricio was a management consultant with McKinsey & Co. for seven years. At McKinsey, he led a wide range of engagements in corporate strategy, business acceleration, turnaround and M&A. With McKinsey, Mauricio worked in various markets, including Argentina, Brazil, Chile, Colombia, Mexico, Peru, Spain, the United States, Uruguay and Venezuela. Mauricio worked at Lehman Brothers in London as a Summer Associate in the Real Estate Investment Banking division and developed M&A strategies for companies across Europe.
Nicolas
Network Development ManagerRegus
Nicolas del Pozo es Network Development Director de IWG, empresa líder en la industria del coworking. Actualmente con más de 3000 centros, constituye la red de espacios flexibles de trabajo más grande del mundo. A cargo de la expansión del grupo en LATAM y con más de 10 años en la industria de real estate, lideró el desembarco del primer SPACES en Santiago.
Domingo
CEONewmark Grubb BACRE
El Arq. Domingo Speranza fue uno de los fundadores de Buenos Aires Corporate Real Estate (BACRE), una empresa local de servicios inmobiliarios corporativos que en 2014 se asoció con el grupo Newmark Knight Frank, estableciendo finalmente la actual Newmark Grubb BACRE. Con más de 25 años de trayectoria en el mercado inmobiliario, hoy se especializa en relocalizacionesy búsquedas corporativas, participando y liderando un gran número de las más importantes y recientes operaciones del mercado.
Gastão
Senior Vice PresidentGIC
Ricardo
Presidente - Cámara de DesarrolladoresCAMARCO
Argentina GRI 2018's Edition
On its last edition, GRI Club gathered investors and developers, and real estate leaders from the national and international market to discuss the future of the sector.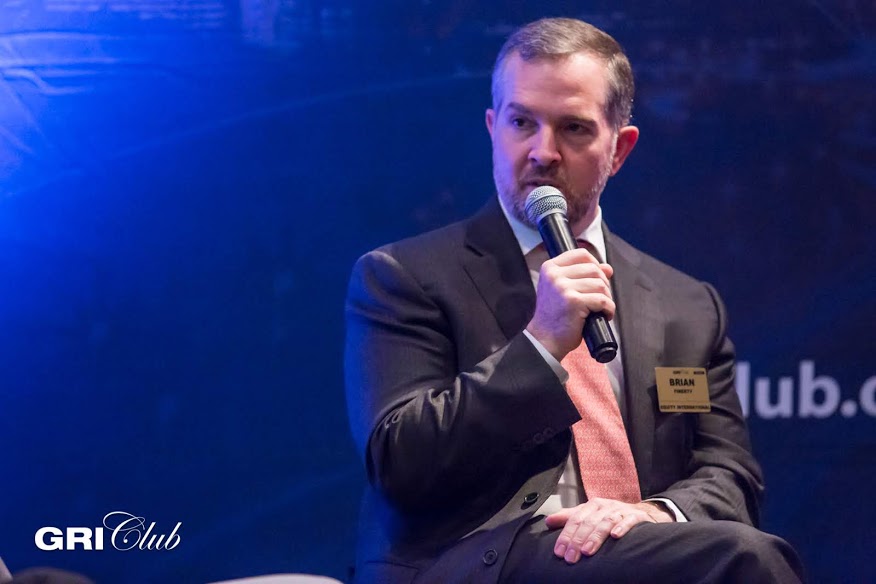 Opening Panel: Brian Finerty, CIO, Equity International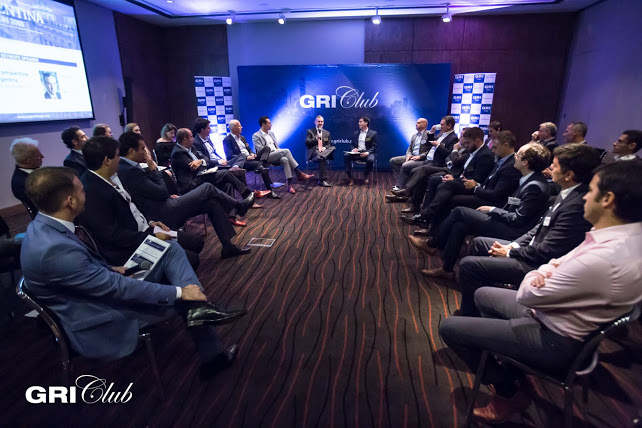 Developers, investors and banks in discussion room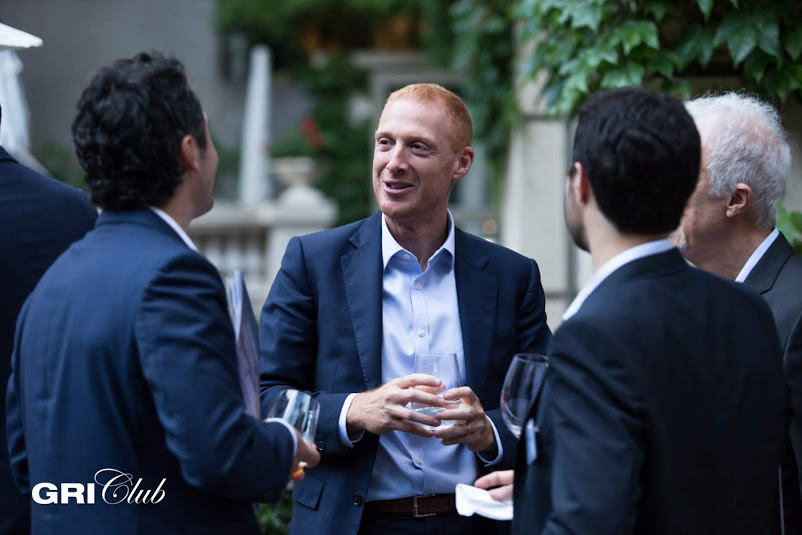 C-Level executives during Closing Drinks