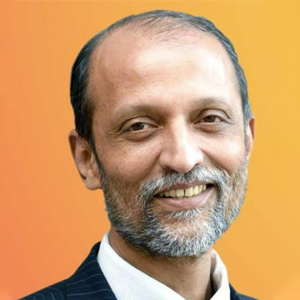 Ajit
President & Chief EconomistAditya Birla Group
Dr. Ranade's professional career has spanned political analysis, academic and corporate assignments, including teaching in universities in India and US. He has served as an Executive Officer of Financial Technologies India Ltd., Chief Economist at ABN AMRO Bank, Equity Analyst of ABN AMRO Bank N.V., Research Division. He serves as Director of Delhi Transco Ltd, Director on the Board of Hindalco Almex Aerospace Ltd, Independent Director of Multi Commodity Exchange of India Ltd. He has also served on various committees of Reserve Bank of India. He is a member of the Board of India Today Economists, Chairman of the CII West zone sub-committee on Economic Affairs and Research advisory panel of the Indian Institute of Banking and Finance. He serves as an Independent Director of BSES Yamuna Power Ltd. He is also a member of the Senate and Advisory Council of IIT, Bombay. He has earned a B.Tech in Electrical Engineering from IIT Bombay, a PGDM from IIM Ahmedabad and holds an MA and PhD in Economics from Brown University, U.S.A.
Aditya
PartnerGlobal Infrastructure Partners India LLP
Mr. Aggarwal Partner, GIP India, has over 20 years of experience across equity investing and project finance. As a part of the leadership team, he primarily focuses on origination, evaluation & capital deployment across infrastructure sectors along with managing the portfolio and creating exits.His current specific responsibilities also include overseeing the build out of Vector Green, the renewable platform. He is a member of the Investment Committee & represents the Funds on the Boards of various Portfolio Companies. In his earlier role,Mr. Aggarwal was a founding member of the core investment team at IDFC Alternatives, which set up IDFC's Infrastructure Funds business comprising two funds with an aggregate corpus of US$ 2 billion.
Avinash
DirectorQatar Investment Authority
Avinash has been associated with the Qatar Investment Authority (Advisory Pvt Ltd) for the past 9 years, heading their India Office. He leads the investment efforts in Private Equity and Public Equities across sectors and has been actively involved in Real Estate investment strategies such as residential equity, debt and commercial office.
Boon
Head of Emerging Markets InvestmentsGIC
Chin Hau joined the GIC Infrastructure Group in 2008 and currently has lead coverage responsibility for the Emerging Markets. Prior to joining GIC, Chin Hau was an Investment Manager at Pulsar Energy Capital where he invested in projects across the energy sector in Europe and the Americas. Before Pulsar, Chin Hau was a member of the Infrastructure advisory team at Credit Suisse covering a range of projects in transport, logistics and aerospace. He began his career at Singapore Power where he managed natural gas pipeline projects. Chin Hau has a MEng degree from Imperial College London and an MBA from the University of Chicago.
Krishna
CEOIL&FS Investment Managers
Mr Krishna Kumar has over 25 years' experience in the financial services and infrastructure business. His focus is in private equity, project finance and financial structuring. He has led and advised marquee infrastructure transactions including Gujarat Pipavav Port, IL&FS Transportation, Ramky Enviro Engineers and Maharashtra Natural Gas. He joined the IL&FS Group in 1995 and is one of the founding members of the IL&FS Private Equity practice. He is also the founding member & Principal of the SCI Asia Fund which closed on US$ 658 mn in December 2009. In his present role he leads an investment team of 45 professionals.
Krishna
Krishna
Prakash Maheshwari
Chief Executive OfficerAdani
Mr. Krishna Prakash Maheshwari has over two decades of experience in the infrastructure industry across various sectors and in various capacities. Currently he is heading the Roads, Rail, Metro & Water Business of Adani Group. Prior to joining Adani, Mr. Maheshwari was heading Essel Highways Ltd. Before joining Essel Highways Ltd., Mr. Maheshwari was heading the Integrated Environment Infrastructure business of UPL Ltd. He has also donned various hats during this 12 years stint with Reliance Infrastructure. He was the CEO of metro business and played a key role in the setting up of the first line of Mumbai Metro as well on the Delhi Airport Express.
Manish
Leader-Capital Projects & InfrastructurePwC
Manish has over 20 years of experience in consultancy services related to financial strategy, investment promotion, financial modelling, project feasibility and policy formulation for public sector and government organizations in various sectors. He has extensive experience in consultancy services related to demand assessment, entry strategies, commercial due diligence, bid advisory and project finance across transportation sectors, urban development project, industrial infrastructure (SEZs, large area & commercial development), etc.
Pushkar
Principal - InfrastructureCPPIB India Advisors Pvt Ltd.
Pushkar Kulkarni leads the Infrastructure practice for Canada Pension Plan Investment Board (CPPIB) for India. CPPIB is amongst the world's Top Ten Pension funds with AUM of C$ 279 bn. As their first investment in India, CPPIB has made an investment of INR 20 bn. into L&T IDPL making it one of the largest Private Investment in the roads sector. Prior to CPPIB, Mr. Kulkarni has worked in several esteemed organizations including Serco, an Infrastructure Services company, he served as Managing Director for India. Efkon India a leader in ITS systems for Transport Infrastructure and Philips. He has represented the Bureau of India Standards at the ISO on several Intelligent Transport System expert committees.
Saurabh
Regional Director, InfrastructureCDPQ India
Saurabh Agarwal is Regional Director, Infrastructure Transactions, leading CDPQ's infrastructure investment efforts in South Asia. In his role, he is responsible for sourcing, evaluating, executing and managing high-quality infrastructure investments, as well as developing long-term partner relationships in the region. Saurabh has more than 15 years of experience in the investment and technology sectors. Prior to joining CDPQ, he was at Morgan Stanley for nearly a decade, most recently as an Executive Director at Morgan Stanley Infrastructure Partners (MSIP), playing a key role in the acquisition and management of MSIP's investments in India across various sub-sectors including super-critical thermal, gas, wind, hydro, roads and a bridge.
Aanurag
Director, Infrastructure - IndiaGRI Club