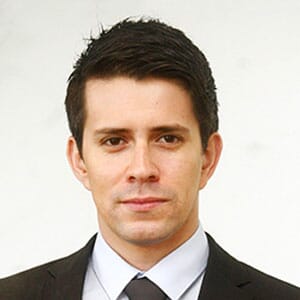 Moisés
Institutional Affairs Director, InfrastructureGRI Club

Surekha
Club Director InfrastructureGRI Club

Abhay
President & Chief Executive OfficerReliance Infrastructure

Alok
Director-TRIL Urban TransportTRIL
India
Mr. Kapoor has over 30 years of experience in Indian Railways, Metro and other Urban Transport Technologies. Mr. Kapoor joined Tata Realty and Infrastructure Limited in the year 2011. Prior to that Mr. Kapoor has worked for 24 years as an Indian Railway Officer. He is currently working in the capacity of Vice President for the development of PPP & BOT Projects in Urban Transport and Railway verticals. His expertise is in bidding, financing and execution of PPP and BOT projects in Urban Transport and Railways. Ana
Investment ExecutiveInvestment Executive


Boon
Head of Emerging Markets InvestmentsGIC
Singapore
Chin Hau joined the GIC Infrastructure Group in 2008 and currently has lead coverage responsibility for the Emerging Markets. Prior to joining GIC, Chin Hau was an Investment Manager at Pulsar Energy Capital where he invested in projects across the energy sector in Europe and the Americas. Before Pulsar, Chin Hau was a member of the Infrastructure advisory team at Credit Suisse covering a range of projects in transport, logistics and aerospace. He began his career at Singapore Power where he managed natural gas pipeline projects. Chin Hau has a MEng degree from Imperial College London and an MBA from the University of Chicago.

Bruce
Managing DirectorOMERS
Singapore
As Managing Director at OMERS Infrastructure, Bruce is responsible for leading infrastructure-related efforts in Asia and is based in Singapore. He was previously based in New York, and was responsible for sourcing and leading investment opportunities in the transportation and power-related infrastructure markets in the Americas. His asset management experiences included Chicago Skyway, GNL Quintero S.A and Midland Cogeneration Venture. Prior to joining OMERS Infrastructure, Bruce spent 10 years with UBS and Morgan Stanley, providing investment banking advisory services, and four years with Foster Wheeler as a field engineer. Bruce holds a B.A.Sc. (Civil Engineering) from Lehigh University, and an MBA from Columbia University.

Carlos
Head e-CityEnel X Brasil
Brazil
Carlos Eduardo Cardoso de Souza is responsible for Government Customer Solutions (e-City) at Enel X Brasil. Graduated in Computer Science from the Catholic University of Petrópolis, has an MBA in Business Management, specialization in Service and Relationship Marketing, and extensive experience in the energy market with over 17 years of experience, especially in developing new business models. and solutions for cities.

David
Steering Committee memberWAPP

Deepak
Director, Infrastructure, South AsiaCDPQ
India
Deepak Malhotra is Director, Infrastructure, South Asia at Caisse de dépôt et placement du Québec (CDPQ). He has over 18 years of experience across all facets of infrastructure. Before joining CDPQ, Mr. Malhotra worked with International Finance Corporation (IFC), World Bank Group, where he led many debt and equity investments in the infrastructure sector. Prior to IFC, Mr. Malhotra worked with one of the leading credit rating agencies in India and in the shipping industry. Mr. Malhotra holds a Bachelors Degree from Delhi University and an MBA from Vanderbilt University.

Gaurav
Head Corporate FinanceTRIL
India
Mr. Gaurav Khanna is the Assistant Vice President (Infrastructure) of Tata Realty and Infrastructure Limited (TRIL). He has over 20 years of experience in Corporate Finance, Investment, Taxation, Audit,Strategic Planning and commercial functions.Mr Khanna has significant experience in Greenfield and Brownfield Asset acquisitions, Portfolio and asset management, and orchestrating timely exits for large Global Funds, due to his strong Corporate Finance & Investment Management background. He has a deep understanding of Real Estate and Infrastructure Sector. He has been working with Tata Group for last 10 years and is presently in-charge of the Finance function of Infra Business of Tata Realty and Infrastructure Limited.

Kartik
Principal – InvestmentsShapoorji Pallonji Group
Kartik has over 12 years of experience in investing, developing, financing and implementation of infrastructure projects in Emerging Markets. He has successfully delivered assets across infrastructure sub sectors like Renewables, Roads, Power and Ports. At Shapoorji Pallonji Group, Kartik works as Principal-Investments for the Family Office with focus on investing in special situation infrastructure assets. He has been instrumental in creating and scaling ports platform for the group. Prior to SP Group, Kartik has worked with InfraCo Asia and IDFC.

Kumar
Joint SecretaryDoEA
India
Kumar V Pratap is Joint Secretary (Infra Policy & Finance), Ministry of Finance, Govt. of India. Earlier, he has worked with the Prime Minister's Office and Ministry of Finance at New Delhi, and the World Bank and Embassy of India at Washington DC. He has lectured at the University of Michigan (Ann Arbor), London School of Economics, Singapore Management University, Lee Kuan Yew School of Public Policy (Singapore), Duke University, University of Maryland, World Bank (Washington DC), Indian Institute of Management (IIM, Ahmedabad), IIM (Lucknow), IIM (Indore),and National Academy of Administration (Mussoorie). He was a Visiting Professor at the Indian School of Business (Hyderabad and Mohali) from 2013 to 2017.

Manish
Leader-Capital Projects & InfrastructurePwC
India
Manish has over 20 years of experience in consultancy services related to financial strategy, investment promotion, financial modelling, project feasibility and policy formulation for public sector and government organizations in various sectors. He has extensive experience in consultancy services related to demand assessment, entry strategies, commercial due diligence, bid advisory and project finance across transportation sectors, urban development project, industrial infrastructure (SEZs, large area & commercial development), etc.

Prateek
Managing DirectorOMERS Infrastructure
Prateek joined OMERS Infrastructure in 2019 as a Managing Director based in London and leads investment efforts in transport and renewable energy infrastructure. Prateek also serves on the boards of Associated British Ports and London City Airport. Prior to joining OMERS, Prateek was a Senior Principal with Global Infrastructure Partners (GIP) for 12 years, where he has worked in the power, energy and transport sectors across the US, Europe, Asia and Australia. Before GIP, he worked as an investment banker with Dresdner Kleinwort, Barclays Capital and ICICI Bank in M&A, leverage and project finance, debt capital markets and derivative structuring.

Need help?
WhatsApp Assistance
Monday to Friday - 8:30 a.m. to 6:00 p.m.