Gathering the key-players in infrastructure sector to enhance global logistics,
supply chain and multimodal cargo transportation
5 - 7 July
14:00 - 15:15 | British Summer Time (GMT+1)
Join the event by applying for a premium membership.
This membership will grant you access to our global community, allowing you to connect with more than 10K members, as well as to participate unlimitedly in our online events.
Successful registration
Credit: rawf8 / Envato Elements
EVENT MANAGERS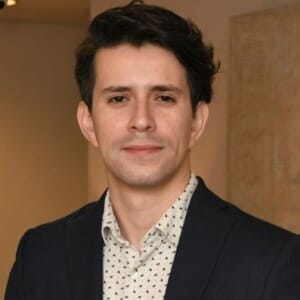 Moisés
Executive Director, Global InfrastructureGRI Club
The pandemic exposed a hidden wound: a worldwide issue on trade and supply dependency with the United States and China, as global restrictions were imposed on people and industries. In turn, the international distribution chain was deeply affected, and countries began to increasingly strengthen local production and cargo handling through railways, highways, regional port terminals and local flights.

Since local cargo transportation has increased considerably in this period, many infrastructure projects began to incorporate elements of multimodality in a more structured model from their planning - bringing integration as a central factor.

At this online summit, GRI members and global government authorities will gather to discuss the evolutions in international trade, learnings, and how global logistics can be facilitated by a complex system of transportation networks.

When it comes to exchanging know-how and meeting the right people, physical barriers no longer exist. Join us for the most influential dialogue with the high-level infrastructure and energy leaderships - as if they were sitting right in your living room.
Online Sessions
July 5th, 2:00pm - 3:15pm (GMT+1)
Reconfiguration of Global Value Chains
Full production capacity despite geopolitical and economical uncertainties? 
July 6th, 2:00pm - 3:15pm (GMT+1)
Integrated and Multimodal Planning
What are the bottlenecks in fostering environments and policies to set strategic logistics zones? 
July 7th, 2:00pm - 3:15pm (GMT+1)
Pathways to Innovation
How can technology catapult optimised and disruptive operations?

Director GeneralAleatica México
Mexico
Rubén López Barrera studied the Degree in Civil Engineering at the Universidad Iberoamericana; Master of Science in Management of the Master's Program from Stanford University; Master of Business Administration from the joint program of the Pontificia Universidad Católica de Chile and the University of Washington in Seattle, WA. He has more than 20 years of experience in the structuring of infrastructure projects, holding various positions within ICA as Executive Director and Director of Human, Legal and Communication Resources of Grupo Aeroportuario del Centro Norte (OMA)and as Director of Business Development and Director of Project Financing of ICA. From 2006 to 2009 he was General Director of OMA
Become a Sponsor
Contact our team and check the sponsorship and exposure opportunities according to the strategy of your company.
Sponsorship opportunities
Include your information below to apply for sponsorship opportunities
Successful registration
This event is exclusive for GRI members.