Com avanço da pandemia do Covid-19 no Brasil, o mercado imobiliário vem se adequando e trabalhando para dar continuidade às obras e minimizar os impactos negativos no setor.
Cada cidade e região enfrenta uma realidade distinta e por isso neste eMeeting, os membros do GRI Club compartilharão suas visões e experiências sobre o momento atual, possíveis riscos ao setor e principalmente as estratégias que deverão ser adotadas pelos players imobiliários no período de recuperação pós pandemia.
Construção e obras - Como driblar o impacto negativo durante e pós pandemia?
Cash flow, mão de obra, paralisação, etc… O que tira o sono neste momento?
Quais os aprendizados deixamos pela pandemia do Covid-19 e como as empresas se organizaram para reduzir os impactos?
Como manter a produtividade e prazos neste momento?
Quais os riscos dos possíveis atrasos de obras e como lidar com eles?
Podemos esperar alteração de custos de construção a curto e médio prazo?
Quais os desafios para o segmento imobiliário no período pós pandemia?

Cleber
Diretor de EngenhariaGLP Brasil
Brazil
Diretor de engenharia na GLP – Global Logistic Properties, é formado em engenharia civil pelo Faculdade de Engenharia São Paulo com MBA em Gestão de Projetos pela FIAP-SP. Atua na viabilidade de novos negócios e desenvolvimento de projetos e obras de cent

Hailton
Sócio-diretorLibercon Engenharia
Brazil

Hernani
Sócio-diretorTallento Engenharia
Brazil
Hernani Varella is founder of Tallento Engenharia, one of the major project management company in Brazil. He is civil engineer (USP – University of São Paulo) specialized in management (FGV – Fundação Getúlio Vargas). Acts in real estate construction in the last 35 years, reducing costs and risks and optimizing results.

Mariana
Vice President, Design & ConstructionBrookfield Properties

Murilo
Diretor ExecutivoIT'S Informov
Brazil

Ricardo
Ricardo
Monteiro Ferreira
Diretor EngenhariaSetin Incorporadora
Participação é restrita a Membros do Clube e eMembers.
Se preferir entre em contato conosco por email, mande para [email protected].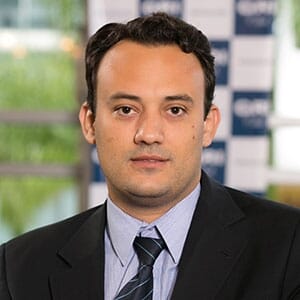 Fábio
Diretor Executivo UniqueGRI Club
Along his 10 years experience with Marketing and Branding, Fabio was in charge of the communication strategy of companies as Burguer King, Maquina de Vendas, Ford, OAS, Salvador City Hall and many others. Graduated in Marketing management through the Catholic University of Salvador with masters in Strategic Leadership though UNIFACS, he is the responsible for GRI's Sponsorship and Magazines commercial strategy and development.

Need help?
WhatsApp Assistance
Monday to Friday - 8:30 a.m. to 6:00 p.m.