Sustainable Investments in C&I Solar - Are these gaining momentum in India?
Wednesday, 28th July
15:00 - 16:00 | Indian Standard Time (GMT+5:30)
Join the event by applying for a Courtesy membership
Successful registration
36 people are attending
Credit: Liufuyu / Envato Elements
EVENT MANAGERS

Surekha
Director - InfrastructureGRI Club
+91-9920075521
9920075521
Investing in C&I increased a lot in the past years due to the global climate impact mitigation agenda that aims to lower carbon emissions in different industries. Corporate and industrial (C&I) projects can provide clean energy to companies across the globe from solar power plants, and make solar power generation more accessible.
In this eMeeting, GRI members, banks and local funds, developers, infrastructure players and companies from the energy sector will gather to discuss if the C&I solar market is proving itself resilient in India, and what is the appetite for this type of investment.

Discussion will touch on:
Market Outlook: renewable energy and sustainable investments in solar energy infrastructure

Utility-Scale and Commercial solar projects: Infrastructure in focus

C&I Solar pipeline in India: What are the upcoming projects?

Production and Manufacturing factors

Main challenges and opportunities

Investors Appetite' for C&I solar projects in India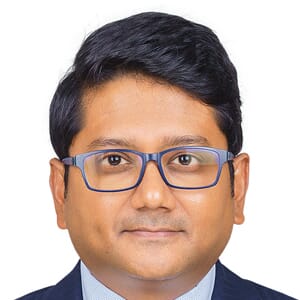 Senior DirectorCentrum Capital
India
Sunil Varma Marri is Senior Director, Investment Banking at Centrum Capital Limited focussing on fund raise and M&A deals in energy, electric mobility and infrastructure sectors. Earlier, he led the energy practice at ICRA Management Consulting Services Limited and advised multilateral agencies, leading private sector and government entities on strategy and transactions. Sunil holds a B.Tech degree in Electrical Engineering from NIT Warangal and Post Graduate Diploma in General Management from XLRI, Jamshedpur.

Co-Founder & CEOAMP Energy India
India
Pinaki Bhattacharya is the co-founder and CEO of Amp Energy India, a leading renewable energy player in India. Amp Energy India is the Indian arm of the global renewable energy IPP Amp Energy group headquartered in Canada and presence across 6 core energy markets of Canada, US, Japan, India, Europe and Australia. Pinaki Bhattacharyya has 21 years+ of experience in India, US and Europe across PE, business incubation, leadership, operating and financing roles in the renewable energy. Prior to Amp, Pinaki was the CFO of Sterlite Power; a founding team member and CFO of one of the largest renewable IPPs in India (Sembcorp Green Infra) and also the founding team member of the first RE project equity fund in US New Energy Capital.

CEOVibrant Energy Holdings
India
Srini Viswanathan is the Chief Executive Officer of Vibrant Energy, which is a growing its SE Asia based C&I platform to 500MW in 3 years. Previously, he was leading SunEdison India's C&I business where he led the growth of India's initial rooftop and C&I open access portfolio. Prior to that, he was the Country Head and Managing Director for Solesa Solar Engineering that provided rooftop and utility scale EPC services across India, Middle East and Africa. Srini started his solar finance and development career by being a founding employee for Sol Systems where he helped in building a mezzanine solar financing fund in Washington DC. 

He completed his MBA from Tuck School of Business at Dartmouth and started his career at UBS Investment Bank

Sr. VP & Head B2BReNew Power
India

Executive DirectorGreenergy Corporation
India

Co-Founder & Executive DirectorFourth Partner Energy
India
Vivek is the Co-Founder and Executive Director at Fourth Partner Energy (FPE). At FPE, Vivek is primarily responsible for Fundraising, Strategy, Corporate Development and Human Resources. Over the past 10 years, Vivek has been instrumental in building FPE into India's largest distributed solar platform partnering with over 100 marquee C&I clients.Prior to founding Fourth Partner Energy, Vivek was also part of the founding team at Avigo Capital, an Indian SME focused PE fund managing $375 million. He was responsible for end to end investment management and fundraising at Avigo for close to 8 years. Vivek started his career with Accenture where he spent 6 years as a management consultant advising clients across various industries.
Sponsorship opportunities
GRI eMeetings offers a unique opportunity for companies to raise their profile in front of the most senior executives of the Real Estate industry worldwide.
Contact our team and check the sponsorship and exposure opportunities according to the strategy of your company.

Sponsorship Opportunities
Successful registration