Co-host
Quinta-feira, 26 de maio
16:00 - 17:00 | Brasilia Time (GMT-3)
Participe do evento
Participe do evento aplicando para uma Membership de cortesia.
Esta membership te permitirá participar gratuitamente de nossa comunidade global, onde você poderá se conectar com nossos mais de 10 mil membros, além de participar de forma ilimitada de nossos encontros online gratuitos.
Successful registration
28 people are attending
Credit: chuyu2014 / Envato Elements

Kelly
Key Account DirectorGRI Club
Kelly Naomi Tamaribuchi is responsible for Business Development in the Infrastructure Division at GRI Club. Joined the company in 2017, speaks English and Spanish and today manages clients in almost all Latin America and USA. She is also coordinating eMeetings in Chile, Peru and Brazil. Post graduation in Marketing (Mackenzie University), has more than 15 years in Sales experience.

https://www.linkedin.com/in/kellytamaribuchi/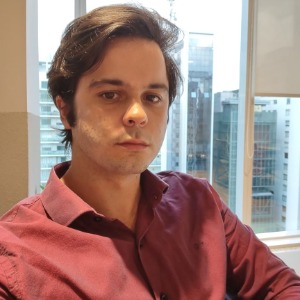 A corrida para aprovação de projetos federais e estaduais antes do fim do mandato pode trazer algumas variáveis para a discussão da viabilidade e afetar o apetite de investimento. Membros do GRI Club discutirão com especialistas do setor os principais riscos que afetam a percepção dos investidores e operadores em ano eleitoral.

Discussão, 16:00 - 17:00 (GMT-3)

Latam Specialty Product Leader | Credit & Political Risk SolutionsAon
Brazil

Political Risk & Credit Insurance Director LatamCHUBB Seguros
Brazil

Diretor de Regulação e Políticas PúblicasCCR
Brazil
Holds a Degree in Business Administrator (UniCEUB/DF), with post-graduation in political marketing (UnB) and business Management – Successors Development program (IBMEC/RJ). Joined the CCR Group in 2017 with a focus on regulation and concession projects and PPPs, maintaining permanent interlocution with government authorities and other stakeholders in the infrastructure sector. For more than seven years he has been a consultant for large companies at Patri Consultoria, with emphasis on government relations and public policies. Integrates the advisory board of ABDIB – Brazilian Association of infrastructure and basic industries and the Infrastructure Council of CNI – National Confederation of Industry.

Director for Government RelationsSiemens Energy Brasil
Brazil
Henrique Paiva is the Director for Government Relations and Sustainability of Siemens, whose responsibility is the management of governmental and institutional relations, strategic communication with the business areas, corporate governance of sustainability. He is currently part of the Siemens global group dealing with China's Belt & Road Initiative (BRI). Henrique is also the Chief Executive Secretary and responsible for Siemens Foundation Brazil. In addition, he is a member of ABDIB, ABINEE, COGEN, ABIMAQ, CEBRI, CNI MEI, ICC Brasil. Henrique Paiva has been working at Siemens since 2005.
O que é um eMeeting? Como posso participar?
Os co-chairs iniciam o debate, trocando informações, experiências e pontos de vista. Você também pode participar e
intervir livremente durante a discussão, em um ambiente informal e privado.

O que é um eMeeting
Um encontro exclusivo, privado e online, reunindo os membros do GRI Club. A senioridade dos eventos na comodidade de seu escritório.
Quem pode participar
Investidores, incorporadoras, fundos, bancos e desenvolvedores ativos no setor imobiliário e de infraestrutura.

Como participar
Clique em "Participe do evento". Em seguida, nossa equipe vai analisar seu perfil. Se elegível, será ativada uma Membership Cortesia (sem custos, contrato ou data de expiração).
Torne-se um patrocinador
As eMeetings do GRI oferecem uma oportunidade única para companhias que querem enaltecer seu perfil em frente aos executivos mais seniores do setor de infraestrutura.
Entre em contato com o nosso time e veja oportunidades de patrocínio de acordo com a estratégia da sua companhia


Oportunidades de patrocinador
Preencha os dados abaixo para se candidatar a uma oportunidade de patrocínio
Successful registration
This event is exclusive for GRI members.