Thiago
Diretor Desenvolvimento de Mercado e M&AAon
Brazil
Graduated in Business Administration from FGV and MBA at FIA / USP, he has more than 15 years of experience in corporate and industrial risks. He started at Aon in 2004 as account executive, serving national and international clients of the Food & Beverage, Chemical, Pharma and Agribusiness industries, in 2014 he became manager of the same area. He is currently the Market & M&A Development Director, responsible for the service and development of National and Multinational accounts of São Paulo.

Cristina
Environmental SpecialistIFC

Daniela
DiretoraCVM
Brazil

Dany
Fouding PartnerBrainvest
Brazil
Founding Partner, Brazilian. He has 25 years of experience in the financial market. Worked at BBM Bank in São Paulo and JPMorgan in São Paulo, New York, and Geneva. In 2003 he decided to create BRAINVEST to have one focus: his clients. Mr. Roizman is fluent in Portuguese, English, and French. He majored in Economics at PUC-SP and holds a post-graduate Finance degree from the University of California.

José
SuperintendentCVM
Brazil
As part of my role, I represent the CVM on a number of national and international regulatory committees, such as: - IOSCO Committee on Retail Investors (Committee 8), Chairman - Member of the Advisory Board, OECD International Network on Financial Education (INFE) - Member of IOSCO Sustainability Task Force - Member of IOSCO FinTech Network - Coordination of the Financial Innovation Lab, a CVM-IADB-ABDE joint

Julie
Investment Officer - InfrastructureIFC
Brazil

Luiz
Secretário ExecutivoSecretaria de Infraestrutura e Meio Ambiente de São Paulo
Brazil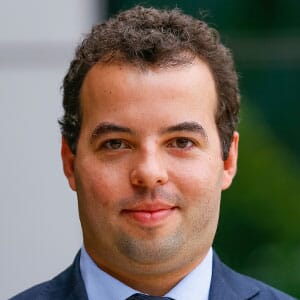 Pedro
Deputy MD, Government and Inst. Rel.BNDES
Brazil
Pedro was superintendent of the Project Structuring area of ​​BNDES for 10 years, whose objective was the development of infrastructure projects in the Concession and PPP modalities, and was responsible for conducting privatization processes. Education: MSc in International Securities, Investment and Banking, Reading University, UK; MSc in Administration, COPPEAD / UFRJ; Graduated in Engineering / UFRJ.
Seguindo uma tendência global, empresas de todos os setores têm olhado com máxima atenção para as práticas de ESG (Environmental, Social, Governance). Para o setor de infraestrutura o tema é particularmente crucial, pois a adoção destes padrões nos projetos de transportes, energia e infraestrutura social pode ser determinante à atração de investimentos nestas áreas.

Mas como estimular a adoção de padrões ESG em infraestrutura? Sem dúvidas, é preciso um comprometimento de toda a cadeia, desde a originação dos projetos até a gestão dos contratos, passando pelas políticas de financiamento e estruturação dos consórcios.

Buscando fomentar a disseminação destas práticas, o GRI Club Infra promoverá um diálogo amplo entre governos, instituições financeiras, investidores e operadores do setor, e colocará em pauta questões como:


| | |
| --- | --- |
| | Neste encontro, falaremos sobre: |
Estruturação: de que forma o setor privado pode exercer pressão na esfera pública para adoção dos padrões ESG desde a originação dos projetos?
Financiamento: como as instituições financeiras podem - e devem - atuar como balizadores do desempenho social dos projetos?
Operação: como estimular os operadores de menor porte a também incorporar boas práticas ESG, sobretudo na governança dos consórcios, integridade dos parceiros e transparência?
Gestão: como garantir a adequada estruturação e execução de um plano de ação socioambiental por parte dos operadores?
Análise de iniciativas exitosas na infraestrutura brasileira
Estou interessado (Não membros)
Participação é restrita a Membros do Clube e eMembers.
Se preferir entre em contato conosco por email, mande para [email protected].
Nosso time entrará em contato com você para confirmar a sua participação
Participação é restrita a Membros do Clube e eMembers.
Se preferir entre em contato conosco por email, mande para [email protected].

Kelly
Key Account DirectorGRI Club
Kelly Naomi Tamaribuchi is responsible for Business Development in the Infrastructure Division at GRI Club. Joined the company in 2017, speaks English and Spanish and today manages clients in almost all Latin America and USA. She is also coordinating eMeetings in Chile, Peru and Brazil. Post graduation in Marketing (Mackenzie University), has more than 15 years in Sales experience.

https://www.linkedin.com/in/kellytamaribuchi/