Cleverson
Superintendent of Projects StructuringBNDES
Brazil
Superintendent of the Partnership Structuring Area of BNDES investments. Having joined the institution as an attorney in 2004, he has served as Presidency Advisor and Head of Department in the Project Structuring Area, working in the structuring of concession projects and PPPs in the infrastructure area. He was also Head of the Transport and Logistics Department in the Infrastructure Area and Head of the Institutional Relations Department in the Communication and Institutional Relations Area. From 2011 to 2012, he was Executive Secretary of the Civil Aviation Secretariat of the Presidency of the Republic, where he participated in the coordination of the concession processes for the private initiative of federal airports.

Fernando
Fernando
Passalio de Avelar
Secretário-Adjunto de Desenv. EconomicoGoverno do Estado de Minas Gerais
Brazil

Valdinei
Diretor PresidenteCAESA - Companhia de Água e Esgoto do Amapá
Brazil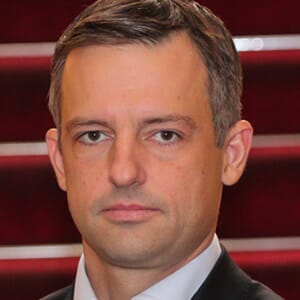 Bruno
Director of Real Estate Development - South RegionMultiplan
Brazil
Bruno Vicente Becker Vanuzzi holds a Degree in Law from the UFRGS, a LLM in Civil Procedure and Constitutional Law from UFRGS, and holds an MBA in Concessions and PPPs from the FESPSP, in partnership with the London School of Economics. He was Secretary of Strategic Partnerships of the City of Porto Alegre. He is a member of the intergovernmental network RedePPP. He has been a State Attorney for Rio Grande do Sul since 2010, and was a member of the Concession and PPP Unit of the State of Rio Grande do Sul. He also was Secretary of Partnerships of the State of Rio Grande do Sul for the Bienio 2019-2020.

Heloísa
SóciaTrench Rossi Watanabe
Brazil
Com um total de oito projetos de desestatização do setor de saneamento em carteira, de sete Estados diferentes, o BNDES prevê levar a leilão, ainda em 2020, pelo menos três deles, sendo dois no modelo de concessão (Alagoas e Rio de Janeiro) e um em PPP (Cariacica/ES). A previsão é que estes projetos que estão sendo estruturados pelo Banco gerem cerca de R$ 50 bilhões de investimento ao longo de 35 anos de contrato nas áreas que forem concedidas à iniciativa privada.

A essas iniciativas, somam-se os projetos de desestatização conduzidos diretamente por governos estaduais, como a PPP de esgoto da Empresa de Saneamento de Mato Grosso do Sul (Sanesul), além da perspectiva de formação de blocos de concessão, reunindo vários municípios, prevista no novo marco regulatório do saneamento, recentemente aprovado pelo Congresso.

Com o objetivo de compreender as particularidades das modelagens adotadas nesses projetos e as oportunidades de desenvolvimento oferecidas, neste eMeeting, vamos analisar, junto às autoridades do setor, os seguintes aspectos:


| | |
| --- | --- |
| | Neste encontro, falaremos sobre: |
Cronograma e desafios da privatização das empresas estaduais;

Especificidades e critérios adotados nas modelagens estruturadas e em estudo;

Obrigação de investimentos e indicadores de desempenho: o que é esperado dos futuros concessionários?

Criação de autarquias e aprovação pelas assembleias legislativas dos estados: desafios a vista na formação de blocos de concessão reunindo vários municípios?
Estou interessado (Não membros)
Participação é restrita a Membros do Clube e eMembers.
Se preferir entre em contato conosco por email, mande para [email protected].
Nosso time entrará em contato com você para confirmar a sua participação
Participação é restrita a Membros do Clube e eMembers.
Se preferir entre em contato conosco por email, mande para [email protected].